Dubai is an important business crossroad in Asia. This modern city is known for its amazing skyline, beautiful desert landscapes, world-class hotels and restaurants, an endless number of adventure activities, world famous shopping malls and many more. If you are planning to visit Dubai anytime soon, make sure you don't miss out trying these 17 unique things in Dubai.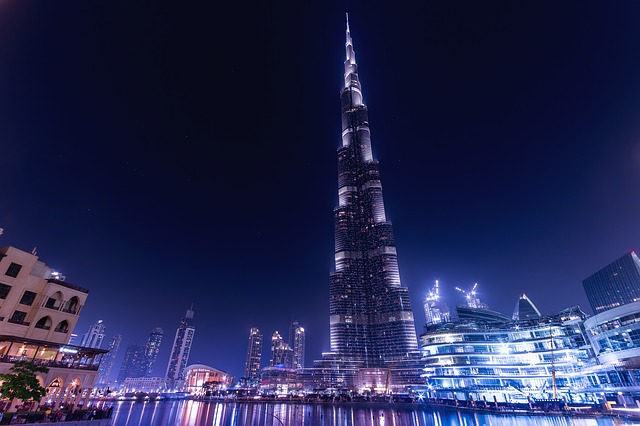 Look at the sunset in the Burj Khalifa
Equipped with an observation deck in the 124th and 148th floors, the Burj Khalifa is one of the best ways to appreciate the sunset in Dubai. Its height allows people to view two sunsets. You can look at the sunset at the ground floor and then ride an elevator to one of the highest floors so you can see it again.
Go On A Desert Safari
The world-famous desert safari of Dubai gives tourists the opportunity to experience the nomadic lifestyle of the Bedouin people. You will be taken to the Red Dunes through a four-wheel vehicle so you can ride camels or do sandboarding. Once the sun sets, you can wear an Arabic attire while watching belly dancers and munching on a barbecue.
Experience a Dhow Cruise Dinner
Craving for a classy end to your day? The dhow cruise Dubai Marina is an evening experience like no other due to the magnificent Dubai view it gives to spectators. Guests onboard are entertained with delectable foods and traditional music. This two-hour cruise is also a chance to take part in a feast like no other with the topnotch cuisine offered onboard.
Skydive way above the Palm Jumeirah
There is no better way to admire the wonder of the artificial islands of the Palm Jumeirah than when you are above it. Feel the rush of hurtling to the ground at insane speeds without compromising on your safety through the well-trained skydiving companies in Dubai.
Stay At The Only 7-Star Hotel In The World
There is a reason a lot of people are calling the Burj Al Arab the world's only seven-star hotel. Due to the luxury living it offers, visitors are given access to suites, restaurants and facilities like no other in the world.
Watch a Dubai Fountain show
Every 30 minutes on a typical night, the world's biggest choreographed water fountain plays a free show. The Dubai Fountain's shows rival even that of the Bellagio fountain in Las Vegas, which makes it a must-see for everyone.
Experience Flyboarding
Dubai is known for being a haven for water sports and activities. One of the most popular ones is flyboarding, where the person elevates from the water through the use of a jet-ski pack attached to their backs. Celebrities like Rebel Wilson and Leonardo DiCaprio are among those who are getting into this new water sport so you may want to try it too.
Have A Gold Facial
A recent trend that has become popular in the past years in Dubai is having a gold facial. It is said that gold is a rich source in antioxidants and it can result in you looking better. Due to its healing properties, it will help in tightening the skin as well.
Buy Jewelry In The Gold Souk
If you are looking to purchase precious jewelry at low prices, the Dubai Gold Souk is a good choice to shop from. It has a wide variety of jewelry made from gold, silver and other precious gems that shoppers can choose from at a relatively affordable cost.
Swim With Sharks In The Dubai Mall Aquarium!
If you have the guts to do something death-defying, the Dubai Mall Aquarium has a program that allows you to swim with sharks. The facility has a group of qualified instructors that can assist in making the entire experience safe and memorable for everyone involved.
Eat Food Made From Camel
The diverse population of Dubai has resulted in a mixed and unique cuisine. Among the popular delicacies for people living in Dubai is food made from camel. This is included in a few places in the world where you can order burgers and pizza made from camel meat.
Pick Up Traditional Arts And Crafts In Al Bastakiya
For those who want to purchase traditional art work and crafts like pottery and paintings, Al Bastakiya is the closest thing they have to art shopping heaven. While shopping for arts and crafts, you can marvel at the beautifully constructed wind towers that help the houses to draw in cool breeze.
Drink At Sub Zero Temperatures
Tired of the extremely hot weather? The Chillout Bar is a place where you can drink while in freezing temperatures. You do not have to worry about feeling too cold as you will be given a coat the moment you enter this bar.
Hire A Luxury Yacht To Enjoy The Waters Of Dubai
Dubai offers its travelers with so many luxury experiences and yacht rental is one of the most popular among tourist. You can hire a yacht of your requirement, have the best view of the Dubai skyline from the sea, enjoy fishing, relax on the deck and take sunbath, explore the magnificent Dubai landmarks like The World Islands, Palm Islands and many more. The cook onboard will cook fresh fish caught from the sea. Thus, hiring a yacht rental Dubai is a very popular among tourists.
Zipline through The Dubai Marina
Ziplining in Dubai is different from that of other parts in the world. For one, it is only one of a few of the zipline systems that go through the downtown area of a metropolis. It goes above the Marina and swings by the Burj Khalifa and the Dubai Fountain.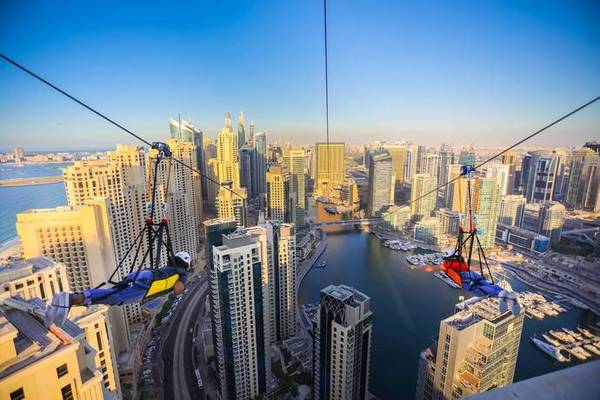 Marry Disco And Ice Skating At The Dubai Ice Rink
Ice skating is popular almost everywhere in the world but the Dubai Ice Rink has put a unique twist on this sport. Every evening, disco sessions are held for skaters of all ages to add some variety to their routines.
Relax With Some Chocolate
After a long day of traveling through Dubai, reward yourself with a pampering session the Dubai way. There are spas in the city that offer chocolate treatments believed to have nourishing and relaxing effects on the body. If you are on a family vacation in Dubai, you should not miss these family-friendly activities in Dubai.