When it comes to luxury and 5 stars hotels, Mumbai, the financial hub of India has plenty of options. With more than twenty-five 5-star hotels, the city of dreams boasts of extravagance and indulgence in each and every corner. Here in the article, we shall talk about 5 stars hotels in Mumbai that are nearest to the Chhatrapati Shivaji International airport also known as Mumbai International airport:
The Lalit Mumbai – 800 meters
The Lalit Mumbai is located in close proximity to the Mumbai International airport. The 5-star hotel has 369 rooms and suites along with The Lalit Mumbai Residency that has 21 serviced apartments, featuring a shopping gallery. Along with three restaurants and two dining option, the Lalit Mumbai also boasts of "Kitty Su" a world-class night club.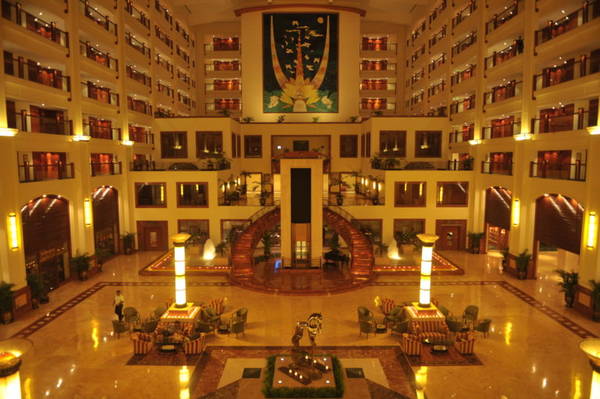 Accommodating up to 45 guests, The Lalit Mumbai possess the state-of-the-art Box-office with a digital theater system(DTS) and digital cinema processor.2018 is the year to visit The Lalit as they have curated a jamboree that not only celebrates diversity but also welcomes one and all with a message of #PureLove!
ITC Maratha Mumbai, A Luxury Collection Hotel – 1.9 km
Enthused by the Maratha dynasty, ITC Maratha Mumbai is a 5-star business hotel that flaunts an ambience immersed in Indian history. Hardly away from the Mumbai International airport, this majestic luxury hotel indorses the ethos and grandeur of Maharashtrian hospitality.
One of the best part of this 5 star hotel in Mumbai is that one can personalise their experience by handpicking their favourite add-ons and customize the bookings and reservation. The six storey hotel has 380 stylishly appointed and expansive guest-rooms that strikes a picture-perfect balance between the warmth of Indian hospitality and world class luxury.
The Leela, Mumbai – 2 km
Set within 11 acres of landscaped gardens, The Leela is Mumbai's only resort style business hotel that comes with a host of complimentary amenities. This extremely gorgeous 5-star hotel timely bestows it guests with several offers like – Festive Specials, Staycations, Suite Indulgences, Business Offer, Stay More Save More and several others.
This grandeur luxury business hotel comprises of – 303 Premier rooms that gives the panoramic view of the city, 58 Royal Club and Royal Club Parlour Suites and 30 Suites that includes dedicated butler and access to Royal Club Lounge and amenities. Suites add separate living/dining areas, and some have kitchenettes. Or Jacuzzis. Some rooms in the hotel give access to a lounge that offers free breakfast and cocktails.
JW Marriott Mumbai, Sahar – 3.4 km
Hardly 400 meters from the Mumbai International Airport, JW Marriott Mumbai Sahar is a luxury hotel with unparalleled extravagance and world-class service. The gorgeous hotel has 542 rooms with 39 suites along with top-notch facilities to relax and get spoilt.
JW Marriot Sahar also has airline reservation desk, nearby, British Airways, Emirates International Airline and JetBlue Airways. With perfectly designed rooms and a list of thoughtful amenities, this 5-star hotel near Mumbai International airport provides its guests with a remarkable hotel experience.
These are few 5 stars hotels in Mumbai that are nearest to the Mumbai International airport.