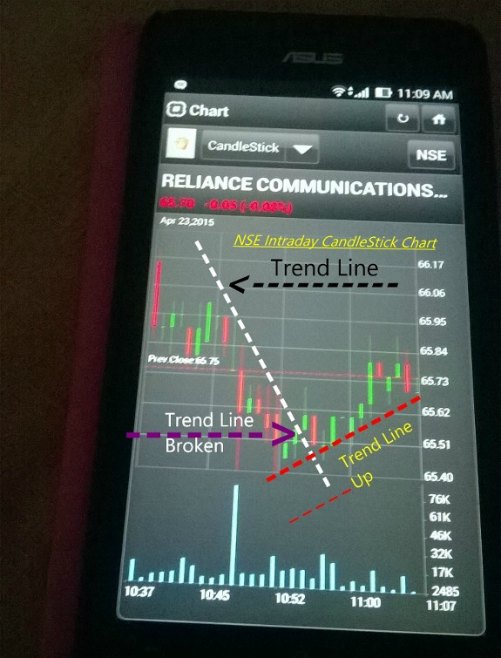 To Start Intraday trading, download the NSE Mobile Application and open the App. This app is available on Android, iPhone, Window Mobile, and Blackberry phones. Click trade, enter your Member ID,  User ID, and click to submit. Now confirm your Theme colour, enter Password and login. Again, answer your two Security questions out of five, Click Submit button. Now you are ready to trade.
Further, if you have not been given the  Member ID by your Broker then you have to go to your Broker's website to login or login in NSE website https://www.now-online.in
Broker VNS Finance and Capital Services gives you Member ID to trade with NSE Mobile Application.
When you open the app, the first thing you need to do is to add the Stock Scrips (Scrip is a Trade name of a company. For example, the scrip of Reliance Communication is RCOM and the Scrip of Unitech Ltd is UNITECH, and so on) of your Choice which you want to trade today, or in future. You can add or delete any NSE scrip at any point. Now open your scrip, and see the streaming prices moving up or down in a tick or moving sideways (Prices neither moving up nor moving down, or moving in a very small range)
Know What Is Tick Prices:
Tick is the least price at which the stock prices moves up or down. NSE or BSE one tick is 5 paise. Add a stock of your choice in your uploaded NSE mobile Application and see the changing prices of that stock, where buyers are buying at ask price, and sellers are selling at Bid price to enter immediately in the market.
When you want to buy a share at your desired price by a limit order, then you have to wait till the prices of the stock reach to your limit order price. And as soon as the prices reach your limit order, your order will be executed.
Know What Is Ask/BID Prices and Ask and Bid Size.
Ask Price: The price at which a seller is willing to sell his stock is called Ask Price, and the total quantity of all the sellers at that price is called Ask Size, which is shown in brackets towards the right of Ask Price.
Similarly the Bid Price is defined as under:
The Price at which buyers want to buy a stock (Share) and the total quantity of all the Buyers at that Price is called Bid Size,  which is shown in brackets towards the right of Bid Price.
In a liquid Market, the Ask price is just one tick above the Bid Price. For example: When the Bid Price is 19.35 the Ask Price will be 19.40.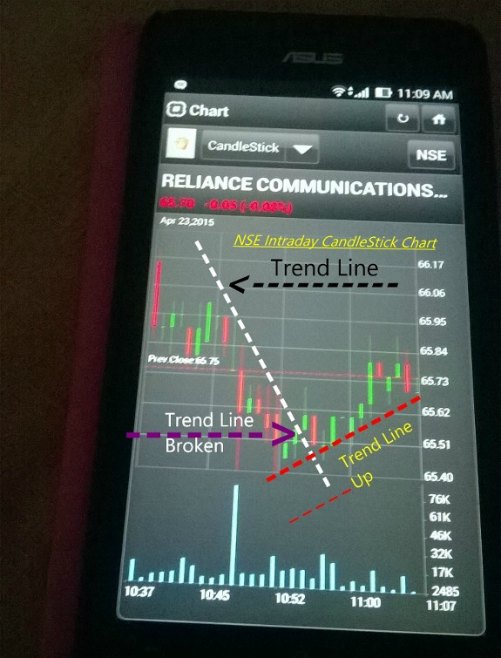 Now see the 2 Minute Intraday NSE CandleStick chart as seen above. There are also other charts like Area Chart, Line Chart, OHL Chart, but I suggest you to follow Candlestick Chart or Line Chart of moving Prices of your Stock. If it is going up than the opening price or previous day price, the stock is in uptrend, and if it is going down below the opening price or previous day price, then it is in downtrend.
Also Read: Intraday Trading Tips : Know How to Earn Profits in Intraday Trading!
Now Analyse the Chart
Note, Chart Analysis or Price Analysis or Technical Analysis of a stock or Index is based on the Assumption that Prices moves in a trend. That is, if it is going up it will go up till reversal, AND if it is going down it will continue its downward trend, till reversal occurs.
Note further, Prices of stock, shares. Index or Currency never moves in a Straight Line. It goes up then comes down, again it goes up then comes down.
When a stock or share is going more up and falling less, then the stock is in UPTREND. That is prices are going Up. Similarly when it falls more down than going up, then the stock or share is in downtrend. That is the prices are falling..
Further to state, 
When a stock is in Uptrend, it will continuously make higher highs and higher lows. Similarly when a stock is in downtrend, it will continuously make lower highs and lower lows as in RCOM Intraday chart shown above.
The RCOM is in downtrend.
Now add two or more higher point in a chart and draw a line to get trendline as shown in the figure in white dotted line.
Note, the stock is in downtrend till the prices are below the trend line. Reversal occurs only when the prices breaks the trendLine and makes higher high and higher low (Uptrend Reversal). Exit your Short Sell Trade Entry when the downtrend Trendline is broken. Go safer and be careful with false break outs.
Now go long (enter buy) with stop loss order at 2 tick above the green candle breaking the trendline.
Now let us ask you very frankly. 
See the above chart once again. Do you need any software or an indicator, to know or confirm the trend whether it is in uptrend or downtrend? Is it not clear with your naked eye?
Further, when the prices are going up, will the Momentum Oscillator RSI go down?
No, RSI will also go up, a little up or more up but will positively go up.
Please note, no computer is built so far, and no software or indicator has been developed till yet which shows the movement of Prices in Advance. Prices moves first,  then only the indicator indicates it. Buyer & seller can change their mood any time.
I have also seen not once but many times, the Index (Nifty & Sensex) is going up but my stock is going down.
Prices are the only criteria of a Stock. Buyers and sellers are the only who make the prices to go up or down, and no power on planet earth can change the mood of masses i.e. the mood of the buyers & sellers!!
Further to note – If the prices are moving very fast then wait till the price settles, and enter the trade as per the current trend or current reversal. Please note in a stock market, buyers are cheaters and Sellers are Idiots, you go accordingly, and increase your profits.
Wish you all a happy trading and,
Wonderful Intraday!!
Do not Miss Reading
Intraday Trading Tips : Know How to Earn Profits in Intraday Trading!
How to Start Trading in Stock Market ~ Beginner's Guide
How & When To Enter Intraday At Correction and Reversal
Know the Best Stock Market Brokers in India
Editor's Note: NationalViews is a home for people with views and opinions that caters to the changing India. It is a place for the common men to articulate their views and opinions on any topic. A platform where you express and we publish. Mail us your opinion, views, and thoughts at editor@nationalviews.com and we will help you reach out to the masses.