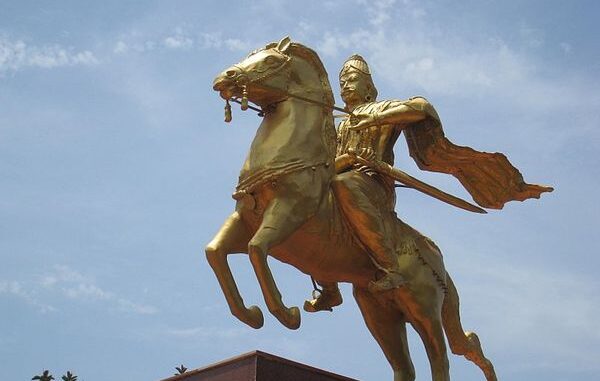 King Raja Raja Chola is one of the most powerful kings of the Chola dynasty and his life along with his reign is one of the most documented as he inscribed everything. Here we share almost everything about the king who is revered for his bravery even today including his life history and death.
Early Life
Raja Raja Chola (985 – c. 1014 CE) was born in 947. His birth name was Arulmozhivarman. He was the third child of Parantaka Chola II also known as Sundara Chola and Vanavan Maha Devi of the Velir Malayaman dynasty. Arulmozhivarman's elder brother was Aditya Karikalan and his elder sister's name was Kundavai.
Aditya Karikalan was the crown prince and was supposed to sit on the throne but in 969 he was assassinated in suspicious circumstances. Post his death, Sundara Chola announced Uttama Chola (his cousin brother) as his successor.
Uttama Chola was the son of Gandaraditya, a Chola King however, when Gandaraditya died, Uttama was very small. So, the kingship passed on to Gandaraditya's younger brother Arinjaya who was Sundara Chola's father and Raja Raja's grandfather.
The Journey Towards the Throne
However, post the death of Uttama Chola, it was Arulmozhi varman who ascended the throne in 985. According to the Thiruvalangadu copper-plate inscriptions, Arulmozhi varman aka Raja Raja was rightfully elected by a democratic process that was followed by the Cholas.
Post becoming the King, Arulmozhi varman adopted the name of Raja Raja which means "King of Kings". Being a Shiv bhakt, he was also known as Rajaraja Sivapada Sekhara (he who has the feet of Shiva as his crown). During his reign, his elder sister Kundavai Pirāttiyār helped him in administration and also in the management of temples.
His Reign
Raja Raja Chola was a renowned king of southern India. During his tenure as the Chola King, he expanded his kingdom beyond South India into the domain of Sri Lanka and could even capture Kalinga in the north. His naval campaigns helped him in capturing of the Malabar Coast as well as the Maldives.
Throughout his reign, he carried out various conquest.
In 994, in the Kandalur War, Rajaraja destroyed the fleet of the Chera king Bhaskara Ravi Varman Thiruvadi (c. 978–1036) successfully.
He even defeated the Pandya king Amarabhujanga and captured the port of Virinam.
In the year 1008, Rajendra Chola I led the Chola army and Rajaraja could capture Udagai from Cheras.
Raja raja invaded the norther part of Sri Lanka in 993.
In 998, Rajaraja captured the regions of Nolambapadi, Gangapadi and Tadigaipadi (present day Karnataka)
To commemorate these south India conquests, he assumed the powerful title of Mummudi Chola. This tutle was used by Tamil kings who ruled the three kingdoms of Cholas, Cheras and Pandyas.
Raja Raja's Interests
Due to his interest in recording his achievements, he recorded everything in his inscription. Being a Shivaite, he built the famous Brihadisvara Temple in Thanjavur. It is a UNESCO World Heritage now. In 2010, it completed 1000 years. During his reign, he also introduced new type of coins.
Personal Life of Raja Raja Chola
He had 4 queens including Thiripuvānamādēviyār and Ōlōkamādēviyār. Going by the records, he had a son Rajendra (from his wife Thiripuvānamādēviyār) three daughters – Kundavai, Mathevalzagal and Ģangamādevī. His son Rajendra Chola I was also his co-regeant (1012) and went on to become his succesor.
Kundavai married Chalukya prince Vimaladithan and became the queen of the eastern Chalukya. She shared her name with her aunt. She waselder to her brother Rajendra.
Also Read: 20 Greatest Kings of India – Bio, Photos & History
The Mystery About His Death
Although here are lots of inscriptions about Raja Raja Chola's work, conquests and life including how he captured territories, how he built temples and even how when he was born, there is no information about his death. Nobody really know how and when he died or where he was cremated/buried.

Regarding his death there are two theories – one, that he died a natural death at the age of 67 and second, that he was killed by a Sri Lankan woman which is why Rajendra Chola captured the whole of Sri Lanka to seek the revenge of his father's death.
Source and Reference:
"A Journey through India's past: Great Hindu kings after Harshavardhana" – Chandra Mauli Mani
Rāja Rāja, the great. Ananthacharya Indological Research Institute
The Cholas. by Nilakanta Sastri