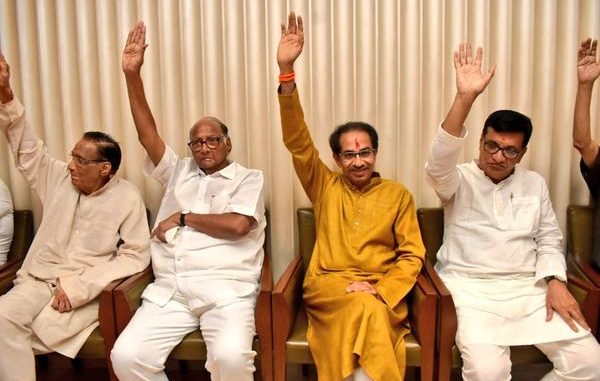 Maharashtra Assembly Elections 2019 has been no less than a thriller where both, the public and politicians remained clueless with each new shocking and surprising developments. From lies, deceit, trickery to betrayal and fabrication, suddenly Maharashtra became a battleground where nobody had any trust and/or confidence about their alliances. 30-year-old BJP-Shiv Sena alliance saw a massive breakdown and Sharad Pawar's nephew Ajit Pawar made certain turns that brought huge shame even to the ever colour changing chameleon. While years old political allies fell apart, the changing times saw a brand-new alliance in the form of Maharashtra Vikas Aghadi (MVA).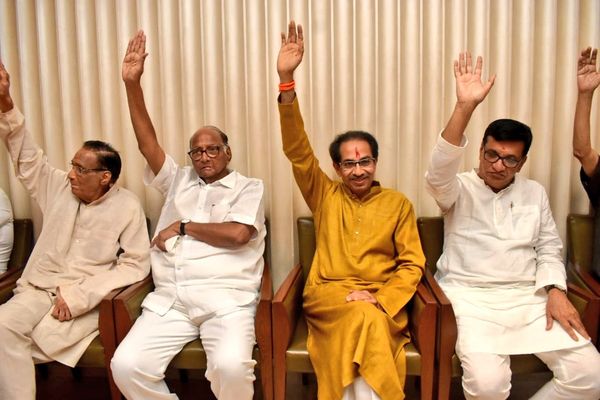 Maharashtra Vikas Aghadi: The New SS-INC-NCP Alliance
Post 2019 Maharashtra assembly elections three political parties, Shiv Sena (SS), Indian National Congress (INC) and Nationalist Congress Party (NCP) came together to form their government and this alliance is unitedly called as Maharashtra Vikas Aghadi aka Maha Vikas Aghadi.
The three party alliance submitted a joint statement of staking claim for the formation of Maharashtra government, they produce the proof of support from all the MLAs (166) to the Maharashtra Governor.
Uddhav Thackeray is the Leader of the Maha Vikas Aghadi (MVA)
It has been unanimously decided on November 26 evening that Shiv Sena party leader Uddhav Thackeray will be the alliance's nominee for Chief Ministerial position for full 5 years and both, INC and NCP would get one Deputy CM's post each.
Uddhav Thackeray's name was proposed by Congress state President Balasaheb Thorat and Nationalist Congress Party state President Jayant Patil at a meeting of all the parties in the 'Maha Vikas Aghadi' which also saw the presence of NCP leader Sharad Pawar and Samajwadi Party's state President Abu Azmi. Uddhav is going to be the first member of his family to occupy the top political post.
Power Sharing by Maharashtra Vikas Aghadi
Going by the power sharing arrangement, Shiv Sena will hold 16 portfolios (11 cabinet, 5 junior), NCP (11 cabinet, 4 junior), too will hold 15 and INC will get 12 ministerial portfolios (9 cabinet, 3 junior).
Deputy CM Probables – Jayant Patil of NCP, Balasaheb Thorat of INC
Ministerial Probables – Shiv Sena – Dada Bhuse, Gulabrao Patil, Sandeepan Bhumre, Sanjay Shirsat
Ministerial Probables – NCP – Chaggan Bhujbal, Makarand Patil, Rajesh Tope
Ministerial Probables – INC – Vishwajit Kadam, Satej Patil, KC Padavi
Statements by the Members of Maha Vikas Aghadi (MVA)
"I want to thank Sonia ji also. Parties with different ideologies have come together…those who were friends for 30 years, did not trust us. But those against whom we fought for 30 years have trusted me," ~ Uddhav Thackeray
"We will not take revenge, but if someone is coming in our way, we will take him on. Our commitment is for providing a clean, , result-oriented administration and a cultured Maharashtra," ~ Uddhav Thackeray
"We had differences on several occasions but it never had an an adverse impact on personal relations. I always admired the qualities of Bal Thackeray. He was a different kind of leader. Had he been alive, he would have been the happiest person to see his son sworn in as the CM of Maharashtra." Sharad Pawar recalling his long association with Bal Thackeray