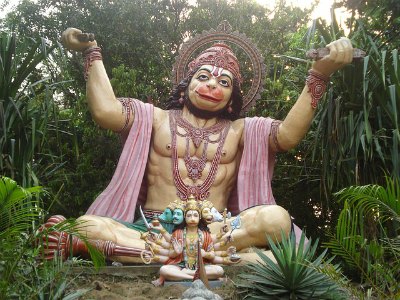 The name Dara Singh is synonymous with Mahabali Hanuman. No, wonder, he looked apt being a vanar, so much that one cannot imagine anybody other than the legendary Dara Singh the moment we hear the name Hanuman. However, it seems the legacy of Dara Singh is soon going to end. The reason? Well, we now have a 21st century actor playing the role of Hanuman in Sony TV's Sankat Mochan Mahabali Hanuman. And looks like the young generation would relate more to him than the late Dara Singh.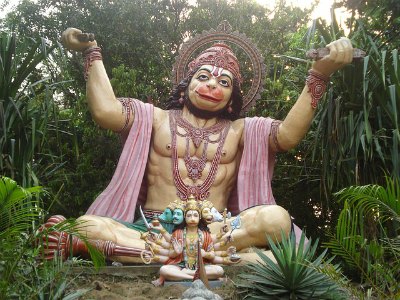 Source: By Tobrother via Pixabay
So, who is Playing the Role of Hanuman in Sankatmochan Mahabali Hanumaan?
Nirbhay Wadhwa is essaying the role of Lord Hanuman in Sony TV's mythological show which will take us back into the lives of Shri Ram and the evildoings of Ravan. Nirbhay is a model and a TV actor who got popular in Swastik Pictures' Mahabharat where he was seen as the evil Dushashan, ready to pounce on the Pandavas. Currently, the actor is also seen in a historical show Maharana Pratap which is also produced by the makers of Sankatmochan Mahabali Hanuman.
Nirbhay Is From Jaipur
Born in Jaipur on 28th September 1987, Nirbhay stayed in Jaipur for a brief period of time. He even completed his education from Jaipur. While studying, Nirbhay did ads for local companies in Jaipur. He is a state champion in Martial Arts. His father is a civil engineer, and his younger brother is a dance instructor in Jaipur's most popular dance academy.
He Came to Mumbai as a Model and later Transformed into a TV actor
In the year 2004, Nirbhay won the "Mr. Teenager" pageant in a Desert Hunt. He then shifted his base from Jaipur to Mumbai. Soon, he became the face of print ads. Next, Nirbhay did several videos for various brands including Tata Docomo, Royal Challenger Soda, and Meetha Pan Masala. Later, he got his first role in Mahaabharat to play the negative role of Duryodhana's brother Dushashan. With Dushashan, Nirbhay became a popular household name.
Mahabharat and the Famous Draupadi Cheer Haran
Nirbhay who trained himself in horse riding and weapon training during the days of Mahabharat was greeted every time he landed in Jaipur. Even the folks who were not so fond of him, started posing with him. When asked whether he was worried about his negative image and the Draupadi cheer haran sequence, he replied calmly that doing a negative role doesn't make him negative.
As Hakim Sur in Maharana Pratap
To play the role of Hakim Sur in Maharana Pratap, Nirbhay started taking Urdu lessons to improve his dialect as Hakim Sur was an Afghan. The show it seems has increased the knowledge of Nirbhay since he is learning a lot in order to give enough justice to his role.
The Journey of Nirbhay in Sankat Mochan Mahabali Hanuman
Nirbhay is a loyal Hanuman bhakt. In fact, he recites Hanuman Chalisa on a daily basis. Being religious, he believes it is indeed God's kindness that he got an opportunity to play the role of none other than the Lord himself. However, being a Lord has its own side-effects. It seems 4 hours go in just getting into the role of Hanuman.
No wonder, the audience is in love with Nirbhay Wadhwa as Sankat Mochan Mahabali Hanuman, and we only wish all the very best to this young actor for his role as Pawanputra Hanuman.
Do not Miss Reading –
Know The Star Cast Of Sankat Mochan Mahabali Hanuman On Sony TV
Know Interesting Facts About Aarya Babbar, The Ravana Of Sankat Mochan Mahabali Hanuman