Zakir Naik, the superstar Televangelist and the so called promoter of peace and harmony is back in news post the Dhaka blast as one of the terrorists Rohan Imtiaz posted a status on social media quoting Naik. This is not the first time when Naik is targeted for inspiring an attack. One of his followers Rahil Sheikh was the 7/11 Mumbai blast accused while another follower Dr. Kafeel Ahmed attacked Glasgow airport in 2007.
While there is abuzz that two of the Holey Artisan Bakery café attackers were inspired by his preaching, here we share some interesting and controversial facts about Zakir.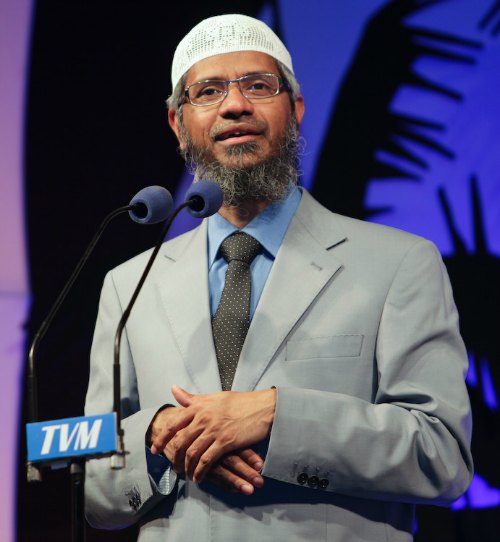 Image Courtesy: Wikimedia Commons
Early Life – The Background of Dr. Zakir Naik
Born in 1965 in Mumbai, Zakir Abdul Karim Naik went to St. Peter's High School in Mumbai. He studied in KC College and later studied medicine (MBBS)  in Topiwala National Medical College and Nair Hopsital in Mumbai.
He Founded IRF (Islamic Research Foundation) In 1991
In the year 1991, almost 25 years ago, he founded IRF – Islamic Research Foundation after he started working in the field of Dawah. IRF is a non -profit charitable trust that promotes Islamic Dawah i.e. understanding of Islam through presentations through various channels including TV.
Naik's Aim and Mission is to concentrate on the Educated Muslims
Unlike other Muslim preachers Dr. Zakir Naik goal is to concentrate mainly on the educated young Muslims who have become apologetic about Islam. Through his presentations, he mainly tries to focus on those young educated Muslims who think their religion Islam is now outdated.
He Has Received Several Awards and Recognition for his Services to Promote Islam
He has received several awards including Malaysia's Ma'al Hijrah Distinguished Personality Award. This award was conferred to him in 2013.  In Dubai, he was named as the Islamic Personality of the Year by DIHQA – Dubai International Holy Quran Award. In 2015, Dr. Naik was awarded Saudia Arabia's most prestigious award – the King Faisal International Prize for Service to Islam.
Dr. Naik Is Married to Farhat Naik
Zakir Naik is married to Farhat Naik who too hails from Mumbai. Mrs. Naik has a master's degree in Commerce. She is also the principal of Islamic school opened by Dr. Naik. She often gives lectures on Islam not only in India but other countries as well including US, Canada and Australia. The couple has 3 daughters and 1 son.
Dr. Naik Was Banned in the UK and Canada
In 2010, Zakir Naik was banned in the United Kingdom and Canada after both the countries had apprehensions on his comments and statements. While, UK's Home Secretary Theresa May banned him by stating that "Dr. Naik's comments are evidence of his unacceptable behavior, he was forbidden to enter Canada after the founder of Muslim Canadian Congress Tarak Fateh warned the country of Naik's opinions and views.
He is Hated by Muslim Scholars – Both From the Shia as well as the Sunni Community
Muslim scholars across the world hate Zakir Naik for his statements on Allah and Prophet. In one of his speeches he even praised Yazid, the villain in Muslim theology whose army killed Husain – the Prophet's grandson. Dr. Naik had used the expression of Radiallah Tala Anho for Yazid meaning May Allah be pleased with him and this annoyed the audience. In another speech, he had mentioned how Muslims shouldn't seek favors from Prophet in their prayers but only from Allah.
In 2012, India banned Peace TV
Zakir Naik's speeches is quite famous. The 50 year old has around 200 million viewers of his channel – The Peace TV AND AROUND 14 Million Followers on Facebook. Interestingly, four years ago in 2012, the government of India has banned Peace TV which runs in various languages including Bengali, Chinese and Urdu.
His Speeches and Teachings Have Inspired Terror Suspects Over the Years
According to sources, Ibrahim Yazdhani, the chief of Hyderabad Module of ISIS was inspired by Naik's speeches. It is said that Ibrahim had also attended a 10 day camp run by Dr. Naik and had even volunteered the same. Besides, another terror suspect Najibulla Zazi, who was accused in 2009 of conspiring to bomb the New York subway is also said to be a big fan of Naik and his speeches.
Lastly,
Dr. Naik Promotes Things That Have Been Discarded by Mankind
Wife-beating, Sex slavery, execution of apostates, punishment for homosexuals is something that Zakir Naik preaches in is speeches. Yes, all those things that have been discarded by mankind and forbidden by the society are promoted by Dr. Naik. Surprisingly, he even justifies his lines by quoting from Quran
Source and Reference:
ISIS Head of Hyderabad Module Was Deeply Influenced by Zakir NAIK
The Islmaic Research Foundation
An Evening With Mrs. Zakir Naik
Muslim Group Welcomes ban on Muslim preacher
Home secretary Theresa May bans radical preacher Dr. Naik from entering UK
Saudi Arabia gives top prize to cleric who blames George Bush for 9/11