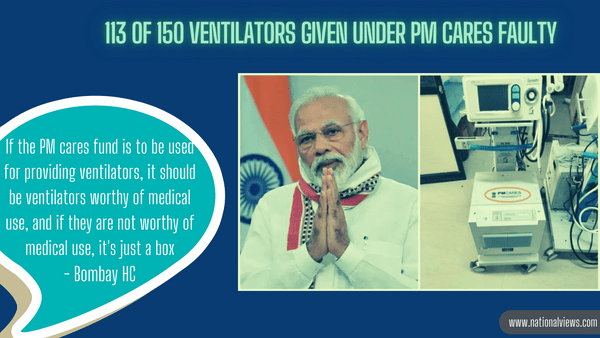 Bombay HC, Aurangabad bench, has taken suo moto cognizance of the faulty ventilators sent to Marathwada region, Maharashtra, via the PM Cares fund.
Out of the 150 ventilators provided, 113 were found faulty, the rest were kept unopened.
The HC observed:
– This is a very serious issue. Why don't you send them back?
– Let the Govt (Center) realize that they have supplied inferior quality ventilators and replace them with good quality ventilators.
– If PM Cares fund is to be used for providing ventilators, it should be ventilators worthy of medical use, if they are not worthy, its just a box.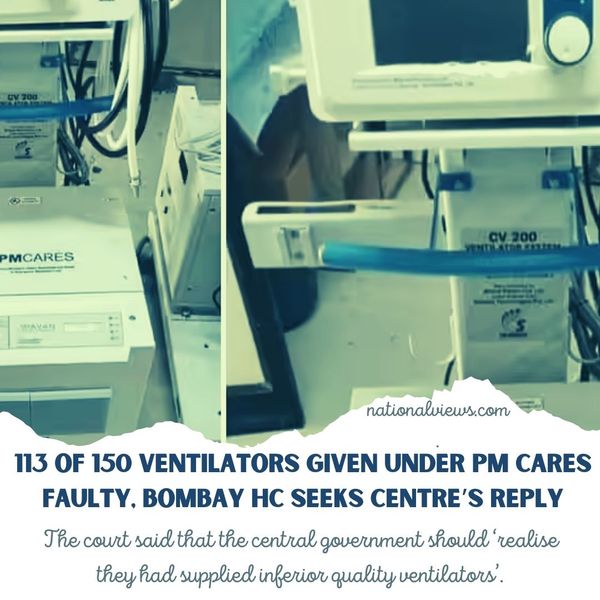 The bench noted that all the 74 ventilators independently supplied by several industrialists like Real Tyre, Cosmo films, Bajaj Auto limited, Garware Polyester Ltd, Hindalco Ltd, Endress + Hauser (India) automation, Taiyo Kagaku India Pvt Ltd, Chamber of Marathwada Industries are perfectly operational and are flawless.
You can read the full story here:
These faulty ventilators were manufactured by a company called Jyoti CNC.
Jyoti CNC is a Gujarat based company which was primarily into the manufacture of CNC machines used in manufacturing of automotive or machined components.
They recently entered in the field of manufacture of ventilators, post pandemic #AapdaMeinAvsar
Jyoti CNC is operated by its MD, Parakramsinh Jadeja, who has close ties to the Gujarat CM Vijay Rupani.
Vijay Rupani had on multiple occasions publicly praised Mr. Jadeja for his Rajkot origins and his manufacturing of ventilators.
Jyoti CNC is the same company that was embroiled in the Ahmedabad Ventilator controversy, in which the Gujarat doctors had cast their doubts over the machines being sent to them.
One of the largest shareholders of Jyoti CNC is Smit, the son of Rameshkumar Bhikabhai Virani, who is also the same person who had gifted Modi his famous, monogrammed suit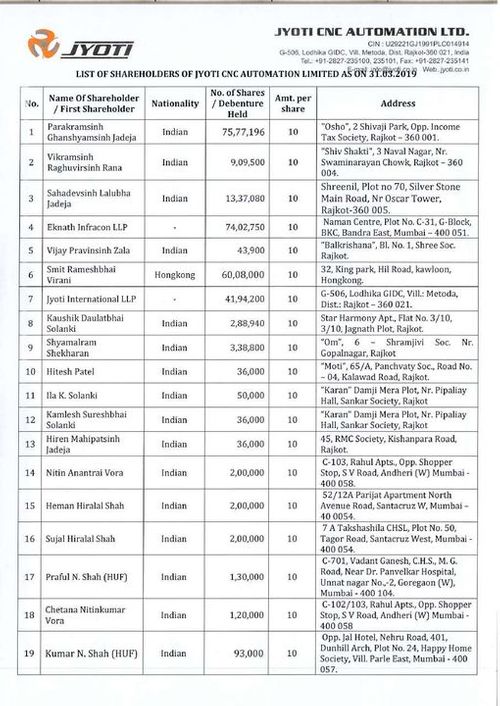 It is quite important to note that in most cases of faulty ventilators being supplied to medical facilities, the companies who have supplied them are all freshies, the PM Cares fund has been used in most of these cases and these companies have some or the other personal tie-up with PM Modi and/or BJP.
Disclaimer: I do realize the importance of "Aapda Mein Avsar" but the "Avsar" of making money at the "Aapda" of someone else's life is called "Murder"
This post was first published by Darshan Mondkar on his Facebook Timeline.