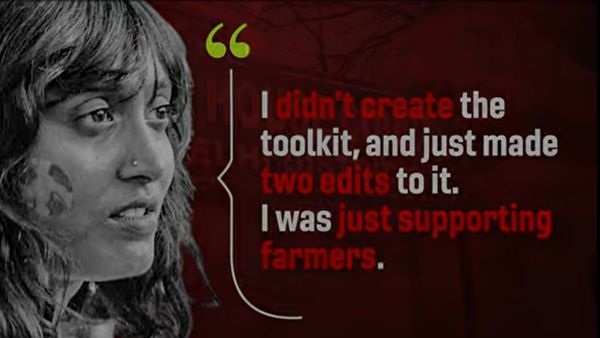 Disha Ravi, a climate activist was arrested by cyber unit of Delhi Police from Bengalaru after a tookit (popularly known as Greta deleted toolkit) – a Google document on farmers protest was shared and later deleted by International climate activist Greta Thunberg.
Disha's arrest is the very first arrest made by the cyber crime unit of Delhi Police in connection with the toolkit. Here is a list of allegations on Disha Ravi by Delhi Police –
Disha Ravi is a Key Conspirator in Document's Formulation and Dissemination – Delhi Police
As per the statement, Delhi Police alleges that Disha was one of the Editors of the Toolkit and also a key conspirator in preparing and distributing the document. Going by the contention of the Police, the document was created with an intention to wage economic, social, cultural and regional war against India.
She created a WhatsApp Group to Collaborate and Make the Toolkit – @DelhiPolice
Delhi Police in it's tweet claims that it was Disha Ravi who started a WhatsApp group to collaborate and make the Toolkit.
In her defence Disha Ravi has stated that she didn't create the toolkit and made just two edits in the document.
The Police Alleges that Ravi Collaborated With Pro Khalistani Group – Poetic Justice Foundation
Another allegation on Disha Ravi is that she along with others collaborated with Poetic Justice Foundation, a pro Khalistani organization to spread disaffection against India.
buy remeron online https://salempregnancy.org/wp-content/languages/new/remeron.html remeron no prescription
Disha however has denied being part of any such conspiracy or group.
It was Disha who Told Greta Thunberry to Remove the Toolkit – Delhi Police Press Release Statement
Going by the Delhi Police allegations on Disha Ravi, it was Disha who actually told International climate activist Greta to remove the orginal toolkit from her tweet
buy imuran online https://salempregnancy.org/wp-content/languages/new/imuran.html imuran no prescription
Disha Ravi Deleted the WhatsApp Group Where the Discussions Were Held – Police
In it's press release Delhi Police also alleged that Disha Ravi who had created the toolkit along with Mumbai-based advocate Nikita Jacob and Pune based engineer Shantanu Muluk even deleted the whatsapp group where they held the discussions about the toolkit.
Although the arrest of Disha Ravi has been condemned nationwide, the Delhi Police has registered their FIR against Disha Ravi under sections 124A, 120A and 153A of the Indian Penal Code for Sedition,Criminal Conspiracy and promoting enmity between different groups on religious grounds.
buy estrace online https://salempregnancy.org/wp-content/languages/new/estrace.html estrace no prescription
Now that a lot has been heard and said about this case – what are your views and thoughts on this case, the allegations on Disha Ravi by Delhi Police and the ongoing farmers protest that has created quite a stir globally?