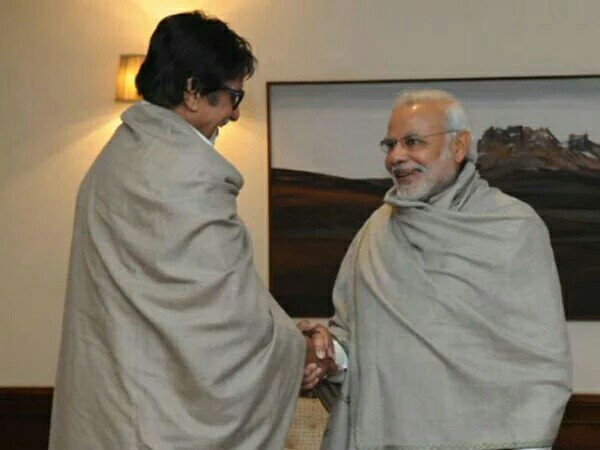 Some days you wake to pleasant news, some days not so pleasant and then there are days when you are shocked by hearing something that makes you scream WTF. I too had a similar feeling, courtesy, the news websites that have shared the buzz that PM Narendra Modi wants Bollywood megastar Amitabh Bachchan to be his Presidential candidate.
Yes, that's correct! Well, Amar Singh, former Samajwadi leader is the one who has claimed this scoop in an exclusive interview with India24x7.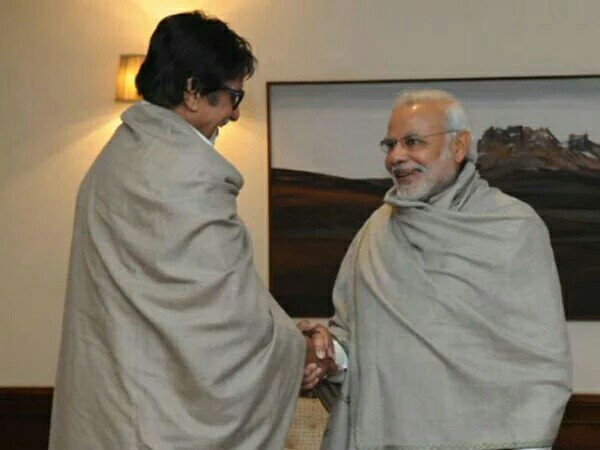 Image Courtesy: @OneIndia via Twitter
Narendra Modi is Considering Amitabh Bachchan for the Presidential Position – Amar Singh
Amar Singh who is Big B's family friend claims that the senior Bollywood actor will be nominated by PM Narendra Modi for the Presidential candidate. He claims that both the parties share a very cordial relationship with each other without forgetting to mention that it was he who had introduced them during the filming of Paa. After which, the superstar and CM of Gujarat got close to each other and Amitabh became the brand ambassador of Gujarat Tourism.
While, neither Amitabh Bachchan nor PM Narendra Modi has confirmed the news, Amar Singh played it safe by saying that he has heard that Modiji is planning Amitabh Bachchan's nomination for the next President of India.
Amitabh Bachchan, India's Next President? Like Seriously?
If this news is true, I wonder where we are heading at. Not that I have anything against Big B, he is really good in his field and is one of the most respected citizens in India. Not to forget, high popular as well. However, that doesn't mean he can be nominated for the highest position of the country, the head of the state. Nevertheless, the person has no knowledge about politics.
Talking in the terms of my few Sanghi friends, he is the Manmohan Singh of Politics and Rahul Gandhi for the Presidential position. Then why is he being considered for the position? Not that I had a feeling that Amar Singh might be simply speculating, but why will he do so?
But, now that we have TV actress Smriti Irani as HRD Minister, we can have Bollywood actor Amitabh Bachchan as President too. No wonder, in India Bollywood actors and cricketers are the only people always in focus. That reminds me of the other interesting news straight from Kerala that Sreesanth has joined BJP and is even contesting the Kerala Assembly elections from Thiruvananthapuram.
Wonder, what's going in PM Modi's mind that he thinks Amitabh Bachchan is suitable for the position of President of India though I think he can be made cultural ambassador of India, nothing beyond that. He is already the ambassador of "Incredible India Campaign" post Aamir Khan's exit.
Will Amitabh Bachchan Contest the Presidential Elections?
Amitabh Bachchan has a past with politics. He had contested the 1984 Lok Sabha Elections on a Congress ticket from Allahabad and had won the election after beating H.N. Bahuguna by huge margins. However, after 3 years, he resigned from his position and also quit politics. He termed politics as "cesspool"
When Amar Singh helped Amitabh Bachchan from his financial crisis, he started supporting Samajwadi party. His wife Jaya Bachchan is a Rajya Sabha member from the same party. Because of his relationship with Samajwadi party, Big B did several campaigns and advertisement for them. However, it landed him into more problems.
Going by the past that Politics and Diplomacy is not Amitabh Bachchan's cup of chai, we wonder, if he'll agree to contest the elections if PM Modi asks him to do so. Not that Amitabh Bachchan denies doing anything, but he should really think before taking such a drastic step.
What do you think will Big B win the Presidential elections if he becomes Narendra Modi's candidate?
Do Not Miss Reading:
The Biggest Critics of Narendra Modi Government is not Congress but BJP and Its Loyalist
Yogi Adityanath Vs Anupam Kher – The Battle of The Biggest Sanghi!
Bihar Election: Arvind Kejriwal Twitter Trolls You Shouldn't Miss!
Know How Comrade Kanhaiya Kumar Is Manipulating The People Of India!