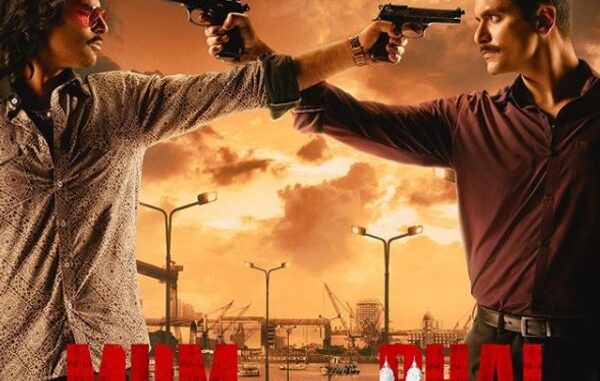 It takes only a few seconds to fall in love with an on-screen character. Right from their acting skills to good looks, everything about them automatically becomes your favourite. Well, if you're one of those people who hold a special place in your heart for an iconic character, get ready- the newest on-screen actors are sure to sweep you off your feet. Brace yourselves as the charming men of the industry- Angad Bedi and Sikandar Kher are here for you!
In no time, Angad and Sikandar won everyone's heart. After the makers revealed the trailer of Mum Bhai, everyone seems to talk only about one thing- the boys of the show, of course (all the feels). And why shouldn't they? With their good looks and phenomenal performance on-screen, it's not a surprise. So what are you waiting for? Come, meet the handsome men of the Mum Bhai web series with us:
Sikandar Kher as Rama
Iske naam se acche acche kaanp jaate the, iska sikka chalta tha poore Mumbai par!! But who is this fiery man on Mum Bhai web series? Here's introducing to you 90s ke underworld ka raja- Rama Shetty (*drumrolls, please*). The hunky gangster of Mum Bhai, Rama played by none other than Sikandar Kher is ready to rule your hearts with his swag and temper.
Angad Bedi as Bhaskar
Meet the savasher– Bhaskar played by Angad Bedi in the 90s crime drama, Mum Bhai. Iska mission tha clear, underworld ki karni thi chutti, aur khud ko karna tha raaj. But will Bhaskar succeed in ruling 90s ka Bombay? Well, guess we'll have to find that out together. In the meantime, let us all just keep dreaming about his macho look on Mum Bhai web series. (uff, koi toh roklo).
About Mum Bhai
Can any of you recall 90s ka Bombay? If not, you should definitely not miss ALTBalaji's latest crime drama set amidst the 90s. The show, Mum Bhai takes you back in the day when Mumbai was called Bombay back then. And not forgetting the time when it was all about underworld. To be precise, Mum Bhai is a portrayal of money, power, murder, extortion, and kidnapping. Yes, you read that right!!
Starring Angad Bedi, Sikandar Kher, Priyank Sharma, Sandeepa Dhar, Sunny Hinduja, Vishwas Kini, Sameer Dharmadhikari, and Madhurima Roy, Mum Bhai is here with a promising cast and storyline for you! It's action sequences, punchy dialogues, and captivating storyline of two friends is a treat to watch.
Catch them in action along with the other cast on the 12th of November. Watch Mum Bhai online and let Angad and Sikandar take you into their world, the same old 90s Bombay.
Also, if you are looking to watch yet another web series this month, do catch Dark 7 White, an upcoming murder mystery with a quirky dark humour starring Sumeet Vyas, Nidhi Singh & Jatin Sarna.