Common Indian Name – Anwal, Aaguli, Awaram, Tarwan, Tarawar. Also known as Tanner's Cassia
Botanical Name – Cassia Auriculata L.
Family – Caesalpiniaceae
About Aravalli Hills
They form an important geographic unit is state of Rajasthan. In fact they divide state into 2 different parts having varied climate, culture, soil types etc. Aravalli hills start from near Delhi and continue is state for 600kms. following a NE-SW trend covering Sirohi, Mt.Abu.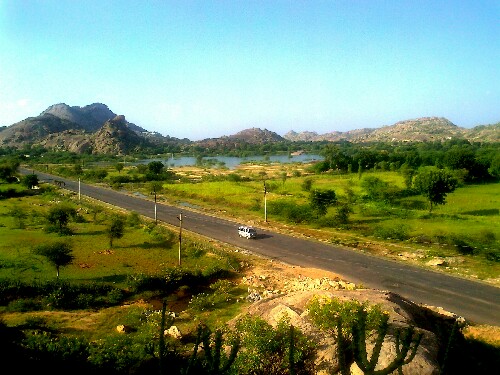 The Aravallis continue in Gujarat also but as isolated hills. Aravallis have maximum width in southern part, and tapering in north. These hills control the drainage in state in a way that water flowing along western slopes go into Arabian sea, and that flowing along eastern slopes go to Bay of Bengal. These hills host variety of fauna and flora, and largely responsible for evolution of human society in this state.
Location and Description of Anwal Plant
Anwal or Aaguli is a native of India and Sri Lanka. Scientific literature describes it as a plant occurring in rocky areas having gravelly and sand soils.
It commonly occurs in Aravalli hills in Rajasthan state of NW India. The common species that is grown in our country is Cassia Auriculata. The plant is branched and has slender appearance, grows to a height of 1.0 to 1.5 mts. It has green coloured leaves. Its bloom time is generally August to November. It has beautiful yellow coloured flowers. During bloom time plant adds to the beauty of Aravalli hill topography.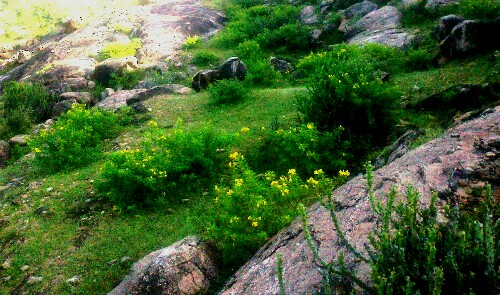 This author has visited Aravalli areas numerous times between 1990-2014, as part of his scientific work, and observed this plant year after year from very close quarters.
Composition and uses of Anwal 
Research scientists, technocrats are amazed by the properties of this plant. It is being hailed as wonder plant. Its use in variety of ways has been known to tribals and other population for many centuries.Now scientific investigations are simply confirming such uses. Laboratory studies by botanists and pharmacologists have brought out voluminous data about plant composition.
Published literature indicates presence of following important compounds in this plant –
Beta pinene, Bisabolene, Limonene,Terpeneol,Terpenoids. This plant is also said to contain Cardic glucoside(sennapicrin), leaves contain anthraquinones, bark is rich in tannins.
Before scientific investigations proved the utility of this plant, various uses were known to tribals/non tribals in south Rajasthan.
Some uses are :-
Medicinal – Parts used are roots, bark, leaves, flowers.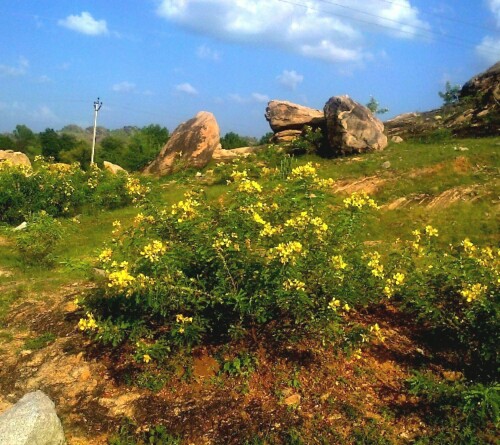 As per the published report on ethnobotany of Rajasthan by Botanical survey of India following information is worth reading. The Garasia tribals wash the eyes with the decoction of seeds in ophthalmia and conjunctivitis. Bhils take orally the fresh flowers to cure diabetes and urinary disorders. They also give leaves as an anthelmintic to the children. The Saharia tribals in Kota district make a paste of root-powder with mustard-oil to apply against skin diseases and on the abdomen against problems in urinary discharge. Kathodias cure cough and cold by taking orally the root-powder in Udaipur district and Bhils of Banswara cure diarrhea. The twigs are used as tooth-brush.
Scientific studies published over years have mentioned that plant Cassia is most effective in diabetes,highly effective in conjunctivitis,dry skin,skin desease,Urethritis,and effective in acid reflux,asthama &body odour. In all it can be said that plant has anti microbial, anti inflammatory, anti hypertensive, anti cancer properties.
Some research workers have also expressed the view that further conclusive evidence is still required about anti cancer value of this plant.
Industrial use- For centuries local residents of Pali, Rajsamand and Udaipur districts in south Rajasthan have been using stem bark of this plant for tanning lather. Procedure is very simple, stem are cut and dried. Then they are boiled in water for few hours.This solution is then used for tanning of lather. One thing is very surprising that use of plant in tanning is known but no systematic research has been undertaken to understand this process by govt. agencies or universities.
Conclusion – Above paragraphs have clearly elucidated the multiple uses of Cassia plant having wild growth in Aravalli hills of Rajasthan. It is high time govt. undertakes systematic study of Anwal plant, and should also encourage regular cultivation of this plant so its uses can be adopted in other parts of our country.
Note:- The facts mentioned in this article are for information purpose only. Such facts can not be treated as substitute for expert medical advice. Kindly contact your physician before consuming any part of this plant for curing any disease.
Text and Images by Rakesh Giri Goswami
Do Not Miss Reading:
Aakban: A Medicinal Plant of the Thar Desert!