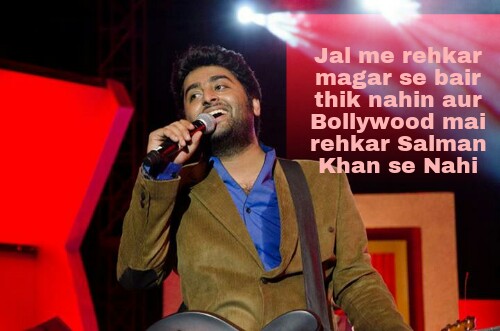 There is a famous Indian saying, "If you live in the river, befriend the crocodiles, don't make them your enemies!" The same thing applies to Bollywood – If you are in Bollywood rather befriend the Khans especially Salman Khan and don't take Paanga with them unless you are Kangana Ranaut, Priyanka Chopra or perhaps A.R. Rehman.
The recent Event where Arijit Singh Begs Salman Khan Proves it All
Well, Salman Khan seems to be miffed with Arijit Singh (for whatever reasons) and the result is Arijit's song is out of his forthcoming film Sultan. Well, like we all know this film is not Salman Khan's film but is a Yash Raj Film where Salman Khan is a protagonist. Yea, people as big as Adi Chopra too seem to be influenced with Salman these days.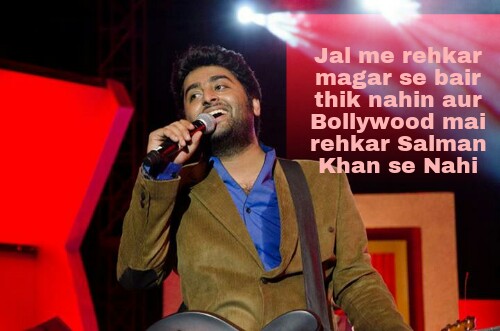 Base Image Source: Debjitp via Wikimedia Commons
Salman Khan Has Banned Arijit Singh from All His Films
Reportedly, in an award show Salman Khan got angry with Arijit Singh. According to Arijit Singh's public apology letter he (Salman Khan) is just mistaken that he insulted him but in reality it was just the wrong time and place. Salman Khan got so angry with the Muskurane Ki Wajah singer that he not only decided to delete his song from Sultan but also decided to ban him forever.
Obviously, staying in good books of Salman Khan has its own perks but being Salman Khan's blacklisted star can have a lot of adverse effect. This is the reason why we see Arijit Singh is almost begging and crying in front of Salman Khan. As if the singer has less faith in his work and more trust in mending relations with Salman Khan.
Arijit Singh Might Even Not Be at Fault
Though we really don't know at the awards function, chances are Arijit might not be wrong. However, simply that Salman Khan is a big name in the industry and can influence his future work and project, he might be doing so. No wonder, all the big directors and producers are quite friendly with Salman Khan and one word from Bhai can simply ruin his chances of getting work.
This is the reason why much to his fan's dismay, Arijit is begging on social media to get Bhai's attention. However, this whole mess around Arijit Singh and his public apology in a way proved that Salman Khan is not just the Bhai but Baap of Bollywood.
What do you think guys?
Do Not Miss Reading:
5 Reasons Why Fans Are Excited for Kailash Kher Live in Concert!
Udta Punjab : #Drugs Di Maa Di !!!