So this week saw the much awaited trailer release of the Bollywood movie Azhar.
What's it about: A sports biopic based on the life of ex-cricketer and Indian Captain Mohammad Azharuddin
Production House: Balaji Motion Pictures
Star Cast: Emran Hashmi, Prachi Desai, Nargis Fakhri and Lara Dutta
Director: Tony DSOUZA
Music: Pritam Chakraborty
Release Date: May 13, 2016
Backdrop of Azhar Movie
Talk about miss-timed shot to get off the mark, the trailer of the movie just that to get released a day after the exit of Indian team from cricket T20 World cup. Not sure if the makers planned it in this way as this did not come out of the middle of the bat.
Image Courtesy : @AzharTheFilm via Twitter
It is not a surprise then that Azhar is produced by Balaji Motion pictures, which seems to clearly believe that a budgeted movie, that will make good content and commercial, needs to have a big controversy as the heart of the story.
So here we are here with a story based on the biggest scandal that hit the cricketing world in the 90's and bought to end one of India's most successful captain's career – the end of Mohammad Azharuddin.
With Emran Hashmi, at the helm of affairs playing the title role of Azharuddin is in the same boat like Shikhar Dhawan, who has hit a rough patch but just doesn't know how to come out of it. We trust there is talent but the current form (a string of flops) is surely making us lose patience.
Another selector's (Read Ekta Kapoor) favorite, Prachi Desai who last memorable innings has not registered in the memory yet. Followed by Nargis Fakhri who is like Stuart Binny is still trying to prove that there is something about her we can't seem to see or figures out so far in all her movie outings – "Acting". Clearly she should restrict her acting skills (pout) to Instagram – we are clearly content.
Image Courtesy : @AzharTheFilm via Twitter
And then like our Indian captain, the captain of the film (Tony DSOUZA) too has her favorite Lara Dutta. So like Ravindra Jadeja, she can be a match winner on her day and just another player in another day.
Trailer Review (no Spoiler Alert – There is anything clearly to spoil)
The trailer begins with Emran Hashmi trying hard to emulate the swagger of Azhar with Rishi Kapoor's voiceover. Flashes of all the controversy already known to public, cover the large part of this 2 min 13 seconds trailer. The rest of the trailer covers from his colorful personal life from his love for expensive stuff to stunning affair with model cum actress Sangeetha Bijlani to shaming the nation, sports and trust of billion Indians including his first wife.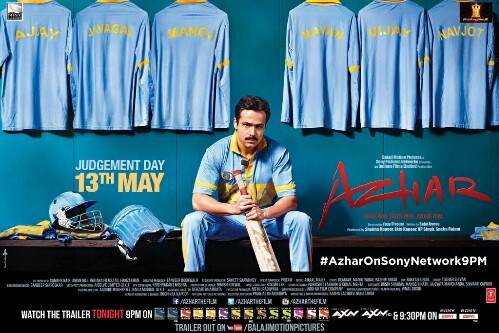 Image Courtesy : @AzharTheFilm via Twitter
So, Does the trailer Of ' Azhar ' work for me?
The trouble….
The trouble lies in the fact that it tries hard to mimic the player than focus on the larger issue/subject – the sport. There have been umpteen attempts made to make a good movie on cricket and cash in on this cricket crazy nation but seldom has it transformed the magic on screen with only exception of Lagaan.
Apart from a weak star-cast, the captain of ship (Tony D'souza) himself does not have an impressive report card Blue and Boss, two equally forgettable films to his credit.
Déjà vu moments
This trailer reminds me of multiple Madhur Bhandarkar movies which similar content, style and production values. And most importantly it reminds of Jannat, which had same hero in the lead with similar theme around betting and match fixing. Clear attempt of a hit wicket there with no novelty factor going for the film.
Image Courtesy : @AzharTheFilm via Twitter
What works in parts?
The trailer is decently edited, with background score as thumbs up, specially the entry of Nargis Fakhri which looks the only wow moment in the whole trailer. The writer of the film Rajat Arora can potentially be the only saving grace, who may just pull off a decent film. Music by Pritam may just hit the right notes.
Azhar Movie Trailer : Final View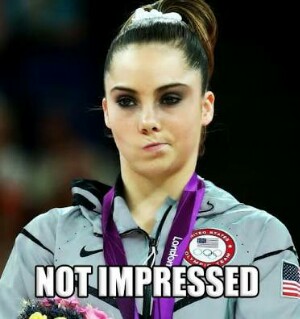 Given the budget and that the movie is banking too much on the cricket, the fate of the movie may also be determined by the last line with which the trailer " Cricket Ke Naam Pe……"
Did not enjoy the Trailer click on the link below and I hope you enjoy the song Photograph by

Ed Sheeran(Justin Mcguire Mix)
https://soundcloud.com/justinmcguireofficial/ed-sheeran-photograph-justin-mcguire-remix
From the desk of Sushant: The trailer is just two minutes long but it's the way a film greets to the world. In this world of social media, the film is the most critical marketing tool to make that first impression along with movie poster. Once a delightful distraction, now it is a decision making tool for most movie goers. A well cut trailer, can help immensely to draw the first blood –to arouse, provoke, seduce and beguile the audience. A trailer should be a well balanced one – reveal what is important but hide what is critical. Just a caveat, like a well-cut trailer is no guarantee to film's success; a bad trailer may be nullified by strong reviews and terrific word of mouth. Will try to give you an insight to the newly released trailers on what made me fall in love, what didn't inspire me or what we can look forward to. Would love to hear your feedback – in agreement or disagreement is irrelevant.
Do Not Miss Reading:
Everything You Wanted to Know about "Azhar" – Mohammad Azharuddin's Biopic starring Emraan Hashmi
10 Trends That Has Emerged Popular in Bollywood
Amitabh Bachchan to be the Next President of India?