Maggi was banned royally and a new noodle brand was launched in India by our yogi guru Ramdev Baba popularly known for his yoga and Ayurvedic products which he sells under the brand name Patanjali.
Patanjali Noodles – Know Everything about the Product
No sooner than people started boycotting Maggi after the failed tests in the Indian labs for Lead and MSG, than Babaji came up with the idea of his own product.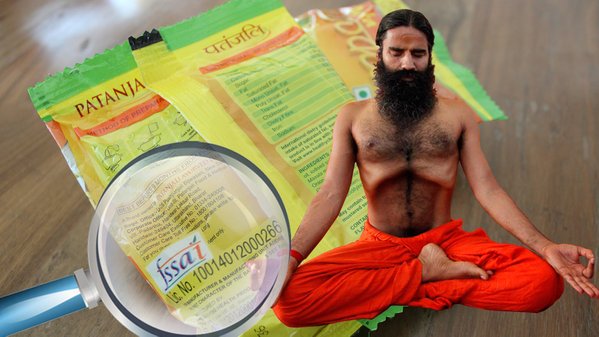 Image Source: @thequint via Twitter
The Good About Baba Ramdev's Noodles
This instant noodles comes without any MSG (monosodium glutamate) or Lead
It is purely made of whole wheat flour.
Healthy Iodized Salt is used in Patanjali Noodles
It is made in rice barn oil as against the palm oil which other company uses.
The Masala mix has all the healthy spices in it including Turmeric, cumin seed, onion, garlic and ginger.
It is comparatively cheap. This Atta Noodles is of Rs. 15 only as against Maggi's Atta Noodles which is priced at Rs. 25.
The Bad about Patanjali Noodles and why it is Not a Healthy & Safer option As Well!
Though it doesn't have MSG (E621), it does have flavor enhancers E627 and E631. In addition, here E631 is produced from tapioca starch but normally it is made up from sardines and meat. Even if we trust that Baba Ramdev will use 'only' plant sources in making the vegetarian Patanjali Noodles (Been using Patanjali goods and they are quite good), the enhancers are not good at all – forget being healthy.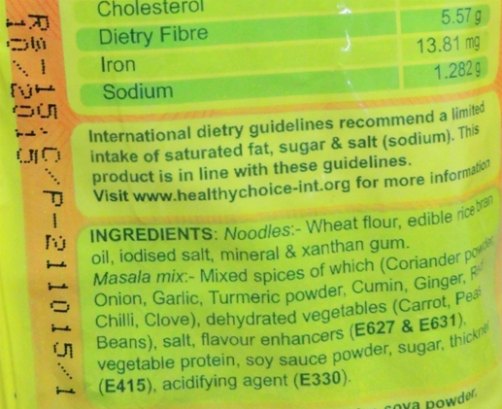 E627 and E631 are two enhancers which are not at all permitted in any type of food for kids and infants. Almost all the potato chips have this content and kids eat it but at least they don't claim it to be healthy. So, if Maggi is not healthy even Patanjali Noodles without MSG & Lead is not healthy and so are the other brands of noodles. This means either boycott all noodles or eat whatever is available in gaps. Wonder, why didn't Baba Ramdev  used some healthy flavor enhancers in Patanjali Noodles.
Also, the taste of Baba Ramdev's Atta Noodles is not so good. One could have still consumed if it was healthy but now that it is not, it is worthless to consume such tasteless noodles – so what if it is prepared with Atta and has no MSG or Lead. Parents would rather go for another tasty as well as healthy option. There are plenty if you ask me.
The product doesn't have mandatory approval from FSSAI as of now. You might see the license number on the packet. However, this license number which is used by Patanjali is a generalized license given to the brand for certain products but not for the product in question.
Lastly, it is not even 2 months of the launch of Baba Ramdev's Patanjali Noodles and a consumer found a bug from the sealed packet. Now, my question to you is the obvious –
Will you go for this Atta Noodles?
Reference: IE, Fodreactions.org
Do Not Miss Reading:
Maggi Controversy : Know Why You Should Not Eat Maggi Noodles