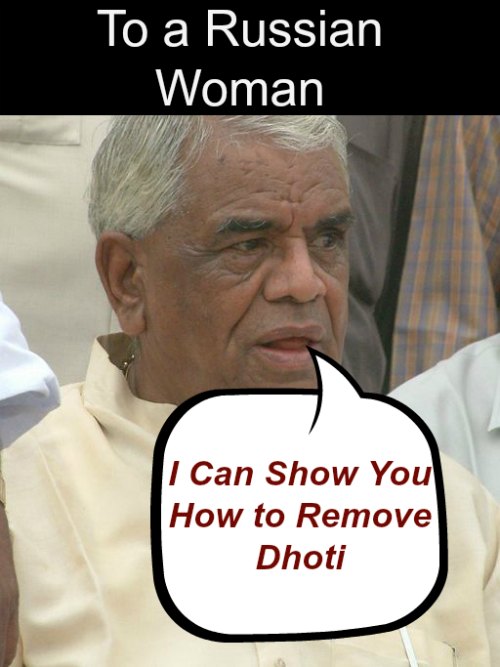 Babulal Gaur recently said that there is no need of a CBI probe in the high-profile Vyapam Scam since all those who died in these two years died their natural deaths. While, the world can discern that 45 natural deaths so far cannot be a coincidence, the Home Minister of the ruling Madhya Pradesh Government is of the opinion that all the 45 people fell sick and then died their natural death not forgetting to add a lame line – "Everybody has to die some day or the other."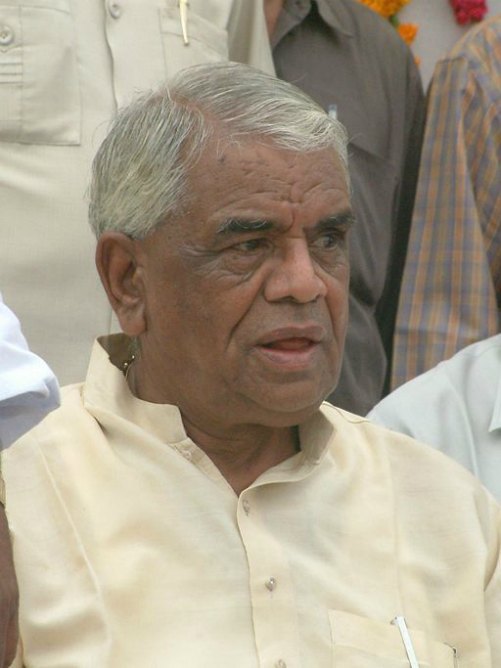 Image Courtesy: Bhagat Singh (Babulal Gaur 24.JPG) via Wikimedia Commons
This is not the first time that Babulal Gaur has put his foot in his mouth. He in fact has a history of uttering such lame and controversial statements. Let's dig into his past:
I can Show You How to Remove Dhoti ~ Babulal Gaur to a Russian Leader's Wife
In May 2015 while giving a speech Babulal recalled how a wife of a Russian leader signaling towards his dhoti asked him what was it. When out of curiosity she asked how it is worn, he said it cannot be shown in public. What's more he even went on to say that, "I cannot demonstrate how to wear it, but can certainly show you how to remove it, but later, not now."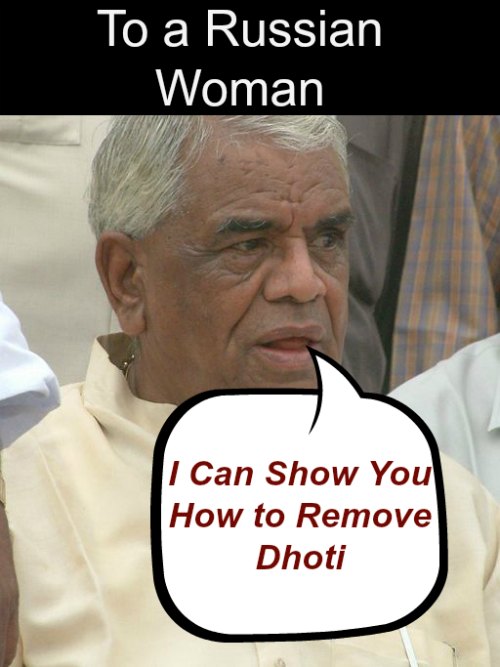 Image Courtesy: Bhagat Singh (Babulal Gaur 24.JPG) via Wikimedia Commons
His incendiary statements did not stop there. He also said that he was kissed on his forehead by the Russian woman, and if that click would have made public, BJP would have never given him the ticket.
Drinking Alcohol Is a Status Symbol ~ Babulal Gaur
Nothing that Babulal speaks can ever go unnoticed since he has mastered the art of making provocative comments. So, when on June 28th reporters in Bhopal asked Babulal Gaur about his opinion on extending the alcohol sales timing from 10 pm till 11.30 pm, he did prove what a rational mind he has. He not only said that, Drinking alcohol is a status symbol but also went on to say that It is a fundamental right.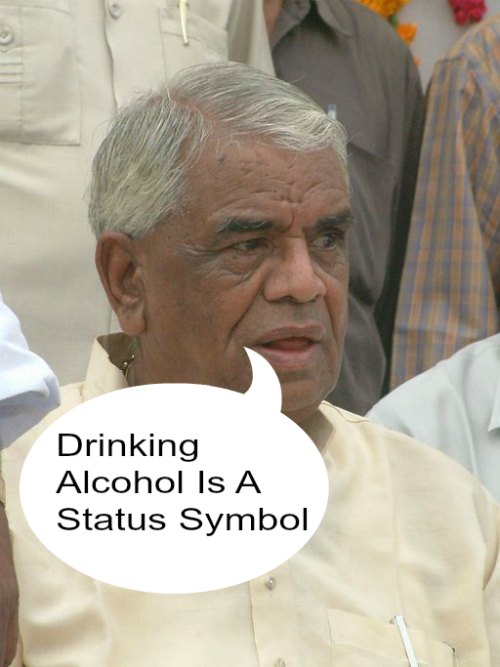 Image Courtesy: Bhagat Singh (Babulal Gaur 24.JPG) via Wikimedia Commons
Rape Is Sometimes Right and Sometimes Wrong ~ Babulal Gaur
In June last year, Babulal Gaur blamed both men and women for rising rape in India. Shocking everybody, the Madhya Pradesh Home Minister said publicly that – "Rape is a crime. Sometimes it is wrong, but sometimes it is right."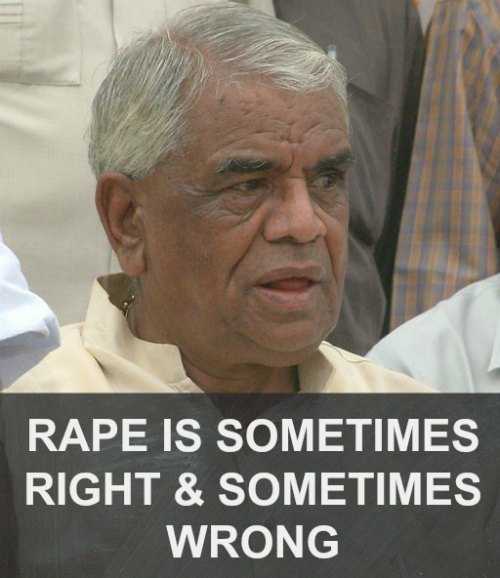 Image Courtesy: Bhagat Singh (Babulal Gaur 24.JPG) via Wikimedia Commons
Since Women in Chennai are more religious, the Sexual Crime rate is less there ~ Babulal Gaur
In January 2014, Babulal went to Chennai to witness how the Tamil Nadu police works. After coming back he had one such valuable information that killed everybody. Well, the minister after coming back stated that since the Tamil Nadu women wear full clothes, the sexual crime rates in less in Tamil Nadu as compared to the other states in India.
Stop Shouting Slogans or you will be sent to Pakistan
When the members of the Sindhi association where protesting against the civic body in front of Babulal's house to relocate them from one place to another, the Minister told them to stop shouting slogans or they will be sent to the same place from where they came (Pakistan)
Present Home Minister of Madhya Pradesh and earlier a Chief Minister, we wonder how such people retain the position in any government despite making such insensitive remarks.
 Do Not Miss Reading
Vyapam Scam: 7 Shocking Facts that Will Shake Your Belief in Democracy