Consider the speed with which Pakistan retaliated to the Indian bombing of terrorist camps in Pakistan's Balakot. In less than a full-day's time, its fighter jets crossed the Indian Line of Control and dropped two bombs before the enemy aircraft were chased away by jets of the Indian Air Force. Pakistan lost one fighter jet; and India lost one too, in the face-to-face over the skies.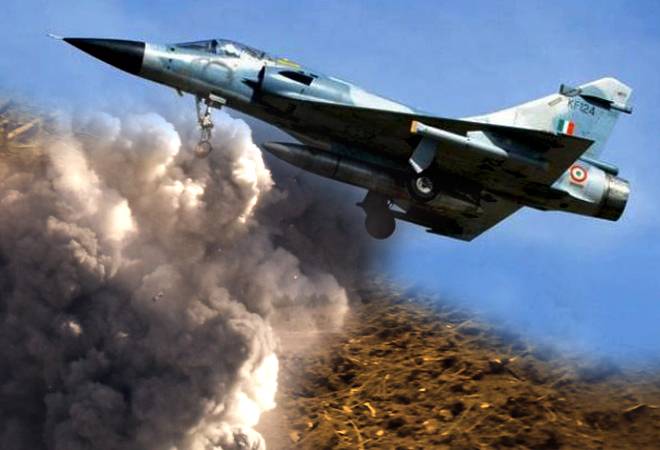 There are lessons from this for the generally weak-kneed Indian leadership which, season after season, fiercely proved their incompetence and a lack of the grit and determination to act. In the process, men unworthy of the posts they held had been taking the nation and its people for granted. The Balakot attack changed the script, boldly, effectively, and in impressive ways. India, for a change, put its best foot forward. This now is time to take matters forward, and not to pause.
Note the fact that Prime Minister Narendra Modi showed the boldness to act only after he, his government, and Indians as a whole were pushed to the walls. Had he not acted this time, disaster awaited him at the Polls 2019. Modi had famously vacillated in the past, just as his predecessors Manmohan Singh and Atal Behari Vajpayee, and did little to put Pakistan in its place. He boasted about a surgical strike he did in September, 2016. It was done by some commandos crossing over the LoC in a mild-mannered offensive in the dead of the night. Some damage was inflicted on a terrorist camp there, but the surprise element gave Modi some credit.
More importantly, it raised the bar for India's response mechanisms, but not in a very substantial measure. Indian commandos went five km inside the Pakistani territory and staged the attack then. Now, fighter jets reached upto 80km deep inside the Pakistani territory, some 130km close to the national capital of Islamabad; and very close to the Pakistani military headquarters, and close to Abbottabad where Americans went in and took out Osama bin Laden. Yes, as Arun Jaitley made it clear in the aftermath of Balakot, India has proven now that it too is capable of staging an Abbottabad. It must be with a shudder of disbelief that every Pakistani would now be facing the future: they are only at an arm's length from the nasty Indians.
Note the fact that despite Modi's first surgical strike, Pakistan continued to provoke India by sending terrorists through its rogue agencies nurtured by the notorious military intelligence, the ISI. Pakistan also brazenly continued to violate ceasefire along the border and LoC, frequently, resulting in casualties by the hundreds, overall, but Modi squirmed in his chair and did not take strong action. Question is, if Modi could act now –after the Pulwama suicide bomb attack on CRPF convoy — why didn't he act effectively all through his five-year-term which is ending in a short while from now?
The Balakot attack by the IAF showed that India has had information about a central terror training camp operating there with full backing of the Pakistani establishment. The trainers who created terrorists out of poor Muslim youths there were mainly drawn from officials of the Pakistani military establishment, including retired officials. These trainers were getting hefty pays from what Masood Azhar collected in the form of charity from Gulf nations and beyond – to educate poor kids, as he had claimed. That education though was also in terror training.
In other words, as we knew all along, Pakistan was engaging in a proxy war with India through the instrument of terror. Modi did not act the way he should have, to end this scourge once and for all. He followed the path of Manmohan Singh and Sonia Gandhi, and of his idol in politics, Atal Behari Vajpayee. Modi has acted now, and fair enough. But, this time too, he took 14 days after Pulwama to send in the IAF Mirage200 aircraft to Balakot. It meant, he, unlike Imran Khan, had crafted no action plan in advance, and no counter-strike mechanism was in place for immediate retaliatory action. This is what the Indian leadership is all about. Modi is still head and shoulders above his predecessors. By all accounts, he had virtually lost the coming polls even before the polls were called; but, Balakot gives him a fresh lease of political life.
Masood Azhar is a product not only of the Pakistani military ISI but also of Atal Behari Vajpayee. It was under Vajpayee's time that the 1999 hijack of Indian Airlines flight IC814 took place, done mainly by the family members of Masood Azhar, who heads the Jaish e Mohammed based out of Pakistan and targeting India in multiple ways. A weak-kneed Vajpayee released and returned to Pakistan this Masood Azhar who was then in Indian jail — after his capture from Kashmir, as also release of a set of more terrorists. With this, Masood Azhar became a hero of sorts in Pakistan. Then, in 2001, came the terrorist attack on Indian Parliament. Vajpayee, as PM, blinked again, and did not act. Then came the Mumbai terror attacks, on 26 November, 2008, and the Manmohan Singh-Sonia Gandhi duo blinked. Later came Pathankot air base attack by terrorists sent in from Pakistan, and Narendra Modi blinked. Uri was the last straw on the camel's back. The surgical strike of 2016 was the answer, but Modi dithered again.
It's against this background that India must see the Pakistani air offensive. Imran Khan, the Pathan with a better sense of resolve and speed, sent in his fighter jets within a few hours after the Balakot hits. Pakistan is also a democracy, and Khan an elected Prime Minister. A sense of pride however forced him to act; unlike the Indian leadership which hides their incompetence under the cover of India's democracy limitations.
In a grim scenario, Pakistan is face-to-face with reality. It's abundantly clear in the aftermath of Balakot that Pakistan has no friends to rely on when it comes to the issue of nurturing terror in its soil. The US, Russia, the EU, and most importantly China expressed considerable comfort at the way India acted against terrorism – and against Pakistan. The Islamic nations, including the Gulf, are silence personified.
For Pakistan's all-weather-friend China, its main obsession now is to save the China Pakistan Economic Corridor project from turning into ashes under Indian bombardment in the event of a war. "Save CPEC, if at all this meant killing Pakistan," seem to be the hidden Chinese script. For, it has invested billions in the ambitious project that's part of Xi Jinping's more ambitious Belt and Road project. So, one can hazard a guess as to what promise external affairs minister Sushma Swaraj gave to the Chinese diplomat who called on her on Tuesday before her departure to China for the Russia-India-China trilateral meet. And, we heard what the joint communiqué there declared Wednesday: full backing from Moscow and Beijing to the fight against terrorism. This is the predicament that Imran Khan and Pakistan found themselves in; for a change. Coming to the crux, it finds itself with no friend around.
Certainly, this is not the time for India to stop, but time to act. This is time to prove a point. This is time to show Pakistan that India means business when it comes to restoring peace in the subcontinent. Pakistan cannot afford a long war; nor can it think of the nuclear option as the entire nation would be finished off in a counter offensive by the Indian side. Big talks by the Pakistani military brass are just about bluff and bluster. India hit the terror training camp in Balakot. But, the Pakistani establishment and in specific the military that worked from behind the Jaish need be made answerable to their deeds of the past and the present. 
The story does not end here. The Balakot air strike should just be the start and there are things to do even as the idea is not to go in for a full-scale war. To say that Modi has proven a point is true to an extent. But, he's still at the starting point. He's yet to save his face and restore dignity to India's defence systems. Nothing wrong, if Modi learns a lesson or two from the Pathan on the other side of the border; and vice versa. Peace, after all, is all our birthright.