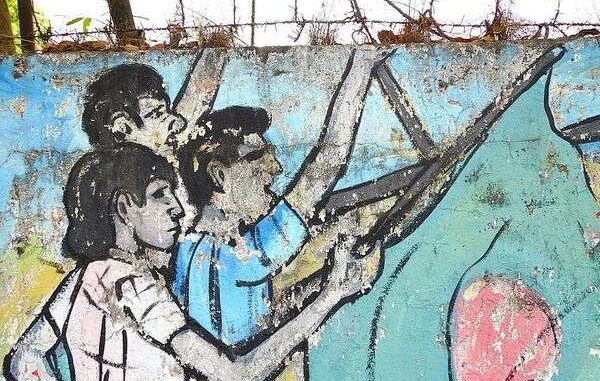 PM Modi in his speech in Bangladesh talked about his participation in the liberation of the country and how he even got arrested while being part of the movement. His statement created quite a stir online with people trying to dig out the details of his claim. Here, in this article, we are sharing the information and facts about Bangladesh Satyagraha that PM Modi talked about –
PM Modi Referred to the Recognize Bangladesh Satyagraha by Jana Sangh in 1971
Going by the news archives (photos and videos), it appears that Atal Bihari Vajpayee the then President of Jana Sangh did organize a demonstration to demand the immediate recognition of Bangladesh by the Indian government in August 1971. The 12-day protest as its name goes by was against the delay of conferring 'formal recognition' to the Provisional Government of Bangladesh by the Indian Government.  
Here is a video by Associated Press where Jana Sangh is seen Demonstrating against Indira Gandhi on August 6, 1971 and there are banners to release Mujib
The archive videos were uploaded in July 2015 by AP  – Was a month later after Prime Minister Narendra Modi visited Bangladesh and even collected the Bangladesh Liberation War Honour for Atal Bihari Vajpayee. It was then PM Modi first talked about his participation and his arrest.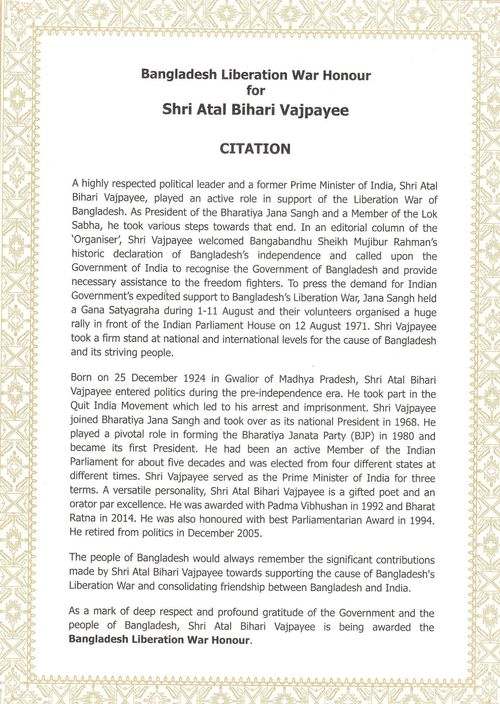 So, yes, PM Modi back in 1971 must-have participated in the Recognize Bangladesh Satyagraha along with other Jana Sangh members as organized by its then-President Atal Bihari Vajpayee. However, the catch by several people on social media is – Did this Satyagraha won Bangladesh its freedom?
There is a Times of India Newspaper archive that states – 10,000 Jana Sangh members were arrested.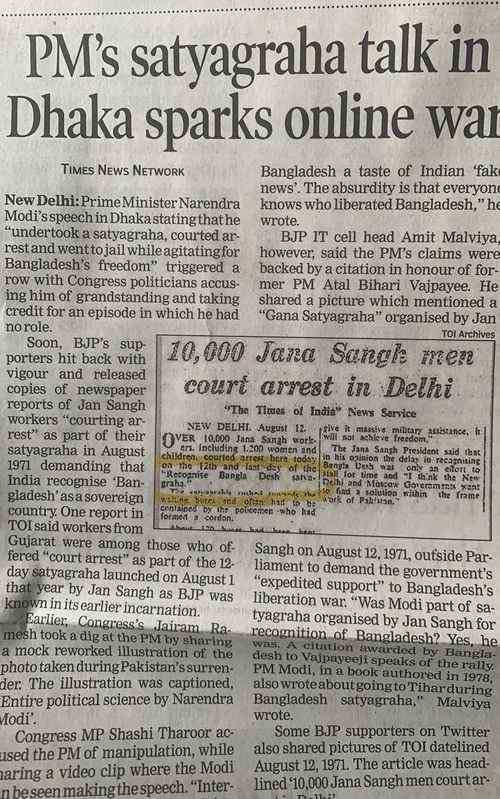 In the same archive, one also gets to know about Vajpayeeji talking about India and the Moscow government's friendship. Well, it was during this time, India and the Soviet Union had signed the India-USSR treaty after witnessing the rising proximity of Pakistan with China and the United States. The Times of India had even reported that Atal Bihari Vajpayee in a massive rally on August 12, 1971, said that the treaty (signed on August 9) implied a conspiracy between Delhi and Moscow to deny recognition to Bangladesh.
So, yes, PM Modi must have been one amongst the many who got arrested. However, the cause of the arrest is unclear.
Going by Shuddhabrata Sengupta's article, "A Satyagraha and Asatyagraha: Narendra Modi and the Liberation of Bangladesh" the cause of the protest (where PM Modi along with others were arrested) was the India-USSR treaty of Friendship – the treaty of Friendship and Co-operation that gave India the diplomatic cover need to wage a war against Pakistan later that year.
In his Op-Ed, He also quotes –
Had India entered the war with a US-and-China-backed-Pakistan prematurely, even as late as August 1971, instead of in December 1971, as the Jan Sangh wanted it to, it is quite possible that Pakistan would have prevailed and that Bangladesh would not have attained actual independence in December.
So, now that we have the facts and details, archived news and video, it is for us to understand and comprehend whether to connect the protest Recognize Bangladesh Satyagraha by Jana Sangh in 1971 as a protest towards the liberation of Bangladesh or not.
Also Read: Did BJP's Founder Syama Prasad Mukherjee Oppose Quit India Movement & Support British?
Featured Image Source: Adam Jones from Kelowna, BC, Canada via Wikimedia Commons