The city of gold and glamour, Dubai is known for its sky-scrapers, exotic deserts, multi-cultural lifestyle, luxury hotels and famous restaurants, eternal heat, space-age architecture and many more. But it does not mean this modern city does not offer anything for family vacationers. In fact, its theme parks, shopping centers, and natural beauty offer an endless number of things to do and see for the family holidaymakers. Here are 7 of the best family-friendly activities you must try in Dubai if you are visiting with your family: 
1. Enjoy The Adventures In IMG Worlds Of Adventure With Your Kids
Full of fun for everyone, the kids, as well as the grownups, IMG Worlds of Adventure is not only the biggest theme park in the world, but it is also rich with features that will leave a lasting impression in your mind. It is so popular that a huge number of people, between 5000 and 25000 visit the park every day. Thankfully, if you can spare the extra money, you could buy the VIP ticket so that you can get fast access to most of the facilities in the park.
There are thousands of things for grownups and kids to do. Superman themes are in plenty, and Marvel Comics characters seem to be very popular here. Just imagine giving your kids a ride on the Avengers: Battle of Ultron, Hulk Epsilon Base and Spider Man. You must try the Thor Thunder ride, which runs for just 3 minutes, but these are the longest three minutes that you will never forget as long as you live.
Even with the ordinary tickets, which are cheaper by a couple of thousand AEDs, you will still get to enjoy the craziest fun, only that there will be slower access to the rides.
2. Let The Kids Enjoy Their Time At The Kite Beach
Kite Beach defies all attempts at description, but we will try to paint a picture for you so you can see just why it is the place to be with your family. You will go there in winter (summer outdoors in Dubai is unbearable) and so you will love the cool breeze coming from the sea. Your children can build sand castles as you relax and enjoy cold juice from one of the many juice stands on the beach.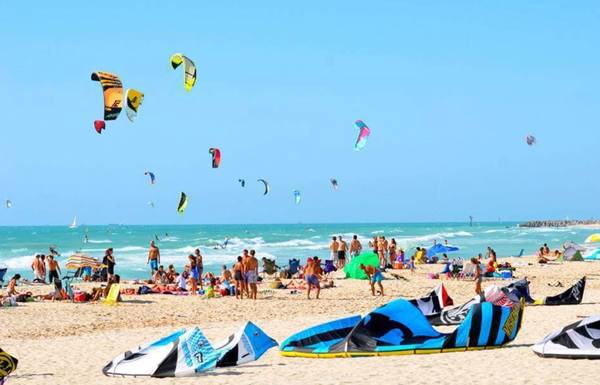 Get into the water and let the gentle waves lap at your feet as you search for seashells. You will find this very relaxing, therapeutic actually. If you are feeling too lazy to do anything, well, just do nothing apart from drink coffee and eat from the many food trucks on the beach.
3. Chill Out With Kids In Aquaventure Waterpark
The Atlantis Complex is full of surprises for all people. It houses the Aquaventure Waterpark, which has many fun things like River Ride and Ziggurat Ride to do for both kids and adults. Please note that there are not that many water rides here, but it is a good place for adults to relax on the Sandance beach as their children have fun in the water rides and pools. If you can, bring your own towels to save money. Do not worry about food as there are many food stands where you can have affordable snacks. This is basically a small waterpark, so keep an open mind about it and go early to access the water slides easily.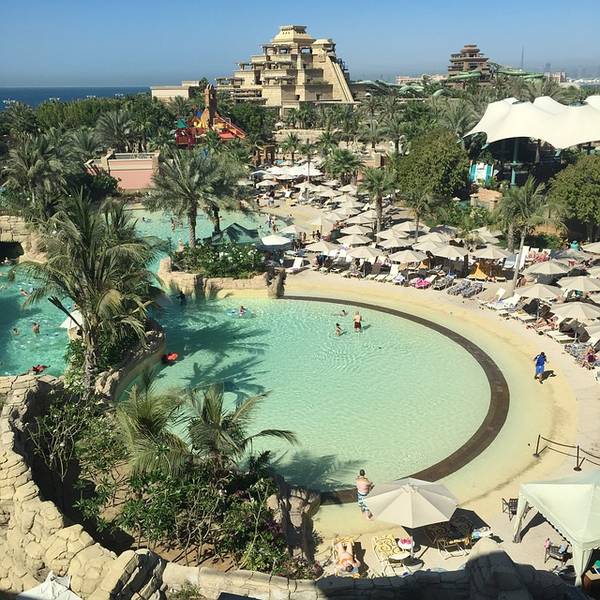 4. Take Your Kids To Kidzania
That is a fantastic name right there, but is the place worth it? It is a small city with about a hundred indoor fun activities for kids and adults to do. This place is all about the children, not you. That is why it is a pint-sized city with shop windows and counters set down at the level of the kids.
It will be a good experience for the kids as they will earn money by doing activities like starring in television shows, flying planes, operating shops and malls, and so on. This is where the children will learn how to socialize, how to make money and how to spend it wisely to open a business. You will be glad you brought them along.
5. Experience Desert Safari
These are the sands of time, this is where many stories in the Arabian Nights series, and many films have been set. The Dubai desert is a contradiction of sorts because it is so barren but at the same time, sheikhs hunt there every year.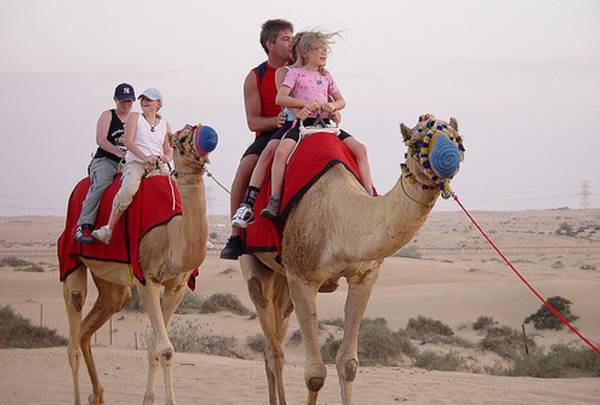 So what possibly would you go to do in the desert? There are many things. However, if you are daring enough, try sand-boarding. You will love it. It might not be as smooth as waterboarding!
In fact, Desert Safari Dubai is one of the most popular attractions in Dubai among all kids of tourists. Get on an evening desert safari tour SUV and go watch the sunset as it leaves blazes of gold on the sand. You will never forget this experience.
It will most likely be an SUV ride into the desert and as you get into the desert, the ride will be ever so smooth. However, as you move further inside, the ride can become bumpy and turn into a rollercoaster of sorts. Let an experienced driver take you there. Be sure to shoot great photos and videos.
6. Enjoy An Unforgettable Meal On A Dhow Cruise
There are hundreds of dhow dinner cruises where you can enjoy a world-class dining experience in the water with the best view of evening Dubai. Just choose a package that contains a buffet dinner, water, coffee and other soft drinks so your family can eat as much as they want. Mostly, a Dubai Dhow Cruise tour typically lasts 2 hours or slightly more, in the Dubai Marina.  Guested onboard a dhow cruise are entertained with traditional middle-eastern music, the Bedouin culture in a very colorful and decorated dhow cruise ship.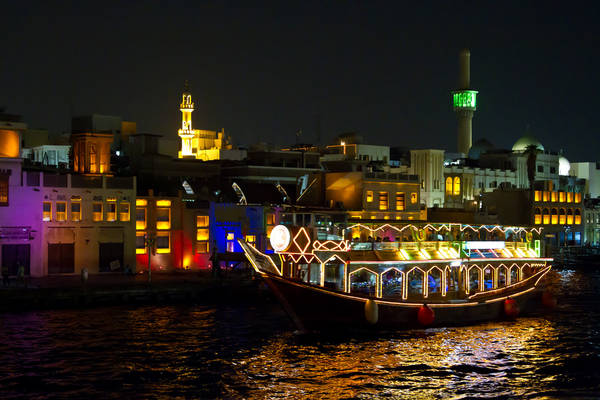 7. Never Miss Dubai Aquarium & Underwater Zoo
Located in the Dubai Mall, Dubai Aquarium is one of the biggest ones in the world and attracts millions of visitors every year. It is a combination of an aquarium and an underground water zoo, which is rich in marine life.
Do not miss the opportunity to shoot great photos and see the giant crocodile, sharks, groupers, devil rays, hammerheads, manatees and other marine life. Some of the awesome things prepared for you include a shark experience – you will actually join the sharks in the tank as they feed, shark scooter ride, and watch magical mermaids.
Conclusion
In addition to just travelling and enjoying the city of Dubai for a week or two, you can live, study and work in Dubai as it is a global city with all the modern facilities you may ask for.