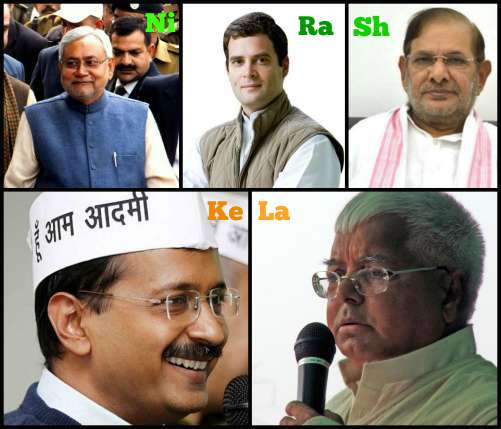 Do you know there is a new abbreviation going round in the political circle after NaMo and RaGa?
Well, it is NiRaSh KeLa. Literally it means a sad banana, but it is actually an abbreviate form of THE UNITED FRONT of Nitish Kumar + Rahul Gandhi + Sharad + Kejriwal + Lalu Prasad Yadav. Sounds interesting? Well it is indeed, no wonder the members of this major 'gatbandhan' are making sure they behave well according to the title of the abbreviated form of their unity.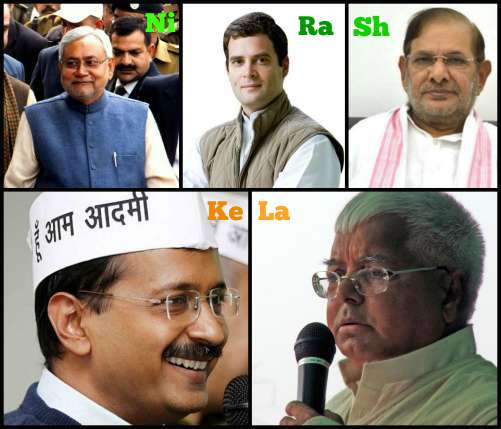 Image Courtesy: Wikimedia Commons – Nitish Kumar, Rahul Gandhi, Sharad Yadav, Kejriwal, Lalu Prasad
Let us trace the condition of these politicians one by one:
Nitish Kumar Promised Electricity but Seems to be Roaming with a Lantern
When Nitish Kumar talked about developing Bihar, the people of Bihar had high hopes – They started envisioning Bihar as Shanghai. No wonder that's what our politics do all the time – Selling dreams! Next, he assured electricity in every village and all the village belles and ladies anticipated fans, Coolers, AC – a thing which they saw only during the times of wedding celebrations. However, on the day of the rally, they were taken aback. The reason? Well, the man who was talking about electricity from a year prior to Bihar Elections 2015 was roaming out in open with lantern. What an Irony!
In the same rally a 20 old something boy who is thought as the most 'nikamma' by his parents saw Nitish Kumar shaking hands with Lalu Prasad Yadav. Bitten by the Bollywood bug, he couldn't control himself " Arrey ee ka, Nitiswa toh promise kiye the clean politics, par ab ye toh hum logon ka dikha rahe hain Mallika Sherawat ka dirty politics."
Kejriwal, the most honest Politician Ever on Indian Soil & the Great Anti-Corruption Crusader is wagging his Tail in front of the Corrupts!
None of the educated people of Bihar who grew up in the 90s Bihar wants to see Lalu anywhere in the political map of Bihar. So, if AAP contested as a third front in Bihar election, they could have given several youngsters an option to vote right. What's more, Bihari educated youngsters could have contested the elections. However, it seems the most 'honest politician' is least bothered in his 'anti-corruption' stand after sitting on the CM seat. Less than one year and he is already wagging his tail in front of the most corrupts.
His principle and Ideology? Well, that's just a showpiece!  Do you actually think that Arvind 'Honest' Kejriwal wears a sweater and a muffler because he really feels 'that' cold all the time?
Bihar Election 2015: Rahul Gandhi Joining Lalu – Now do we need two clowns together?
Bihar already had one clown who in disguise as a fool extracted the most and troubled the people of Bihar like there is no tomorrow. And if he was not enough, Rahul joined the bandwagon. Interestingly, this Bihar election we are even experiencing the whacky side of Sonia Gandhi. Well, she is proving every bits to show that she is indeed the mother of India's proud, the 'Great Rahul Baba!' This is what she said in Kisaan Samman Rally.
PM Modi blames Congress but where was he when Congress was fighting independence struggle: Sonia Gandhi at #KisaanSammanRally

— IndiaTodayFLASH (@IndiaTodayFLASH) September 20, 2015
Well,  now it seems PM Modi will  have to answer why he wasn't there  when the World Wars were going on or during the times of Mahabharat or even when the dinosaurs were getting extinct !
Do Not Miss Reading:
Rahul Gandhi Version 2 : 5 Facts and Changes You Need to Know