On April 21, Gautam Gambhir tweeted that citizens in East Delhi could collect Fabiflu, the anti-viral drug from his office for free between 10 am to 5 pm.
While this looks quite a noble deed, it isn't what meet the eyes. Well, because this drug is used in the treatment of Covid-19 and is currently neither available with the chemists nor the distributors have the medicines.
Gautam Gambhir and FabiFlu Stocking Controversy: The Background Story
In the deadly second wave of Covid-19, Delhi is one of the worst hit cities and every third sample collected is positive in the capital. The crisis is real and so is the shortage of FabiFlu, a medicine that is currently used by Doctors to treat mild to medium Corona infections. However, the sad part is, just like other medicines and injections used in the treatment of Covid-19, there is a shortage of FabiFlu across the region.
With rising demands, there is shortage of FabiFlu everywhere – from the local chemists, to the distributors and even private hospitals.
A ground story covered by newslaundry reporters reveals that there has been shortage of FabiFlu medicine from past one-month now. While distributors are still waiting for fresh stocks from the pharmacy company and chemists denying hundreds of patients on a daily basis, it is rather scandalous to see a BJP MP having hundreds of medicines with him stocked up when thousands of people are literally struggling for the medicine
buy lexapro online https://bethanyhealthcare.org/wp-content/languages/new/lexapro.html no prescription
The Stocking of FabiFlu by Gautam Gambhir: The Questions Asked
Gambhir's procurement of the essential drug has neither gone well with the opposition party leaders nor with the people of Delhi and India. Several questions have been raised on him –
How can the MLA make its way and hoard an essential drug?
How did Gautam Gambhir procure so much of FabiFlu?
Is this even legal to stock up an essential drug?
Doesn't stocking of Medicine require a drug license and a firm name?
How can the Politician supply from a random office?
And lastly, if at all Gambhir got the stock, why didn't he give it to hospitals instead of stocking up with him and giving at his own discretion?
What has Gautam Gambhir Said About the FabiFlu Hoarding?
Well, according to him he is doing nothing wrong but helping the people of his constituency in this need of the hour.
This is what the cricketer-turned-politician told ANI –
"If a few 100 strips of tablets obtained from a distributor are being given for free, then, can it be called hoarding? Is my obtaining a few strips of Fabiflu causing the shortage? You can call me wrong but I'll do everything to save lives of people"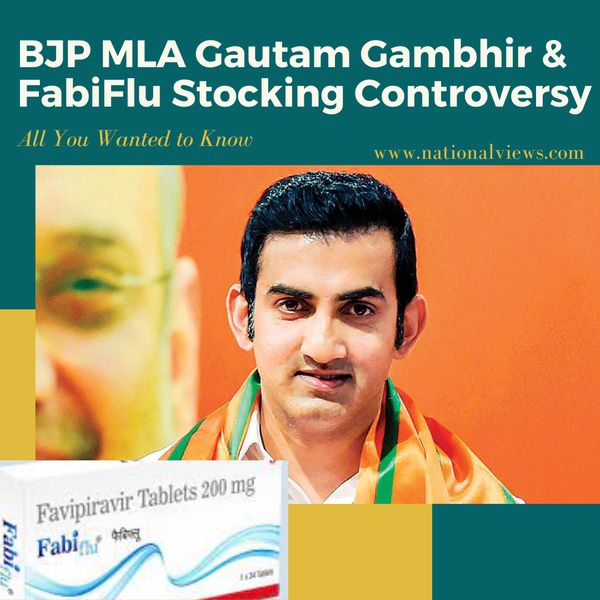 Gautam Gambhir, FabiFlu Stocking and a Legal Action by a Social Activist
The stocking of Fabiflu in the time of crisis has attracted Gambhir not just criticism but also a police complaint. Social activist Leher Sethi has filed a complaint against Gautam Gambhir for hoarding a medicine under 'The Essentials Commodity Act.'
However, despite the complaint filed on April 22, Gautam Gambhir have started distributing FabiFlu from yet another office which he mentioned 3 days later in his April 25 tweet
Not long ago a huge drama stirred in Maharashtra after ex-Maharashtra CM Devendra Fadnavis stated that his party was procuring Remdevisir injections from Bruck Pharma to distribute in Maharsahtra.
Also check out the Ground Report Video –
Also Read: This Huge Covid Crisis in India Could Have Been Avoided & Fought Valiantly if the Government Had a Plan, not Complacency