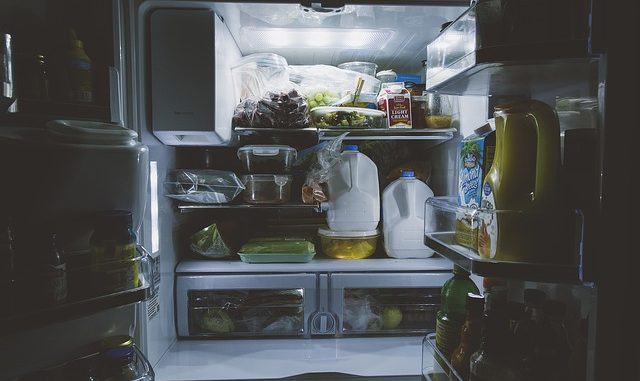 Every once in while your refrigerator needs to be deep cleaned. This is because it is constantly in use and is exposed to spills, cross-contamination, splashes, and so on. Also, over time, your budget for groceries and other food staples may increase, owing to which, you may have a bigger stock accumulating in your fridge.
Moreover, your energy bill also hikes dramatically as efficiency demands adequate air circulation, clean seals, and clean coils that are in good working condition.
All in all, an overloaded and messy fridge can cause health hazards, wastage of food, and increased electricity bills. So, add 'refrigerator cleaning' to your list of chores. Depending on a double door fridge or a single door refrigerator, your cleaning timelines can vary and so can the amount of effort to be put in. However, it is not a herculean task if you take note of these tips while cleaning your fridge.
Gather the cleaning supplies
True to its name, deep cleaning needs more than just soap, water, and some cloth. Gather the following supplies:
Garbage bags to collect and throw unnecessary food and beverages
A clean cloth or sponge for cleaning and scrubbing
Dishwashing soap or solution
A bucket filled with warm water
A clean cloth for drying
An old towel to clean the floor
You can also use a solution of vinegar and water in equal proportions to scrub the fridge interiors.
Turn off the fridge
Now, turn off the fuse or switch to the fridge's outlet and also unplug it. This is extremely important to ensure your safety during the cleaning process. Remember, you'll be using water, which is a good conductor of electricity and you don't want to get electrocuted.
Destock the entire fridge
Empty your fridge and toss any items that have expired and are no longer in use into the garbage bags. You may be tempted to keep that masala powder, that only expires a month later, but dispose of it anyway without a second thought if you are not likely to use it in the coming days. Remember, the goal is to clean your fridge!
Empty the contents and arrange them well at the side so that it becomes easy to restock your fridge. You can still store dairy products and others that are on the verge of going bad in the freezer as it remains cold for at least 2 hours even after turning the appliance off.
Start from the shelves and draws
Take out the removable parts of the fridge such as grills, shelves, draws, and trays and wash them first. Do this by cleaning them all together or one at a time if you're bound to forget what tray goes where and have a few similar looking shelves that can confuse you.
You can either wash them in a clean sink filled with soapy water or simply scrub them and wash under running tap water. Use lukewarm water, soap, and a sponge to address stains. Next, clean the shelves using warm soapy water.
Also, remember to let these attachments and shelves cool down for a while and only then clean using lukewarm water. This is to avoid cracks and deformations caused due to the effect of sudden temperature change. Don't forget to clean the food residue accumulated in between joints. Use a toothpick to reach between fine lines, if needed. Then, let these dry on their own or use a clean towel to wipe them dry.
Target the insides
Now clean the inside of the fridge using hot water and soap or liquid dishwashing solution. You can use a cloth or a sponge to ensure you don't get too much water into the fridge interiors. Also, avoid cleaning with hot water at all times as it can damage the fridge.
Clean the grooves and corners with special attention as they tend to collect most of the dirt. You can use a cotton bud for this purpose. Once you are done with the cleaning, dry the insides thoroughly using soft clean towels or napkins. A microfiber cloth works like a charm as it absorbs water quickly.
Deodorize the fridge
To keep your fridge free of odours and foul smell, keep activated carbon in a container, preferably at the back of the lowest shelf. You can also use a bowl of baking soda or a cut up lemon, changing it every 2-3 days. A few beans of coffee will also work wonders.
Target door seals and gaskets
The fridge door seals and gaskets are also easy areas for dirt accumulation. The doors and gaskets have close folds where you can find a considerable amount of debris, crumbs, and mould. So, clean and dry them thoroughly. This will also increase the fridge's efficiency.
Turn to exterior cleaning
Next, use a dampened cloth to wipe the doors. Warm water mixed with mild soap can work wonders. Clean the handles carefully to get rid of fingerprints, food residues and dirt. If your fridge has a stainless-steel exterior, you can use a stainless-steel spray. Don't forget to end by drying it with a soft cloth.
Finally, make sure to store food in airtight containers to avoid spillage and keep your fridge clean. Also, using glass containers helps in being able to notice and use food up before it goes bad and has to be thrown out.
A pro tip is to buy a frost-free fridge that is also equipped with the latest technology capable of self-cleaning. You can buy it on EMI to make your purchase affordable and convenient. Also, one can now buy on No Cost EMI from the Bajaj Finserv EMI Network so you don't have to compromise on any features.
Should you shop for your fridge On No Cost EMI from Bajaj Finserv EMI Network?
The EMI Network is an extensive online and offline network where more than 60,000 vendors from over 1,300 cities offer more than a million products. Here, you can shop from a variety of products ranging from electronics to kitchen appliances to lifestyle products and accessories, all on No Cost EMIs!
When you shop for a fridge on No Cost EMI from the EMI Network, you don't have to pay anything more than the purchase price and hence, you get a chance to save big. Also, you can enjoy amazing offers, discounts, and cashback on your purchase. For easy repayment, choose to pay the purchase price in EMIs spanning from 3 to 24 months as per your convenience.
The EMI Network offers Haier refrigerators, Hitachi refrigerators, LG refrigerators and other top models from best-selling brands. In addition, the Summer Sale adds to your savings as you can purchase a refrigerator on EMIs starting from Rs.1,599.