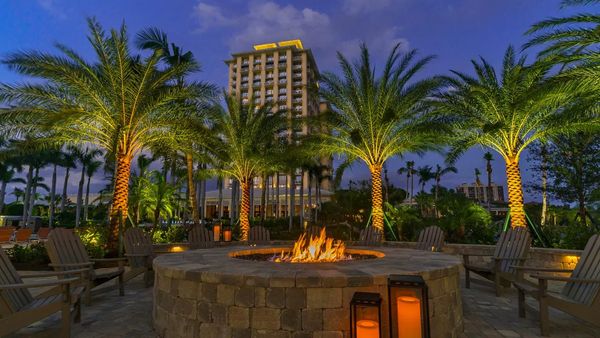 Coconut Point is a great place to explore during a business trip. If you choose the right hotel, you'll be able to enjoy the best of business and pleasure during your trip. One of the best hotels for staying productive and enjoying a great setting is the Hyatt Regency Coconut Point Resort and Spa. It's well-appointed for business travelers and positioned near many great attractions, sporting venues, and shopping destinations.
Attractions
Near Coconut Point Resort and Spa, you'll find places where you can unwind and cool off in the ocean on a hot day. The following attractions are worth considering:
Barefoot Beach Preserve County Park: The Barefoot Preserve Country Park has social events for guests. If you want to kick up your feet on a patio that's surrounded by tropical plants and cool breezes from the Gulf of Mexico, this spot is the perfect choice.
Stillwater spas: After a long business day, you can recharge by spending a few hours at a spa. Still water spa is a great option since it's found on Hyatt Resort's property. A general package includes a soothing treatment, such as a facial or a massage.
Manatee guides: Manatee guides are educational and fun. During a session, you'll learn about manatees, the habitats, and the ecosystems.
Sports
Many sports ventures are found near Coconut Point. You can experience tactical sports moments by visiting:
Hertz Arena: Hertz Arena has 7,186 seats for people in Estero Florida who are Florida EverBlades fans. The EverBlades hockey team plays regular season games in this arena. If you attend a game, you can eat nachos, fries, and other snacks while cheering for the team.
Alico Arena: Alico Arena is 120,000 square feet and is used by a volleyball team and a basketball team. In order to enjoy a game, you'll have to travel to Florida Gulf Coast University, which is in Fort Myers.
Shopping
When you want to shop in Coconut Point, you'll have numerous options. The top shopping spots include
Miromar Outlets: Miromar Outlets consists of retail stores. You'll find products by 140 designers in these outlets, and most businesses sell trendy designer products that are over 50 percent off.
Coconut Point Mall: Coconut Point Mall has 127 shops that are scattered around a 1,205,363 landscape. At this destination, you can buy food in restaurants, watch movies in a theater, or attend annual festivals.
Day Trips
When you have a break while on your business trip in Florida, you should try to schedule a trip to Naples Zoo. This zoo has a lot of history because it opened in 1969. Today, it's a nonprofit institution where people can observe many animals. The top exhibits include a black bear hammock and a habitat where panthers roam. Naples Zoo has over 70 different animal species, so you must to visit this destination early in order to see all of the exhibits.
These are just some of the great things that are available to people who visit Coconut Point during business projects. If you want easy access to the best spots, you'll benefit from staying at the Hyatt Regency Coconut Point Resort and Spa.