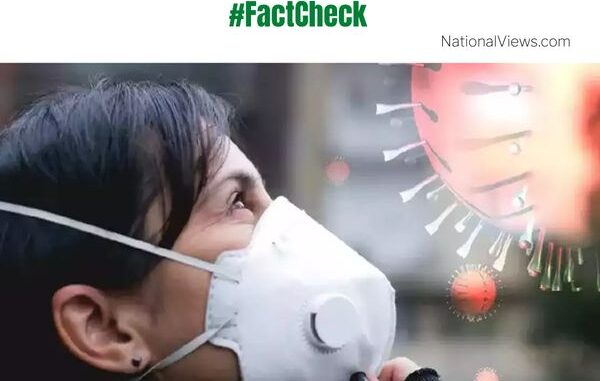 Amidst the breathlessness and shortage of Oxygen in the massive second wave of Covid-19 in India, there have been tons of forwards on social media as well as WhatsApp with claims on improving oxygen levels that are false, fake and misleading. Here we share three of them that has been circulated widely and have even gone viral.
No, Nebulizer Cannot be Used to Increase Oxygen Level or as a Substitute to Oxygen Cylinder
A video was widely circulated on Twitter, Facebook and WhatsApp where a certain Dr Alok from Sarvodaya Hospital, Faridabad tells that one can use a nebulizer to improve oxygen level. However, not only the hospital where the doctor works have refuted the claims but even the doctor says he himself is warning about the viral video since the video was made and sent to a person with absolute normal oxygen levels mainly on how to use a nebulizer.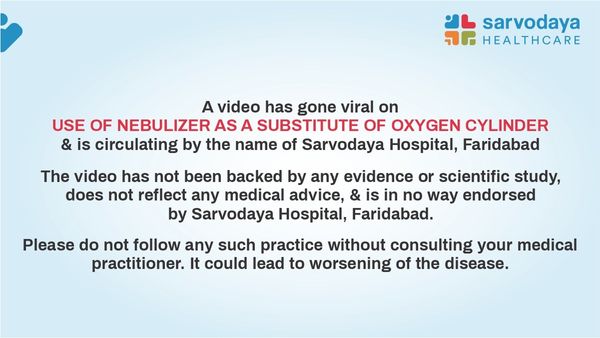 Going by CDC,
a nebulizer is a machine that turns liquid medication into a mist that you inhale into the lungs over a few minutes
And many doctors and medical professionals across hospitals in India have warned and alerted citizens stating that the claim is false – A nebuliser can neither replace Oxygen Cylinder nor can improve oxygen levels.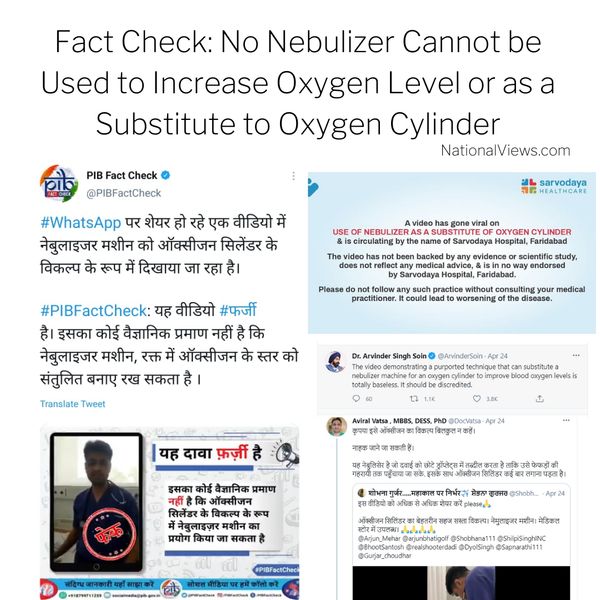 No, Inhaling Ajwain, Camphor, Lavang & Eucalyptus Oil Does Not Increase Oxygen Level
Amidst rising Covid19 cases in India and depleting oxygen levels as well as shortage of Oxygen everywhere, a certain claim was widely circulated all over WhatsApp and social media that if you inhale ajwain (Carom seeds), camphor, lavang (clove) and eucalyptus oil, your blood oxygen level will increase. However, this claim is not only false but also hazarduous for a person with depleting oxygen levels.
Check out the entire thread by a Doctor –
Several myth-buster sites including Alt News, Boom Live have busted the false claims and Dr Dev Palkar has even penned down the entire story on his blog debunking the false claims shared by social media users surrounding this claim. This is one of the top claims on improving oxygen level that are false and absolutely misleading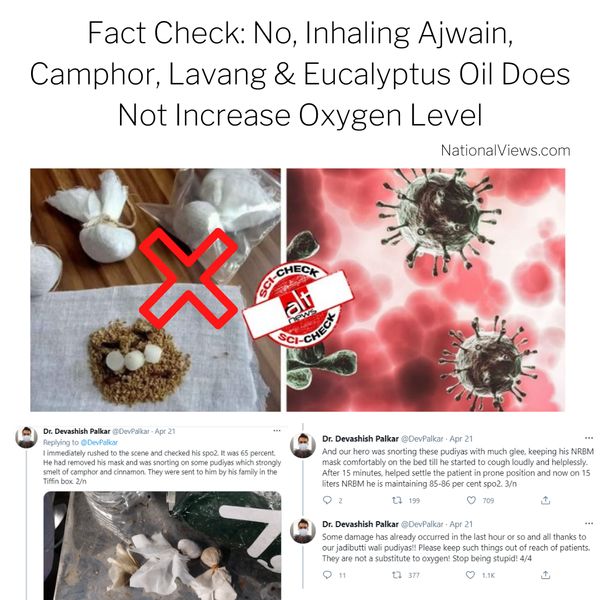 Certain Homeopathy and Ayurvedic Medicines Claims on Improving Oxygen Levels That are False
All over the Internet and across WhatsApp we see people sharing Homeopathy medicine 'ASPIDOSPERMA Q and a certain Ayurvedic medicine with a claim that these medicines can immediately control the Oxygen levels. Well, going by the Fact-checkers, the claims are misleading and they cannot be used to increase oxygen levels in the treatment of Covid19.
As of now, there is no record of any Ayurvedic or Homeopathy medicine that can increase immediate Oxygen levels.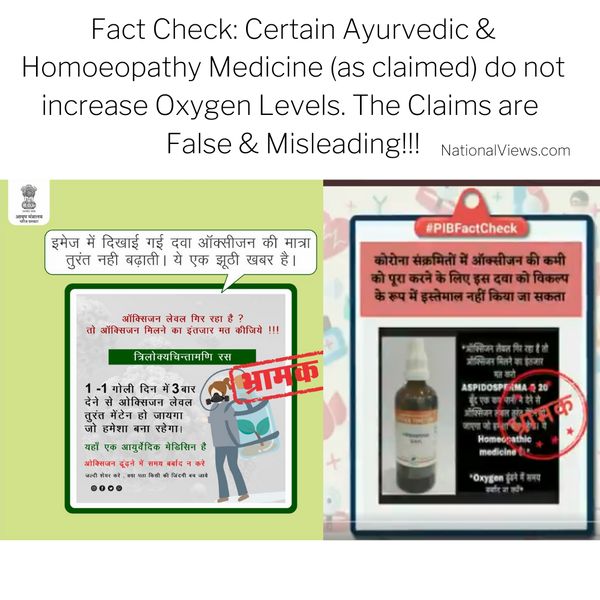 So, if you happen to get such messages, kindly do not forward them. In case of doubts and clarifications, ping @moayush and/or use #AyushFactCheck as Ayush Ministry do not endorse any product or medicine as such –
Also, if you suspect any news, social media forwards or assume government related news to be fake? You can send it to +918799711259/socialmedia@pib.gov.in to get the facts straight. Alternatively, you can also contact @AltNewsScience for any health, science related checks. In addition, if you need fact-checking for a viral forward, kindly send it to Alt News WhatsApp tipline (+917600011160) or mail us at editor@nationalviews.com and we shall dig it for you as well.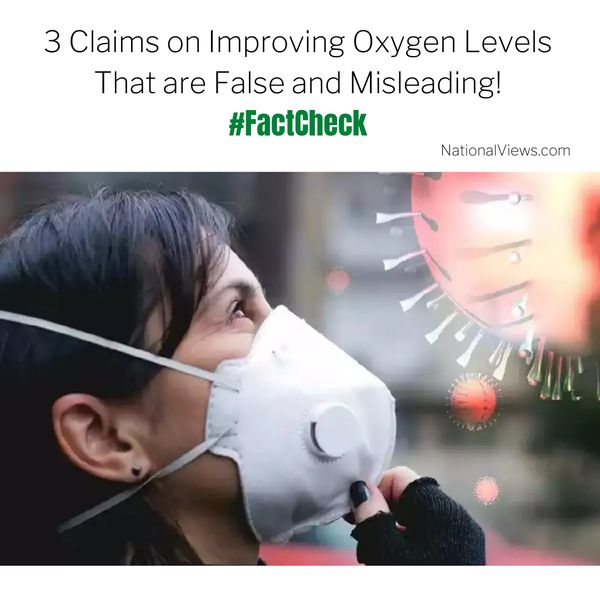 Till then, stay safe and stay alert from these fake news and forwards. Please do not forward it until you yourself verify them.
Also Read: Johnson & Johnson vaccine suspension – a doctor explains what this means for you
Also Read: AstraZeneca COVID-19 vaccine FAQ: Why do the age recommendations keep changing? Does it cause VIPIT blood clots? Is it effective against variants?