Pondicherry is a place known for its food and culture. No wonder, the pleasure of relishing food in multi-cuisine restaurants with Chefs belonging to the same area as that of the food is not only alluring but also tempting!
While there are many Italian, French and Vietnamese Restaurants in Pondicherry (once a French colony) managed by the expatriates of Italy, France and Vietnam respectively, Don Giovanni an Italian Restaurant run by Massimiliano Morsiani from Bologna is surely a must visit.
Why Should You Visit Don Giovanni?
Well, if you are a food lover who loves to indulge in some authentic food then you know the pleasure of tasting delicacies prepared in its purest form. Don Giovanni does not have a long list of items, but everything in the menu card is a specialty.  What's more, the jovial owner Mr. Morsiani has a very good knowledge of the cuisine and he personally supervises every item that you order.
He also helps you with your order – recommending what will allure your taste buds or what you should definitely try. During one of my visits 3 years ago, Mr. Morsiani  suggested how I should add Olive Oil in my spaghetti to relish the taste, and believe me I have been doing it since then. You won't believe how it acts as a taste enhancer. Well, he has such tasty tips for almost Italian dishes.
What Is Don Giovanni's Speciality? What Should You Eat?
The Spaghetti Bolognese, the Lasagne, the Pizza, the Steak are all lip smacking and delicious. We would rather recommend you to taste The Spaghetti Bolognese (Tuna) when you visit this place. In addition, while there are regular beverages and desserts available, when in Don Giovanni do not miss ordering Sangria, a home-made cocktail made out of rum, red wine and a fruit. It is a beverage of Spain and Portugal. However, you cannot walk out of Don Giovanni's without tasting its own version of Sangria.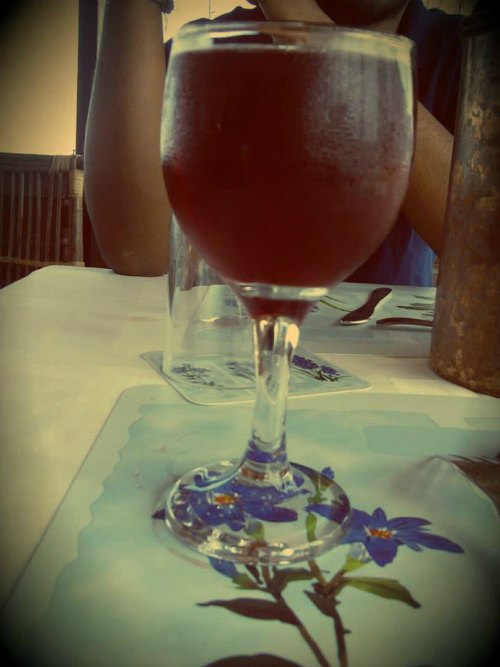 The USP Of Don Giovanni
Since Italian dishes don't take much time to prepare, everything that you order is prepared instantly here. The owner insists that everything that he uses is fresh, nothing processed or canned. Moreover, the pastas is imported all the way from Italy and so are most of the things like oil and spices that goes into the food.
So, sometimes your food may take time to come, but trust me it is worth waiting. If you are too hungry, just remind them. I would suggest you to go in for lunch since there will be no rush and you can enjoy the lazy afternoon at this roof top restaurant.
Where Is It a Located and What Is the Ambiance Like?
Don Giovanni is a roof top restaurant stationed at Hotel Corbelli in Mission Street, Pondicherry. You have to walk inside the Hotel towards the lift and once on the last floor, you'll walk directly into Don Giovanni where the owner will welcome you with a warm smile. From the restaurant, you get to see an aerial way of Pondicherry.
The service is good but a bit slow. However, I have seen the service in almost all the multi-cuisine restaurants is slow. Anyways who is in rush in Pondy!
Felice Mangiare – Happy Eating!