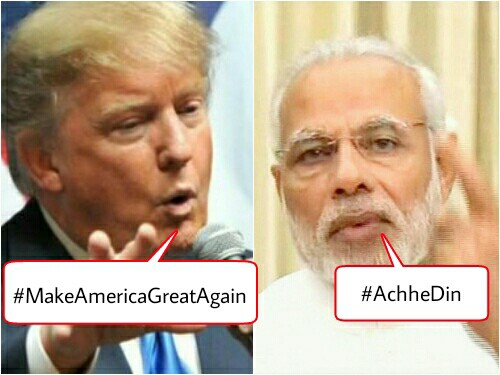 They are pretentious, they are flashy, they are melodramatic, and they are also quite flamboyant. While, one is holding the highest and most important office in the largest democratic nation, the other is hopeful for the most dominant office of the World. Yes, we are talking about India's Narendra Modi and America's Donald Trump, the two world leaders who do not just have similar tastes but also related personality traits.
Here we share 5 things in common between Modi and Trump, the leaders of two of the greatest democracies of the World.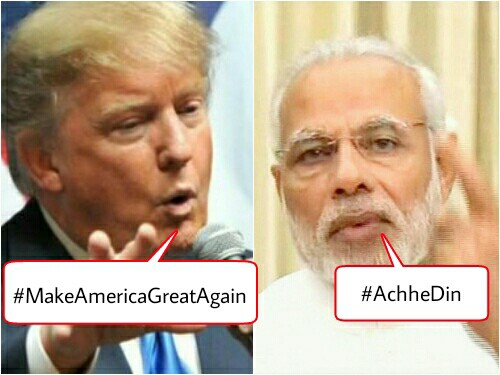 Both, Donald Trump and Narendra Modi are Theatrical and Great Showmen
They both are quite pompous and being good orators they know very well how to please the crowd. In two years, Narendra Modi has illustrated his showmanship not just in India but also in various foreign nations including Japan, United States, Australia and the United Kingdom. While, in New York the Indian PM quoted the famous line of Star Wars 'May the force be with you', in Tokyo he played drum and even competed with a professional drummer. Nevertheless, the British comedian John Oliver in his show mentioned how Modi was doing inexplicable and weird things.
Donald Trump has been a showman always! His presidential campaign is so provocative, outrageous and unconventional that it is nothing less than a reality TV show. His race to the White House involves a lot of melodrama, theatrics and play-acting – something which no other Presidential Candidate of the United States ever did in the past.
Both, Modi and Trump are Narcissist
Both of them claim to be Mr. Know-It-All. Being highly boastful, both, Narendra Modi and Donald Trump in a way believe that they are talented and gifted to resolve the complications of the citizen on their own. Trump once boasted how female critics never attack his good looks. On the other hand, the narcissism of Modi too is worth talking about. He wore a monogrammed pinstriped suit in a conference with the US President Barack Obama. Besides, we all know his obsession with selfies.
Their Common Hatred for Minorities
Both, Trump and Modi are known for their hatred for minorities. Narendra Modi in a speech at Kolkata threatened to banish Bangladeshi migrants. In addition, he even once said that only 'Bangladeshi Hindu' migrants are welcome in India. Trump, on the other hand, is known for his hatred towards Muslims and Mexican immigrants. Time and again he has talked about bombing the ISIS terrorists, preventing Muslims from entering the United States of America and has even threatened to construct a large wall to stop Mexican migrants from entering the country. Yes, hyper-nationalism is something they both love and endorse.
Both, Narendra Modi and Donald Trump are Power Grabbers
For power and position, the clever RSS pracharak sidelined LK Advani – the BJP patriarch and grabbed the opportunity to become the Prime Minister of India. Similarly, though an outsider to the Republican Party, the wily Trump is forcing himself on the Grand Old Party elites who too are baffled and perplexed as his die-hard challengers.
Trump Too Has Promises of 'Acche Din' just like Modi
High inflation, policy paralysis, a lot of corruption cases not just cramped the 10-year-old rule of the UPA government but also made conditions favorable for Modi. Nevertheless, the common man especially, the youth assumed that India had become a very weak country under the leadership of Dr. Manmohan Singh. US Presidential elections are no different.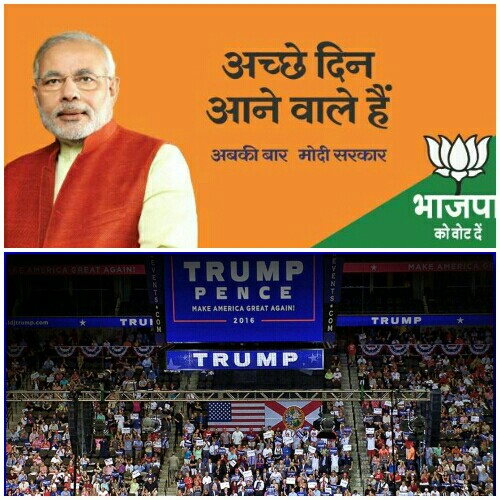 High unemployment, economic recession and decline of America as World's greatest power are some of the drawbacks that America saw during Obama's regime. Obama's pain is now Trump's gain who has found immense support from the angry white Americans who were let down by Barack Obama's leadership and weakness on the foreign policy area. Moreover, like Modi's "Achhe Din", Trump too has several slogans like #MakeAmericaGreatAgain.
Now that there are a lot of similarities between Narendra Modi and Donald Trump, it is interesting to see whether Trump will have the same luck as that of Modi in the upcoming US Presidential elections. What do you think?
Do Not Miss Reading:
10 Complaints that Narendra Modi Sarkar Needs to Address Soon!
India Pakistan Relations : Can We deal With Pakistan with Water rather than Bullets?
India-Pakistan Relations : Geo-strategic Implications For India's Pakistan Policy
Narendra Modi: Facts From His Life as a Revolutionary