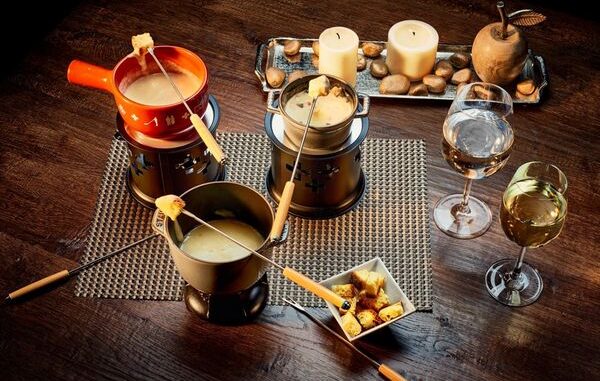 No need to go to Thailand to enjoy exotic foreign dishes. And it's not at all about the Asian country's favorite fried water beetles, which are said to contain a lot of protein but are definitely far from the more sophisticated European flavors.
Now let's talk about the exotic cuisine of Europe – the Kachuko fish soup, the red deer beet fillet with red beet cream and the papardele with truffle and mushrooms. And also for fondue, which instead of cheese, as everyone knows, can be prepared with white chocolate, caramel and salt. This European exotic and many other Italian, Swiss and other Alpine dishes can be tasted at the Leonardo Restaurant and the Fondue Restaurant in Lucky Bansko.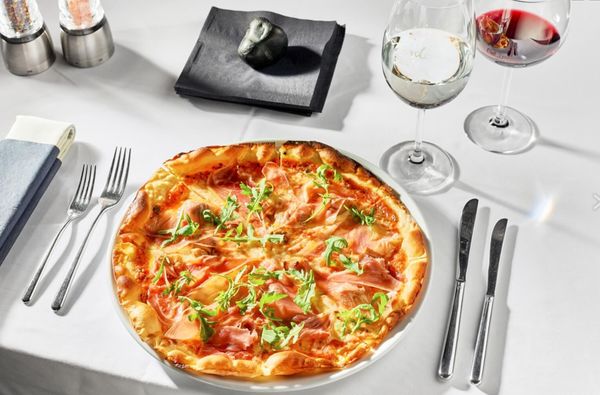 Fondue, Europe's Exotic Cuisine
Let's start with the fondue, which is the Swiss contribution to the European culinary treasure trove. This dish, which comes from the Alps, is traditionally made from slices of cheese melted with white wine in a special fondue vessel called Kakelon.
Fondue is creamy hot dish, which contains two or more types of cheese, such as most commonly used Gruyere and Vashren friburzhoa. It is usually flavored with cherry brandy or cherry. It is prepared directly at the table around which, armed with special forks, are seated. It is eaten as bread slices are dipped in a fondue pan.
The fondue definitely glorifies Switzerland around the world, along with chests and roars, and you can now enjoy this alpine exotic without leaving Bulgaria. The variety of the menu is great. First you must try the fondue with cheese. You can choose between Classic fondue with Vashren and Gruyere cheeses and white wine or Franche Conte, Emmental Grand Crewe, Conte and Beaufort cheeses. Fondue with Emmental and Parmesan cheeses, Fondue with Gruyere and Emmental or Appenzeller cheese are also not neglected. Each fondue is served with bread cubes, boiled potatoes, pickles and pickled onions.
Optionally, you can order tomato concas, shallot, pickled mushrooms, fried bacon or herbs. The fondue may also be cubed – Black Angus veal, pork tenderloin or organic chicken fillet. Seafood lovers will also like the menu's menu – salmon fillet fondue, octopus or king prawns. You may not have imagined that the fondue is also suitable for dessert, but there are also options here – with black chocolate or white chocolate. Even more attractive is the Fondue offering with white chocolate, caramel and salt, which is worth a try. Chocolate fondue will also be served with cupcakes, pancake rolls or waffles.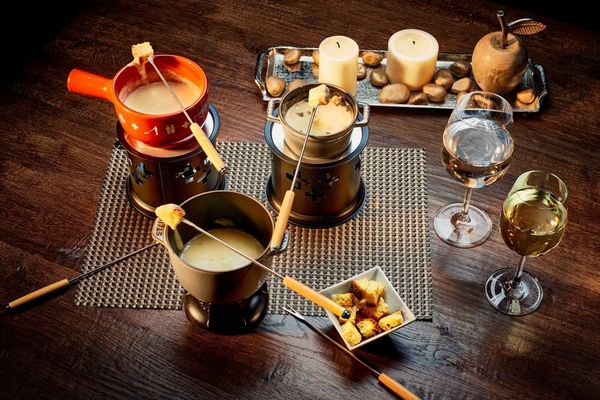 If you want to continue your exotic European culinary journey, you can go to the rich Italian gourmet menu. You can indulge in Mediterranean luxury at an exquisite restaurant in Bansko, which offers both classic Italian dishes and seafood.
You will find it difficult to make salads and their descriptions are promising. You will be wondering whether to order Goat cheese, prosciutto, hazelnut, cherry tomatoes, maple syrup, vinaigrette, pear and balsamic reduction, or quinoa salad, ricotta, pumpkin seeds, beets, cucumbers, dried figs and focaccia chips , but whichever you choose, you will not be wrong. Then you should definitely try a traditional Tuscan soup – Kachuko. It is very rich and is made from octopus, squid, tuna, salmon, mussels and shrimp.
Appetizers sound melodically like Italian canzonetta – Parmigiano (baked eggplant with tomato sauce, mozzarella, Parmesan cheese and homemade basil pesto) or Crispy polenta with truffle emulsion, spread egg and parmesan. There is also a Goose liver on a plate of sweet potato flavored with truffle flavor, powder pistachio, raspberry foam and tofu sauce. Just by reading this and you don't want to try anything else. At least that's the case with me.
Fans of pasta and pizza will not be disappointed either. Also, do not imagine anything ordinary and standard. Both dishes are presented with many attractive options. The paste is fresh, cooked on site. Here are some types:
Black tuna froth, with sepia, cream and basil pesto, Papardelli with truffles and porcini mushrooms – this is stuffed pasta with goose sauce, Marsala wine, sour cream and Parmesan, Tagliatelli Taliata di Vitelo with veal fillet Black Angus, mushroom patchi leg and parsley in sour cream sauce.
I think this is enough to attract attention and the list of Italian temptations is long.
Meat dishes include Red Beetroot Fillet with Red Beetroot, Cauliflower and Blueberry Sauce, Duck Magra with Glazed Chicory, Caramelized Apple and Brussels sprouts and Organic Chicken Cobato with Crispy Polenta.
Unfortunately, we can only list the interesting names, but we can not convey their charming aroma and unique taste.
Fish lovers can enjoy Wild Bay Fillet with Stewed Asparagus, Stack of Tuna with Stewed Spinach and Japanese Mayonnaise and Organic Pink Salmon with Herb Crust. Well, there is no way to list the whole menu, but it is certain that the sample has already directed the connoisseurs of exotic European cuisine to the right place.