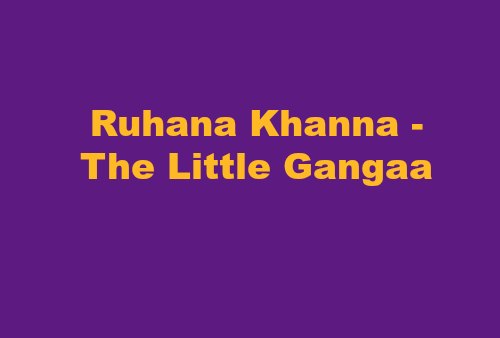 After offering us Balika Vadhu on TV, Sphere Origins once again takes us into the life of a young bride. However, this time the young bride has a very sad background. She is a widow who has lost her husband and father in the riots near Ganga. Yes, I'm talking about &TV's Gangaa where Ruhana Khanna plays the titular role.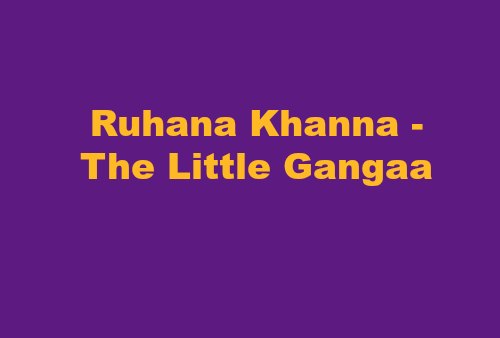 Let us know Ruhana Khanna little more –
Gangaa Is Ruhana Khanna's debut serial as a Lead
She might just look apt for the role where she acts as the little Gangaa, however, let me tell you the fact that this is Ruhana's debut serial as a lead. Before this she was involved in modeling. She was seen in several ads including Rasna, Colgate, ICICI Bank and Axis Bank. Besides, facing the camera as a model, Ruhana also did short films. The little girl was also seen in one of the episodes of Saavdhan India.
She Began Her Career as a Model at the age of 4
When Ruhana was just 4 and studying in nursery, her dance teacher recommended her for a show on kids. Here in the show Ruhana not only won the title of Miss Global Kids at the Global Kids Fashion show, but also laid the foundation of her modeling career.
Ruhana

Is Just 6, but She Knows How to Drape Her Saree
Seeing Ruhana who is just 6 years old, one can only wonder how the little girl manages with the Indian traditional saree for her role as Gangaa. However, don't be surprised when I tell you that little Ruhana neither needs any help to tie her saree nor any assistance throughout the day to carry the traditional Indian wear. Yes, Ruhana is very much comfortable in her saree. What's more, the girl even plays football and hop to play skipping in between the shoots. Her mother Parsi Khanna says that in the six months of shooting for Gangaa, Ruhana has become an expert with Saree.
Ruhana

Wants to Act With Salman Khan
Ruhana might just be 6 years old, but she seems to be an intelligent girl. What's more, the girl even looks focused on her career and future plans. When asked  about, what would be her future project in her chosen profession, she quickly replied that she wants to act with her favorites – Ranbir Kapoor and Salman Khan. No wonder, all the kids of her age is smitten by these two popular Bollywood actors.
Ruhana

Is a Huge fan of Popular Character Angoori
Angoori Tiwari is a popular character from the comedy show Bhabhi Ji Ghar Par Hain, and Ruhana seems to be in love with this character played by Shilpa Shinde. She is so much fond of Angoori that the moment she reached the sets, she immediately rushed to meet Shilpa. She not only met her but also surprised her by her own dialogues from the serial.
She Hates to Cry in the show
Ruhana is in love with her role and she also enjoys shooting with her co-stars for the TV show. However, one thing that she hates the most about her role is crying out loud.
A little dhamaka, we wish Ruhana Khanna all the very best for her future…