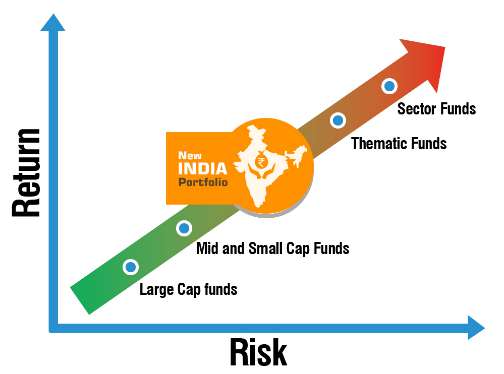 The moment Narendra Modi government came in power last year, the market sentiments turned positive. Soon, the government started making a blueprint of reforms and the Sensex started booming like never before.
Well, with lot of reform initiatives by this government like 'Digital India' and 'Make In India', it is clear that financial products such as Equities, NFOs, Bonds, NPS, Insurance and Mutual Funds will keep on growing  – offering us higher Return of Investment in shortest period of time. In such a scenario, it is quite significant that we choose an appropriate financial product which can not only give us good returns but also multiply our wealth.
After going through a number of products, we came across one such financial product which aims to fulfill the above criteria – New India Portfolio of FundsIndia What's more, even the investors seem to be talking about "it" on several investment and trading forums.

Image Courtesy: FundsIndia
Here we share 5 Reasons why investors are opting for New India Portfolio by FundsIndia and why you too should invest in it:
Because The Research Team of FundsIndia Has Done In Depth Analysis for Maximum Profits & Return of Investments
A highly proficient team of New India Portfolio has analyzed more than hundred schemes to categorize "4 Funds" that are most appropriate to take full advantage of India's growth revival story So, more and more investors who intent to increase their personal finance over the next few years or are looking forward for long term wealth creation is opting for this power-packed portfolio of India's finest mutual funds.
New India Portfolio (NIP) is supported with Powerful Tool and Effectual Features
Transaction of investment in New India Portfolio is easy and effortless. According to the feedback, by using the FundsIndia Android App one can easily access their investment portfolios 24×7, design a SIP, and can even calculate the money they need to save almost instantly. Besides, every investor is provided with an advisory service wherein the investor can make an appointment and talk to the advisor anytime.
Back Test Analysis Proves that NIP has Potential to Deliver Profits
When a Back testing analysis was performed to see whether the strategy used for New India Portfolio would have worked if it was employed in the past, the result turned out to be positive.  The below graph indicates that the portfolio could generate as much as 18% compounded annual returns in 5 years when compared to the 11% returns from the blended index.This has strengthened investor's faith in NIP.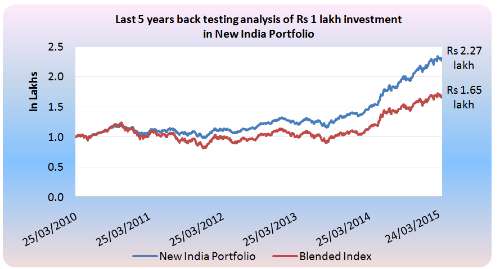 Image Courtesy: FundIndia
It is perfect for Investors Who Yearns Better Returns in the Long Run
Since the New India Portfolio is placed above mid and large-cap funds, but below sector and thematic funds, it can be slightly more volatile than large-cap portfolio. This is the reason why NIP is attracting a lot of investors who are willing to hold their investment for at least 5 years as New India Portfolio (as per the graph above) is ideal for long term profits and wealth creation. Moreover, the portfolio is perfect for existing investors who are looking for an aggressive portfolio to complement their present portfolio.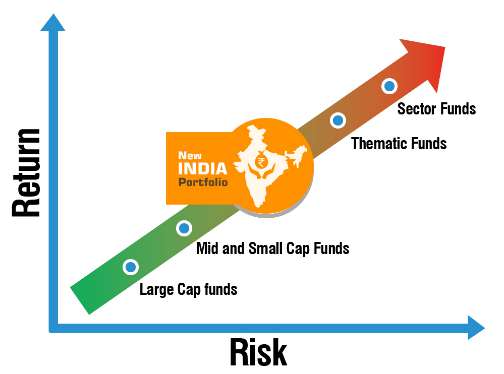 Image Courtesy: FundsIndia Blog
Lastly, It is NOT just Restricted to Investors in India alone
New India Portfolio is not restricted to Investors in India alone, even NRIs can take maximum advantage of NIP. Moreover, FundsIndia provides financial advisory services to NRI investors over chat, Skype and email, making it very easy to communicate with the advisors over investing in New India Portfolio.
Disclaimer: Mutual fund investments are subject to market risks. Please read the scheme information and other related documents carefully before investing. Past performance is not indicative of future returns. Please consider your specific investment requirements before choosing a fund, or designing a portfolio that suits your needs.