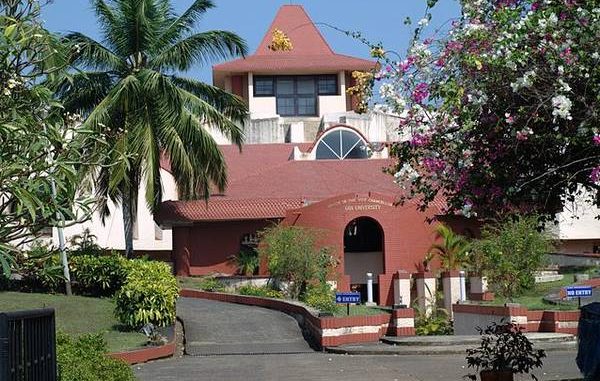 Goa University was established in 1985 around the Centre for Post Graduate Instruction and Research of the University of Bombay in Goa. Role of the university in higher education in Goa is massive. Being Goa's only university, it has over 53 affiliated colleges: 29 in general education and 24 professional education.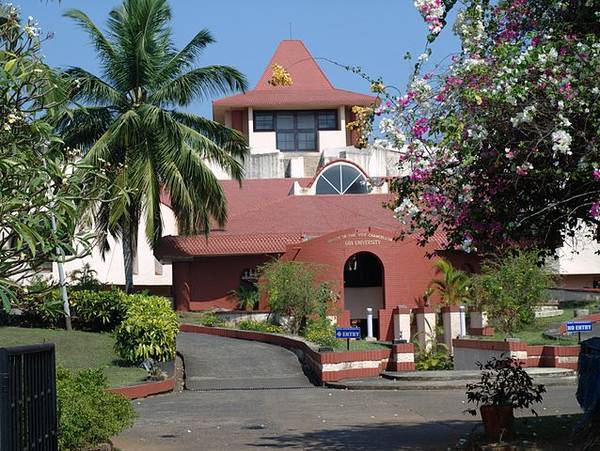 The total enrolment is upwards of 27,000, mostly for undergraduate studies, while the main campus is primarily for post-graduate studies. The enrolment in PG programmes is upwards of 1,500 students annually. If you were considering this university but weren't sure about it, read along –
Ranking and Recognition
Goa University is accredited with a four-star rating by the NAAC and was ranked 64th among top 100 universities in India by National Institutional Ranking Framework (MHRD) in 2017. That is an impressive feat, to be named among the top hundred in India.
Campus
The campus of Goa University is located on the outskirts of the capital city of Panaji, spread over an area of about a hundred and seventy-three hectares.
The university has an on-campus hostel for both Male and Female students for up to 113 and 200 individuals respectively in separate hostels. Over the years, the University has created various facilities for research and development purposes.
Other amenities available to students in there are public calling offices, with STD/ISD facilities. There are also different coffee shops, Xerox offices, and even a post office within the campus.
Along with all those facilities, there is also a guest house and a dining quarter for guest faculty members or just guests in general. There is also campus housing plans for all the staff members, both teaching, and non-teaching. Last but not the least, State Bank of India has a fully operational branch within the campus of the Goa University.
Library
The library of Goa University has an extremely impressive collection of 140,000 books. The university has also been designated as a U.N. repository, and therefore it has been receiving documents and United Nations publications since 1996.
As impressive as that sounds, it is not the only thing the university has going for it. The library has also subscribed to upwards of 350 journals. The Library of Goa University is a repository of several rare and special interest holdings, particularly in the area of Indo-Portuguese history, especially due to its Portuguese roots. The library has also been enriched by private donations from various scholars. If you do score an admission into the University, you get a huge pool of study material to choose from.
Labs and Other Facilities
The Remote Sensing laboratory of Goa University was created by the Indian Space Research Organisation (ISRO). The Laboratory was established as an independent laboratory in the year 2000 and housed in the zoology building. The laboratory has the entire necessary infrastructure to run the practical component of the course. A few R&D projects are funded by ISRO and DOD for the University.
Goa University claims to recognize the importance of proper communication and computing resources. It has paid attention to IT infrastructure on campus to meet the challenges of the information age. There is a campus-wide network reaching every desktop.
The University claims an operating bandwidth of 1000 Mbps. In addition to that, unlimited twenty four hours internet connectivity is available through 1Gbps NKN link and a redundant 16 Mbps fibre link through a private vendor.
The University has Central Computing facilities at its Computer Centre. The Computer Centre would extend required assistance to students and Research Scholars in Computer related activities. Besides that, the Computer Centre is also maintaining the University network, Internet services and the University Web site. Students thus have unlimited access to resources if they wish to.
Courses offered and Admission criteria
PG courses in Goa University are as follows:
Master of Business Administration [MBA]
It is a full time program for two years. The eligibility for an MBA enrolment is an undergraduate degree in business management or business administration. The course fee is ₹108,285 yearly. The course is two years long. Candidates have to clear the CMAT exam for admission into this program.
MBA graduates get placed in the top companies in the country. Even if you weren't in the top companies, mediocre companies offer good salaries and job opportunities to MBA graduates.
Master of Science [M.Sc.]
The M.Sc. program is a two year, full-time course. There are 20 Seats in this programme. The fee is a pocket-friendly ₹15,875 per annum, which makes this program a very excellent package for students. Eligibility for this course is a bachelor's degree in science, in the stream, you wish to apply.
Master of Arts [M.A]
This is a two-year full-time program, with a fee of ₹ 5,625 annually, which definitely eases the burden from the shoulders of the students. Only candidates with the relevant qualifying degree can register for the above-mentioned PG programmes. 
Master's in Arts is an extremely popular stream with people who are creative, those who refuse to be bound in the robotic life between home and cubicle. Job opportunities are no less for them than they are for students of Engineering or Sciences. On an average, people who pursue MA report a higher degree of job satisfaction and Gross Happiness Index rating than other people from the more mainstream branches.
Master of Engineering [M.E]
M.E or Masters in engineering programme is another two-year full-time course. The annual fee for this course is a mere ₹ 22,415, cheaper than a lot of engineering colleges in India.
Candidate must possess B. E. / B. Tech degree in Computer Science / Information Technology / Electronics / Electronics and Telecommunication or equivalent with 55% aggregate of marks or a degree in MCA/MSc (IT) with 55% aggregate of marks. The criteria are 50% for reserved categories in both cases. Candidates also have to qualify the GATE exam to be eligible.
It is the most sought-after and popular study option for students. With the increasing number of engineering graduates every year, but the relatively modest number of jobs available, its popularity has started to decline. However, there are lots of opportunities one can avail of an engineering degree other than the traditional jobs students opt or aspire for.
Master of Pharmacy [M.Pharm.]
It is two year full time course. Graduation and a bachelor's degree in Medicine (MBBS) from any of the universities incorporated by an act of the central or state legislature in India are required for admission in to this program.
The course fee is a gentle ₹20,700 for every year.
Pharmacy is not a field that makes the news often, but it's definitely one that offers great career prospects. Medicine is the field that was relevant a hundred years ago, and it would still be relevant a hundred years later. Proper research and practise will give you an edge over the competition to make sure you would gain a good reputation. Medicine being one of the most respected professions is definitely the one that I would suggest to everyone.
Master of Computer Applications [M.C.A]
This is a three-year full-time curse with a fee of ₹20,627 per year. Candidate must be a graduate in any discipline with at least 55% aggregate of marks, or 50% for candidates in reserved category. Candidate must have taken mathematics as one of the subjects at HSSCE level or at a higher level. Selection of the candidates will be done on the basis of GCET–2015, which will be conducted by the university.
Benefits of the course are infinite, as are the career opportunities. Companies like Google, Microsoft, DeShawn, Adobe, Amazon, Yahoo, Samsung, NVidia apart from Intel, IBM, Infosys, Wipro, Accenture and so on, are always on the lookout for Computer Science graduates.
Placement opportunities
Goa University offers placement and internship opportunities to its students. A few of the companies that offered placement to students studying here are Hello Group, Bajaj Allianz Co., IDBI Federal Life Insurance, Eureka Forbes, Bougainvillea Resorts, HDFC Bank, Microlabs Ltd., Caculo Group, Resurge Management Consultants, Smartlink Network Systems Ltd., Himachal Futuristic Communications, Birla Sunlife Insurance Ltd., N D Naik Auto Parts, Vipra Primeware Infotech, Comprise Software Solutions; Auto Industries; New Vision Printing Services; Faria Holding; Imperial Wealth Services.
Tourist Attractions
It would defy belief if we were to mention Goa and not mention the tourist destinations and other such places you could visit when you are in the area. These are Panjim (city area), Calangute Beach, Basilica Of Bom Jesus, Aguada Fort, Vagator Beach, Shri Mangueshi Temple / Mangeshi Temple, Colva Beach, St. Cathedral among others.
Goa University thus makes for a wonderful living experience, as evident. The university's ranking, reputation, courses, facilities provided and living experience offered is among the best in the world, let alone India. With all that's on offer, it hard to ignore the fact that Goa University is a golden opportunity for students to study and have a bright future. We hope this article gave you enough insight into the university if you were looking for admission into it. If you weren't, though, we wish this article would have helped you learn why you shouldn't miss out on such wonderful opportunity.