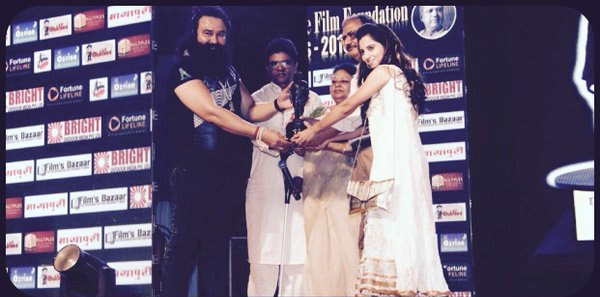 One cannot simply crack jokes on Gurmeet Ram Rahim Singh Ji Insan aka the Love Charger Baba – the Messenger of God. After all, he is not just a popular godman but now also a recipient of Dadasaheb Phalke Foundation Award. Yes, he bagged an award for popular actor and director at this Award function in 2016.
Do not believe us? Well, check for yourself
Good news 4 all of U! Honored wid Dadasaheb Phalke Film Foundation Award for most popular Actor,Director&Writer. #MSGdedicatesAwardToGuruji

— Dr.GURMEET RAM RAHIM (@Gurmeetramrahim) April 24, 2016
Sharing few glimpses of award ceremony!!
Congrats to everyone!! #MSGdedicatesAwardToAllFans pic.twitter.com/VOwVffgrrE

— Dr.GURMEET RAM RAHIM (@Gurmeetramrahim) April 26, 2016
Yes, yes, but don't mistake this award to be the original "The Dadsaheb Phalke Award" this one isn't even affiliated to it. So, just sit and relax as his fans celebrate this might moment.
Image Courtesy: @GurmeetRamRahim via Twitter
Gurmeet Ram Rahim Singh Ji Insan Is World Famous
Well, Ram Rahim Singh is popular in the entire world now as he has been featured in the highly popular "Tonight's Show with Jimmy Fallon". Here, we share a Youtube clip where Jimmy sings "You are my love charzer" in the same way as that of the Godman and requests everyone not to play the song.
Here's the clip:
https://www.youtube.com/watch?v=rO6GZXD346o
Video Courtesy: The Tonight  Show Starring Jimmy Fallon via Youtube
Now you know we weren't simply joking when we said the Godman is world famous. You're welcome 🙂
Do Not Miss Reading:
Bitchwanti, Burkha & Ornob – A Fictional Satire on Indian Politics & Media