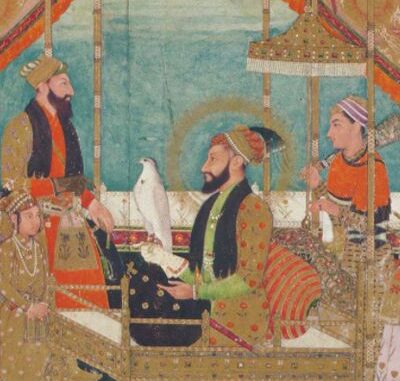 Aurangzeb, the last of the Great Moghuls is the most hated monarch in the history of India. However, not just the Hindus and Sikhs, he was condemned by Muslims equally across the Indian subcontinent and the Islamic World. Interestingly, despite ruling more than 150 million people and being the richest man of his times, he was not hailed by the Muslim world.
Aurangzeb Lacked Approval as a Legitimate Muslim King from Muslim Rulers and Religious Leaders
As soon as Muhi-ud-din Muhammad Aurangzeb, the third son of Shah Jahan sat on the Mughal throne in 1658, he immediately found himself in violation of the Islamic law. Well, when he declared himself as Mughal Emperor Aurangzeb Alamgir, his father Shah Jahan was still alive and had even recovered from his illness. Though Aurangzeb didn't show any remorse in killing his two brothers (the third one escaped to Burma but was later killed), he couldn't kill his father the ex-emperor Shah Jahan.
The reason being, while killing princely brothers was becoming a norm in Mughal India to get on to the throne, killing one's father was still a heinous crime. So, Aurangzeb rather than killing the old and ailing Shah Jahan imprisoned him and put him under house arrest in Agra. It is a well-known fact that Shah Jahan had abdicated his throne in the favour of his eldest son Dara Shukoh but then Mughal Empire had no concept of primogeniture i.e. passing the throne to the eldest son.
This act of commandeering his own father made Aurangzeb an illegitimate king in the eyes of many Muslim rulers across the Islamic world. The Sharif of Mecca not only refused to recognise Aurangzeb as a legitimate Muslim but also rejected his presents of Rs. 660,000 that he had sent in 1659 to aid the Holy cities. The Safavid king even mocked Aurangzeb for seizing the throne from his father and his reginal title Alamgir, meaning, 'Conqueror of the World'. According to the Islamic ideas of those time, Aurangzeb's illegal usurping of his father Shah Jahan was totally unjust. What an irony, despite being an orthodox Muslim ruler he was outcasted by his very own religious leaders.
buy alesse online https://buyinfoblo.com/alesse.html no prescription
Shah Jahan's Son Was Equally Hated by Indian Muslims, Muslim Rulers and Other Muslim Sects
He Executed Leader of the Dawoodi Bohra Ismaili Shias
Aurangzeb not just killed the Sixth guru, Guru Tegbahadur but also approved the execution order of Syedna Qutub-ud Din, the 32nd leader of the Dawoodi Bohra Ismaili Shias who was arrested under the false allegations of rifadat in Ahmedabad.
Also Read: Sikhism & Khalsa: The Response to Mughal Fanaticism in India
The Siege of Bijapur
Aurangzeb besieged Adil Shah kingdom of Bijapur, a Muslim state in between 1685 and 1686. In their quest to capture Bijapur the generals of Aurangzeb not only lit the villages on fire but also left no traces of cultivation, ultimately causing widespread starvation. Declaring Bijapur as a Shia state, Aurangzeb waged a holy war against them. When Bijapuri theologians begged the Emperor for compassion on its people and even argued that fighting against fellow Muslim breaches Islamic law, Aurangzeb did not pay any heed. One of the local historians of Bijapur, Mirza Ibrahim Zubairi in his writings even accuses Aurangzeb for plague outbreak in Bijapur. A Sufi Ansari who fled Bijapur to his native place even mentioned that he would be put to death if he goes back to Bijapur. In his own account, the Bijapuri Sufi Bahri wrote about how the Mughal generals persecuted him on the accusations of heterodoxy.
buy alphagan online https://buyinfoblo.com/alphagan.html no prescription
Shia Persecution in Kashmir
In 1663 when Saifud-din Khan was the governor of Kashmir during Aurangzeb's reign, a dispute between Mirza Hussain Malik and one Sheikh Abdul Rashid of Srinagar led to communal riots across the valley and Shias were looted as well as killed. Next, Husain Malik, the Kashmiri Shia was killed on the order of Emperor Aurangzeb for blasphemy at the behest of Sheikh Abdul Rashid.
Later, on the provocation of Qazi Yusuf people looted and burnt the Hassan Abad locality, a Shia colony. In this act of crime, a Shia scholar was burnt to death. Unfortunately, during the Mughal era the Shia Muslims of Kashmir saw a lot of communal riots and went through a lot of turmoil and grief.
buy amaryl online https://buyinfoblo.com/amaryl.html no prescription
In short, Alamgir was a shrewd Moghul ruler of the 17th Century India who literally cared more about expanding his imperial power and less about people. He was no way a people's emperor which is why reminiscence of his reign brings as much pain to the Muslims of the Indian subcontinent as it gives to the Sikhs and the Hindus.
Source:
Book – Pan-Islamic Connections: Transnational Networks Between South Asia and the Gulf Oxford University Press
Book –Mullahs on the Mainframe: Islam and Modernity Among the Daudi Bohras – University of Chicago Press
Waqiat I Mamlaqat I Bijapur Volume 3
Cultural Heritage of Jammu and Kashmir
Aurangzeb: The Life and Legacy of India's Most Controversial King By Audrey Truschke