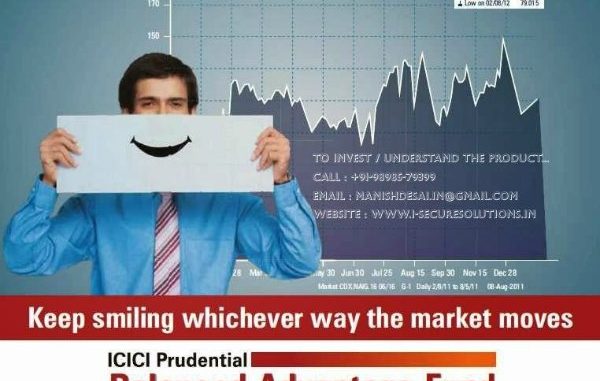 The basic formula in an equity market is 'Buy when the market is low and sell when the market is high'.  However, it is not as easy as it may sound.  Besides, defining high market and low market in real time is quite difficult. At the same time, investing in debt market (when, where, and how) has always been a question not only for novices but also for seasoned investors. After all, there is a risk of losing principal in a rising interest rate market.
This is exactly where dynamic asset allocation – a portfolio management strategy that rebalances a portfolio with a right mix of equity, debt, and equity derivatives comes into picture. A strategy, that aims to protect capital and build long-term wealth by reducing risk factors.
While there are several dynamic asset allocation plans in the market, ICICI Prudential Balanced Advantage Fund has been a performer ever since its inception in 2006. The fund has managed to perform in every market condition – flat, rising, and down.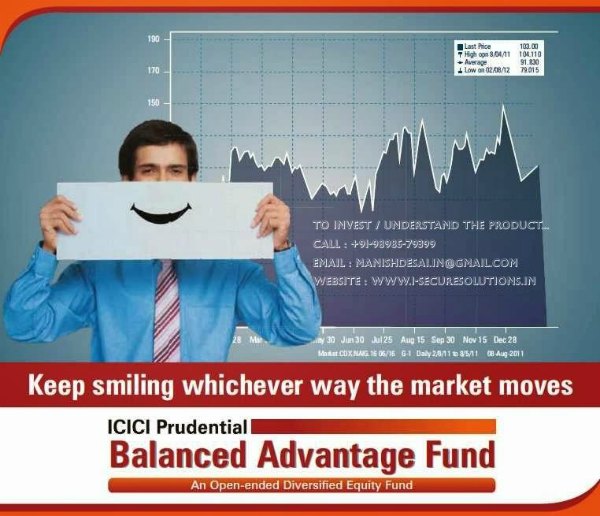 ICICI Prudential Balanced Advantage Fund: Generating Reasonable Returns Even in Flat and Volatile Markets
An open ended equity fund, the Balanced Advantage Fund (BAF) by ICICI Prudential gives the investors an advantage of both, equity as well as debt markets. The fund uses an in-house model that allows 'Buying Low and Selling High' by keeping emotions aside. BAF uses the Price-to-Book Model to buy when valuations are low and sell when valuations are high with an aim to limit the downside risk in a falling market and capture the upside in a rising market.
Performance Record of Balanced Advantage Fund in Flat Market
Even in flat market, ICICI Prudential Balanced Advantage Fund has performed well. On September 2014, the Sensex was trading at 27,000. 2 years later, on June 2016, Sensex was still trading at 27,000. Any investor investing in an index-based fund would have earned 0 return in these 2 years.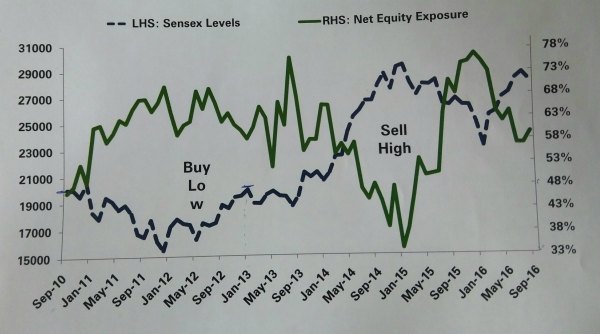 However, even in the flat market, Balanced Advantage Fund managed to give a Compound Annual Growth Rate (CAGR) OF 9.00%. Similarly, there are several examples mentioned in the below fact sheet when the market remained flat for a period of 1.5 to 2 years, yet Balanced Advantage Fund managed to deliver returns consistently.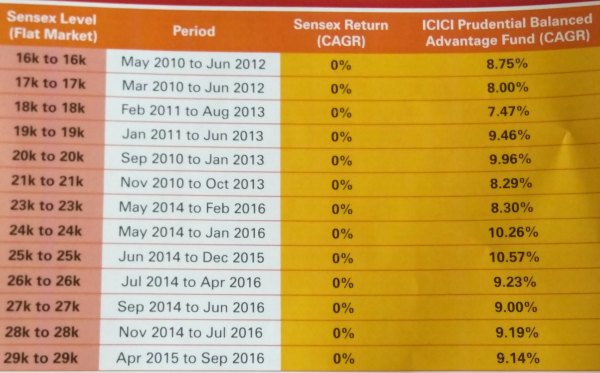 Performance Record of ICICI Prudential Balanced Advantage Fund in Rising and Falling Market
In Financial Year 2014-2015, the Sensex climbed from 22,386 to 27,957, giving an annual return of 24%, however even with 47% of equity allocation BAF managed a return of 27% outperforming Sensex while taking low level risks. Similarly, when market fell in between February 2015 and October 2015, the fund not only declined less than the Sensex (-8.1%) but could also manage in giving a positive return of 4.4%.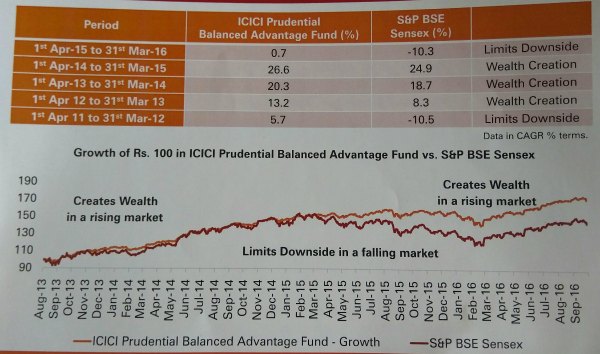 Advantage of Investing in ICICI Prudential Balanced Advantage Fund
Balanced Advantage Fund generates reasonable returns even in volatile markets. Statistics show how the fund can gain even in volatility. By keeping 65% for equity and investing in debt market too, the fund provides higher returns from debt markets but at the same time do not expose the investors with volatility of the equity market. It aims to create wealth in a rising market and limits downside in a falling market.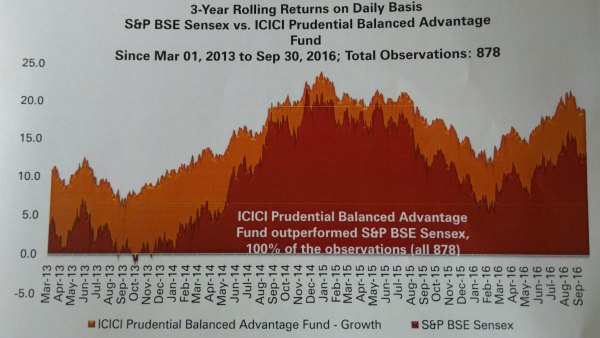 BAF has consistently outperformed its benchmark by allocating higher in equity when the equity market valuation is low and lower when the Equity Market valuation is high. The Fund managers Manish Gunwani, Manish Banthia, Ashwin Jain and Rajat Chandak have 20, 13, 9 and 8 years of experience.
Also Read: Know How And When To Enter & Exit Intraday Trading 
To know more about Balanced Advantage Fund by ICICI Prudential Mutual Fund check out the video:
For more information on fund, schemes, plans visit ICICI Prudential AMC
Disclaimer: Mutual Fund Investments are subject to market risks, read all scheme related documents carefully.