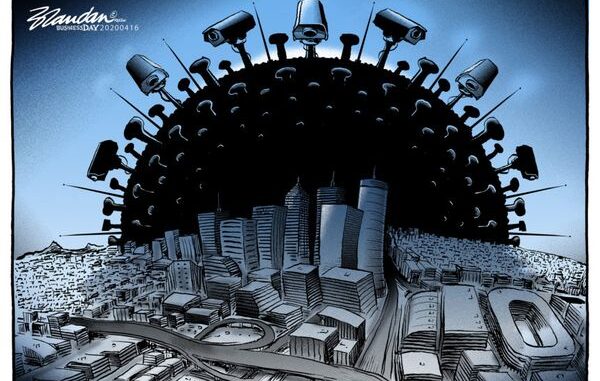 A year back, I wrote this article, Livin vid da Corona, Livin in a Parallel World when COVID had just entered our homes. When I revisited it for my own reference and notes, one of the lines that struck me was – "End of world by 202x" forwards will no more be ignored"
Alas little did we knew then – 2021 would turn out to be the year of "Apocalypse" for India. China will be all smiles – the performance of their virus among people and soldiers on the borders have consolidated their lost position yet again.
A moment of silence for all of us, who gleefully booed 2020 and welcomed 2021 with open arms. In former Prime minister, Manmohan Singh's own words, "History would be kinder to him and now to 2020 as well." Alas, Nehru would have to wait for a little longer for justice, as the ruling government is all set to invoke him again to bear the responsibility of the latest disaster, unfolding in our country.
India's Corona Crisis 2021:
Unfortunately for India, this sequel of COVID has turned out to be way scarier than the combination of all the horrible sequels Bollywood has ever produced. "Race" back of COVID with new mutants (no pun intended) has not only scared us in broad daylight; it has stripped us off naked with a few skeletons out of the closet.
When a monumental tragedy of this epic proportion unfolds: it is a manifestation of the collective failure of civil society (did not follow protocols), democratic institutions (did not intervene and played to respective galleries), electoral representatives (encouraged mass rallies, religious gatherings), opposition (created fear for vaccines) and institutional processes (did not plan for catastrophe) to pursue short term selfish gains. Even as the musical chair is on to shift accountability, the majoritarian electoral government cannot absolve their responsibility this time around to any living or dead.
Karma (Deed), Mrityu (Death) and Moksha (Self-actualization) is ultimate truth of our culture "Hinduism" often referred as way of life. COVID has systematically exposed essence of same, one by one. And connecting all these dots perhaps is Lord Ram – who has never been more relevant since Ramanand Sagar's Ramayana which we all grew up watching and adoring without comprehending the fruits of its complexities.
From ever growing chants of "Jai Shree Ram" to "Ram naam Satya Hain" – lies the ironic tragic story of India between the living and the dead, the incessant cries of help and helplessness, the long wait for the loved ones to be cremated and light of the pyre.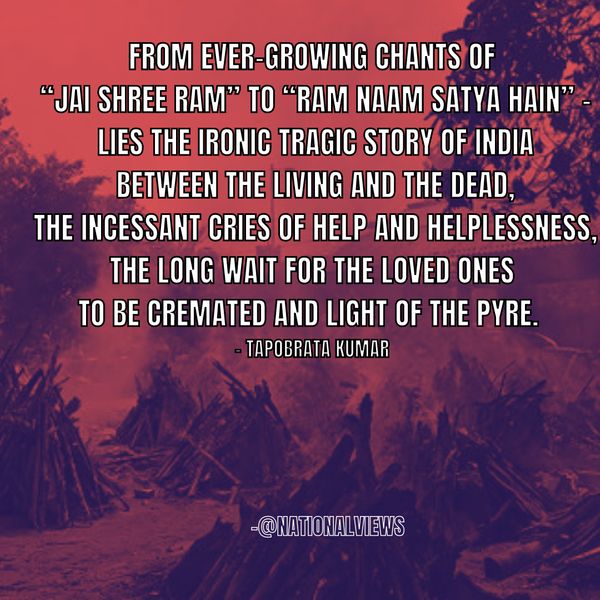 Shakespeare in Twelfth night had stated that
"All the world's stage, all the men and women merely players, they have their exits and their entrances and one man in his time play many parts and his acts being in seven ages".
It is, therefore, may not be a mere coincidence that the cycle of Karma chose us in 2021, exactly seven years after we had originally chosen the supreme actor ('leader') in 2014, how the world and India, in particular, became his stage and thereon his cult followers(men and women also known as 'Bhakts' ) grew to be mere players (puppets). One man and his cult's drive to his own definition of Moksha (attain ultimate power) completely threatened to change not the demographics of India now even the people.
One flash in the pan and the whole picture comes alive. Structured communication / logical templates around we vs them were key to slowly sow the seeds of polarization & divisiveness in society. Definition of "we and them" kept changing based on narrative, blurring the difference between "right" and "wrong". Fear was the key driving force.
But that cannot absolve us from our bitter truth that has now hit a home run – our definition of transformative society was all about becoming a superpower on the back of growing infrastructure around roads/industry, economy and defence. We blissfully ignored those socialist/communist who talked about health and education infrastructure. What we witness today is the reality for many years; our public health infra was in shambles but we did not care much as that was for the poor to figure out as we were comfortable in our private hospitals. But our greatest sin remains how we blissfully ignored the larger narrative of a divisive society.
The shortage of oxygen that we witnessed today in hospitals are only ruins of the remains – in fact, oxygen had long run out of our systems (judiciary, media, parliament, government) that made them pillars of democracy as the cult culture kept growing and resonating more with each passing year.
Not many years ago, we used to mock Pakistan stating that they cannot have snakes in the backyard and expect to bite the neighbours only. The realization has finally dawned upon us that a united society comprised of family, friends, activists, common person irrespective of religion, caste or creed is fighting together physically, digitally, psychologically and in every which way against COVID. Hopefully, by the end of this fight, we would have also eliminated the other virus of hatred and divisiveness. It is therefore the "Ram" in each of us which has re-instated the faith in goodness and unity.
The smokescreen is finally over; death is here to embrace us. In a classic twist of "heist" movies, deluded Indians finally realized it was Ravana who had put the mask of Ram in this Kaliyuga version of Ramayana. It actually started three decades back in 1992 has finally begging to end its run in 2021 (incidentally the year 1992 adds up to 21).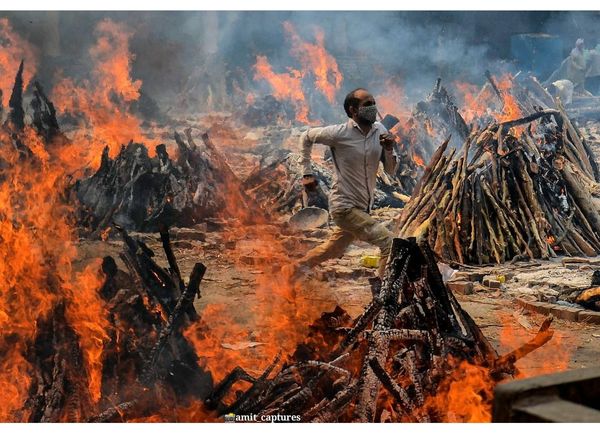 By the end of it, perhaps some of us will attain Moksha and some of us have to wait for the Judgement day; some chosen ones may face the trial in eight phases as well. Rest who will be left behind here will need to embrace each other and mother nature to heal. They will probably forgive those responsible but never forget the tone-deaf attitude displayed by the ones responsible and who defended them.
Till such time we can thank God for small things in India's Corona Crisis 2021 – In "Mann Ki Baat" we have not yet been asked to perform a task where we have to give up our own lives voluntarily for the greater good to free up some oxygen in the universe for others to breathe.