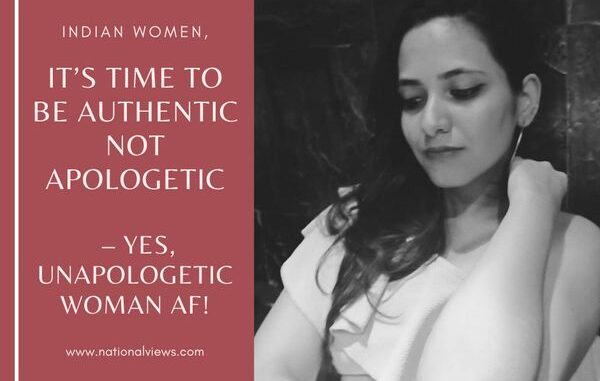 Not long ago a lady constable was applauded for carrying her child to her workplace. Before her, it was a lady IAS officer who re-joined her workplace with her infant on the 14th day post her delivery. Both the ladies were cheered and 'celebrated' for being 'SuperMoms' and 'SuperWomen'
Calling them truly dedicated and labelling them as an inspiration, they were not only highly praised but also glorified for their lack of rest, stress, pressure, overwork, overburden and working non-stop without a break.
Aren't we all done with the whole veneration and glorification of doing sacrifices that has been pushed at us in the name of honour, culture and duty of a daughter, sister, mother, daughter-in-law etc?
This wrong glorification has passed on to us from generations and so the moment we PRIORTIZE OURSELVES we are made to look bad, selfish, inconsiderate, irresponsible, unkind, uncaring and even heartless.
All our lives we have heard the message that in order to be 'accepted' and 'liked' we have to act and do certain things in a certain way. We have been both subtly and overtly have been asked to adapt, bend and change in order to make others comfortable – be it our father, brother, boyfriend, husband, partner and even our children.
We have always been asked to present the watered-down version of ourselves – we have been asked to mind our tongue when we speak, watch our behaviour before we meet/interact, and told to keep our decisions to ourselves because 'big decisions' aren't our cup of tea or for that matter, a shot of whiskey or that puff of sutta. Whether it has been family or professional environment, we have been made to fit in the water and not to make ripples in it.
So, while our soul and inner-self is loud and on fire, we kill our individuality, mute our inner voices and let the society drag us into their own conceptualization where we become an epitome of sacrifice, selflessness, generosity, big heartedness but deep inside we have the 'F' 'M' and 'B' words running in our veins and cells. Aha, coming out of your mouth in a crowd will make you look totally un-sanskari and then you will have to be apologetic for a B*tch that you have been.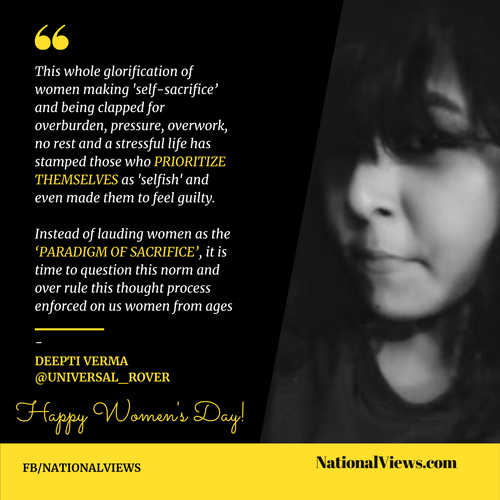 Also Read: Ancient India Didn't Preach Sanskar that the Modern Day Custodians of Culture are Asking You to Follow
Don't you think as an Indian Women, It's Time to be Authentic not Apologetic? An Unapologetic Woman AF!
If you are high on a regret barometer, you know you have been dying each day inside. It's time we put more value in our own outlook towards ourselves rather than being focused on what others might think.
An unapologetic woman is not ashamed but she is a little bit self-centred; that doesn't mean she is a flag-bearer of ego, arrogance or selfishness, but yes, she tends to be self-centred when she needs the most and she is totally ok with that – even if people around her are not.
Common, we are no bitches for making bold choices, taking risks, standing up for ourselves or making our own happiness our priority. An unapologetic woman is not brazening, loud-mouthed as the misconception goes but all about cultivating 0 shame and embracing who she really is. Unapologetic women look for themselves instead of others for approval because they have reached the place where they need no assessment from someone else's eyes.
However, the world and the society may not be kind, which means we have to stand with and for each other – backing our re-emerging, encouraging each other every time we share our vulnerable selves and applauding each other for trying to live our unapologetically best lives instead of getting fixated in the so-called epitome of sacrifice and self-lessness.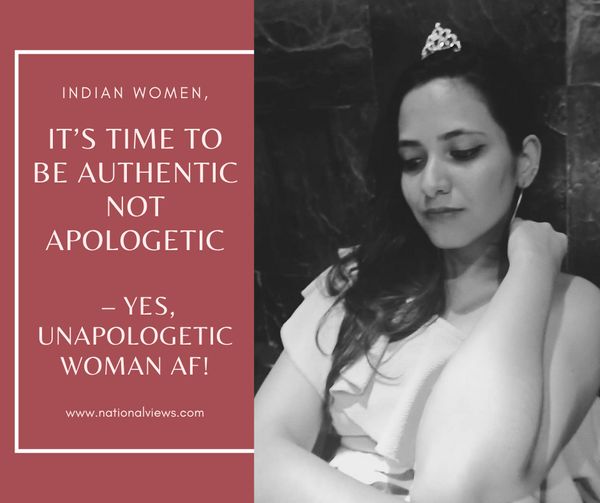 Are we ready this time? Especially, now that we know we have so-many amazing men out there in our generation who share the same thought process?
Hear the Complete Article in Audio Form on Our NationalViews Podcast here