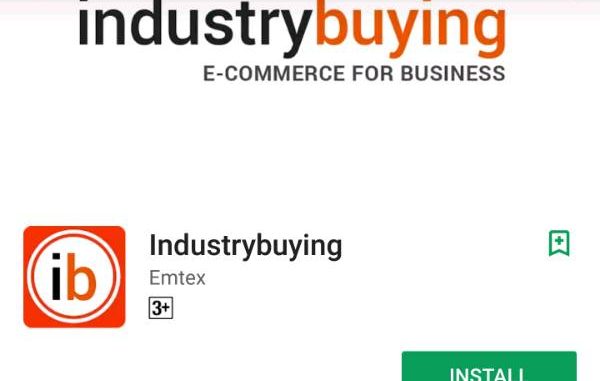 Now that I have been buying stuff online right from 2009, I usually do not have any hesitation buying anything and everything online. As far as the product's features are fine, I'm good to go. Besides, no matter how small or big, new or old, the e-commerce site is, I usually get my stuff right and in good condition. In fact, since 2009, I have always had the best bet every time I bought online. So, having second thoughts while buying online is never my thing especially in 2017. However, my experience with Industrybuying.com was so pathetic that I want to warn each one of you….not from buying online (It's one of the greatest blessings today!), but buying from Industrybuying.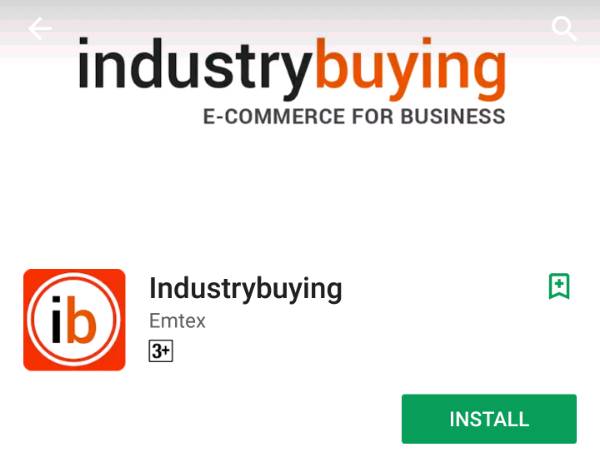 Going by the look and feel of the e-commerce website, you'll have an idea that it is no less than the Amazon of Technical tools and machinery. With ads floating around sites and social media, buy on credit facilities, timely discounts, and most significantly, business and startup related online portals talking about Industrybuying (IB), you'll have an impression that it is like Amazon India, Flipkart and other e-commerce sites, but, it isn't.
Here are our reasons and several other buyer's opinions as to why you shouldn't be purchasing anything from IB (Janhit Mai Jaari!)
They Do Not Believe in Dispatching Your Material Even After 10 Days from the Date of Purchase
While almost all the online sites give you tentative delivery date, these people give tentative dispatch date. For instance, I bought a machinery on September 16 and the tentative dispatch date was between 4 to 7 days, which was fine with me. Next, I called the customer care enquiring about the dispatch details on the fourth day i.e. September 20, the customer care executive told me, it is getting ready with packing and paperwork, and so it will be dispatched on Saturday, September 23 from the Industrybuying godown. I was okay with it.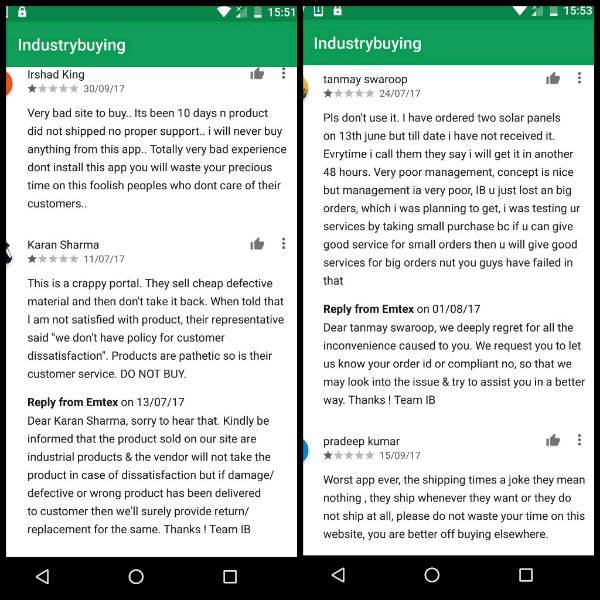 When on September 23, I didn't receive any dispatch related email from Industrybuying, I called them again on Monday i.e. September 25 asking about the dispatch details. This time the customer care started giving me stories of how they do not have the details from the seller. This did irritate me but when he said he is forwarding the request and I should give him two more days, I thought…okay. What is worth interesting is to note that, I had ordered another machine on September 16 from Amazon and I received it in the first half of September 19th.
Next day i.e. Tuesday, September 26, I called them again. This time a lady customer care exec attended my call. Her response simply blew my mind away as she blatantly asked me to wait for another two days starting from Tuesday. Any sensible company would have asked me to approach them on Wednesday as the complaint was registered on Monday. However, this female wasn't even concerned, all she gave me was a least bothered attitude. This is when I was concerned, after all, the machinery was very important for us as it was supposed to be used for irrigational purpose back in my hometown.
Industrybuying Have Plenty of Complaints Online, Not a Single Positive Feedback
With no response on the 9th day, I decided to check whether other people too faced issues similar to me while placing an order with Industrybuying. To my surprise, from mouthshut to consumer complaints forum and various Question and Answers forum, all I found was negative reviews and complaints. I got worried. I browsed and searched more to find at least one positive review.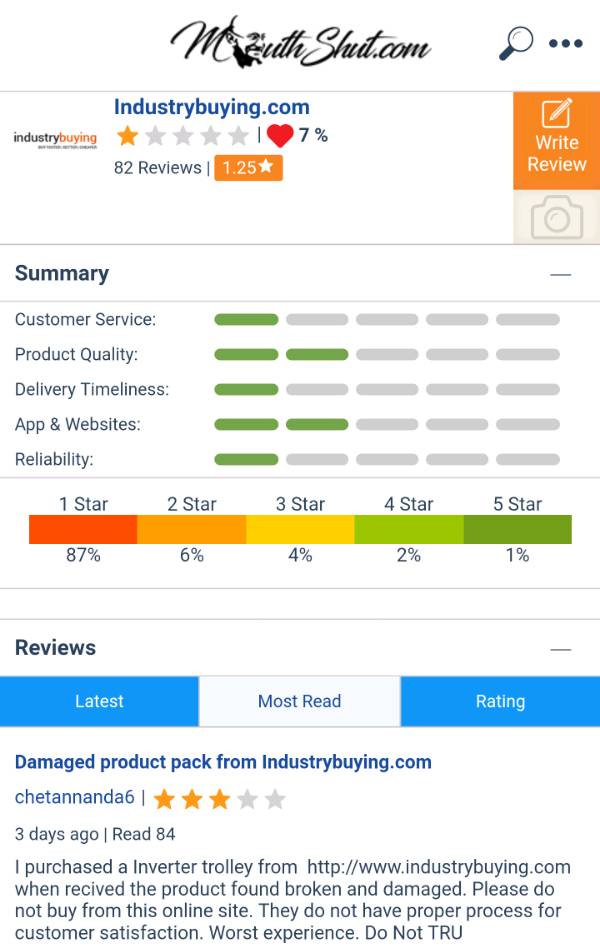 I decided if I get even one positive review about how the product was successfully delivered (as and what required by the customer) or if I get even one satisfied customer, I'll sit quiet and wait for my product to come. However, much to my surprise, my search gave me access to a pandora box that revealed only horrifying stories. This took me to their app reviews. While, almost every review had 1 star with the complainant complaining, there were few 5 stars which said 'nice or best app'. I immediately understood what these 5 stars meant. Consumers are smart these days, aren't they?
If at All They Dispatch Your Product, you are Most Likely to Get Wrong or Damaged Products
During my online search what I realized was there are people who have waited for as long as two months to get their products dispatched; which was then canceled either by them or the site. Several complaints on the Facebook comment section speaks volume.
Another shocking fact is that, even if your product is dispatched, there is no guarantee that you'll receive a new and authentic product. Few youtube videos talk about how consumers have received old and use products from Industrybuying.
What panicked me the most was sob stories post delivery – How in the case of return, the company never sent their man to pickup the product. Now that my product weighed 25kg and it was dispatched at my maternal uncle's place instead of my rural address, I realized, that if at all a wrong or a damaged product comes, I'll immediately lose Rs. 13,512 i.e. the cost of the product that I had bought via EMI.
This made me decide instantly that I should rather cancel my order then face the music later. At least, canceling the product would guarantee my refund, no matter how late.
Even If the Product Has Been Cancelled There Is a Delay With the Refund
I called them up on September 26 to cancel my order. The customer care didn't ask me why (Lol!) but was eagerly looking to hit the button. And by this time we all know why. Few hours later, I got a mail confirming the same. The mail assured me that I'll receive the payment in 2-5 business days. So, I am waiting and I'm somehow positive that I would get within the stipulated time. If not, then at least in 8 business days as mentioned on their website in case of EMI refunds.
Lastly,
According to ScamAdviser, Industrybuying(dot)com Is At High Risk
While ScamAdviser rates Amazon as 100% safe, Flipkart as 93% safe and highlights that Shopify although 100% safe has negative feedback from its client, ScamAdviser not only gives 0% safety rating to the site but also caution the users not to use it. Oops!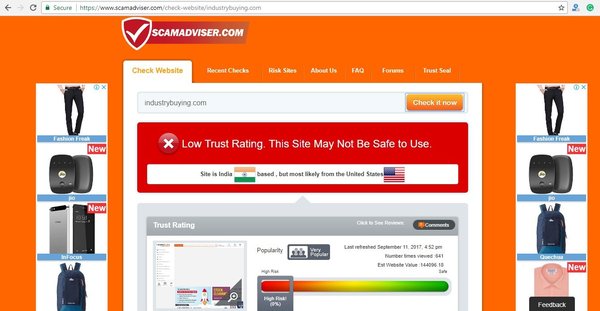 It is so unfortunate that despite negative feedbacks and crying buyers, the founders Rohit Gupta and Swati Gupta are doing nothing about it. Nevertheless, the company is not one or two years old – It started in 2013 and till date, the customers have been falling prey. Perhaps, the investors can play a vital role so that this site improves and is accessible to all. If it delivers what it promises, the site would be a highly useful tool for everyone including farmers. But the question is, are the site owners ready?
P.S: My order number is 102612768. I shall keep you guys updated about my refund. It should come by this week mostly. Fingers crossed.
Update: We have received the payment on October 14th i.e. after 17 days of cancellation and around 14 business days. However, what is worth noticing is that my refund was not initiated on the day I canceled or even a day after that, my refund was initiated on October 3, a day after I wrote and published this article.