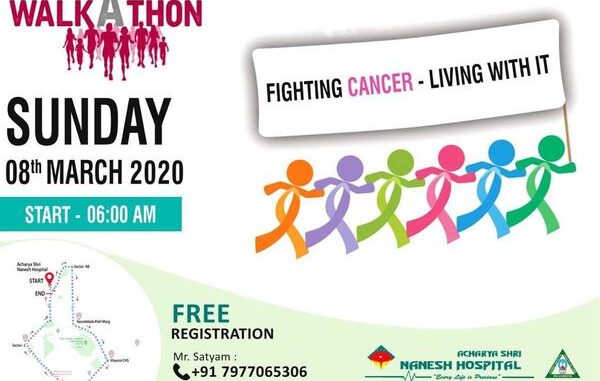 Navi Mumbai's Cancer care center Acharya Shri Nanesh Hospital is organizing their maiden edition of Cancer Awareness Walkathon 2020 with an aim to create alertness about rising incidence of cancer and palliative care in and around Navi Mumbai.
With about 80% cases of cancer being cured if detected early, one cannot deny the fact that cancer is the second leading causes of death globally. This is the reason why promoting awareness is the only way that can help us all in saving lives.
As a comprehensive cancer care centre in Navi Mumbai for patients seeking affordable surgical, chemotherapy and palliative cancer care options, Acharya Shri Nanesh Hospital strives to spread awareness about Cancer – it's prevention, screening, early diagnosis and treatment amongst the people of Navi Mumbai and Mumbai.
Along with oncologists and medical professionals' people from all walks of life including cancer survivors, caregivers, bureaucrats, housewives, students, diplomats and bureaucrats will be seen walking for one common cause to fight against cancer.
Cancer Awareness Walkathon 2020 Navi Mumbai – Event Details
Registration: Free
Race Category: 3 km Walk
Age Category: All age groups
Date: Sunday, 8th March, 2020
Time: 06:00 am
Flag off: Acharya Shri Nanesh Hospital
Route: Acharya Shri Nanesh Hospital – Sector 8B CBD Belapur – Vasantdada Patil Marg-Vikasini CHS – Raintree Marg, Sector 6 -Sector 2 – Acharya Shri Nanesh Hospital
Participant's Kit: (Free)
– Medals (On completion)
– Certificate (On completion)
– T-shirt
– Refreshments
– First Aid
Interestingly, Acharya Shri Nanesh Hospital (ASNH) does an outreach social activity every month. If you wish to donate and contribute for medical camps, organized for underprivileged people in remote areas, you can contact them
ASNH is one of the prestigious projects functional under the aegis of H.S. Ranka foundation (Philanthropic activities of the Modern Group).
H.S.R.F and the ASNH team aims to achieve a self-sustaining model as a community healthcare facility while providing for equitable healthcare services for all people in and around Navi-Mumbai.
Acharya Shri Nanesh Hospital is also one of the few hospitals in Navi Mumbai that provide quality medical care under Mahatma Jyotiba Phule Jan Arogya Yojana, previously Rajiv Gandhi Jeevandayee Arogya Yojana.
About Acharya Shri Nanesh Hospital (ASNH)
Established in the year 2013, Acharyashri Nanesh Hospital (ASNH) is a 40 bedded Multi-specialty Hospital located in the quaint foothills of Sector 8A, Artist Village and C.B.D-Belapur. ASNH is a Multispecialty healthcare facility with state-of-the-art infrastructure in terms of equipment and systems without any compromise on quality for the benefit of all its patients irrespective of their socio-economic status.
The spectrum of care extends from Critical care, Oncology care, Orthopedics, General & laparoscopic Surgery and other super specialty services. The Hospital has evolved as a Comprehensive Cancer care center for patients seeking affordable Surgical, chemotherapy and Palliative cancer care options. Many patients struggle to find appropriate quality care-giving for Cancer and it's related symptoms.
You can register for Cancer Awareness Walkathon 2020 for free by clicking on attend here or by scanning the qr code below and also give a huge shout out to your family/friends by hit 'Going' at the event's Facebook page too.