The #KarSalaam campaign of LG Electronics India Ltd witnessed the 'Longest Line of Sticky Notes' containing more than 114,741 hand written messages wishes to the Indian Armed Forces for their undying spirit of bravery – making the campaign a huge success by breaking GUINNESS WORLD RECORDS®
Through this initiative, LG not just salutes Indian soldiers' contribution and bounteous services towards the country but also aims to stand in gratitude to the Armed Forces for assuring safe and fearless life as they protect the Indian borders continually.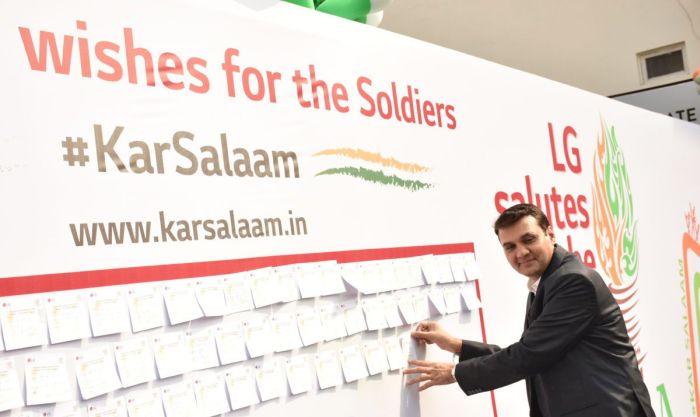 About the #KarSalaam Initiative of LG
Consumer durable major, LG Electronics India Ltd launched the #KarSalaam initiative on 26th January, 2017 which marked the 68th Republic Day of the country. Dedicated to the Indian soldiers, the campaign invited the entire country to come forward and send their good wishes to the Armed Forces.
Committed to walk the extra mile, LG not just aimed to provide a good life to the citizens of India but also vowed to extend their solidarity and support to the Indian soldiers for ensuring the Indian citizens a fearless and good life.
Throughout the campaign, LG reached out to the Indian citizens  through different means of communication including radio, ground as well as digital communication. The consumer durable company also invited people through microblogging sites like Twitter and social media platforms like Facebook to encourage citizens to #KarSalaam (i.e. to express their gratitude) even on the official website – www.karsalaam.in.
Unique Initiative
A unique initiative, the #KarSalaam campaign also included a donation of Rs. 1 CRORE. LG India's MD Mr. Kim Ki Wan handed over the cheque to Shri Rajnath Singh  the Honorable Home Minister for 'CRPF Welfare Fund'.
Mr. Amit Gujral, Head – Corporate Marketing, LG Electronics India said, "We are humbled by the astounding response that we have received from our fellow Indian citizens for our soldiers and are now more determined to spearhead other initiatives that extend LG's core philosophy of Life's Good to other realms.
About LG Electronics India Pvt Ltd
Established in January 1997 in India, LG Electronics India Pvt. Ltd. is a wholly owned subsidiary of LG Electronics, South Korea. It is one of the most formidable brands in consumer electronics, home appliances, consumer electronics, mobile communications space and IT hardware. In India for a decade, LG has earned a premium brand positioning and is the acknowledged trendsetter for the industry.
LGEIL's manufacturing unit at Greater Noida is one of the most eco-friendly units among all LG manufacturing plants in the world. The second Greenfield facility is located at Ranjangaon; Pune has the capacity to manufacture LED TV's, air conditioners, washing machines, refrigerators, and monitors.