Mahabharata's most underrated warrior Karna had a very insignificant life. Despite being the son of a princess and Lord Surya Narayan, he was forced to live life like a Suta where all he had to face was dejection and depression. This is the reason why even after knowing the truth that Kunti is his real mother, Suryaputra Karn maintained his loyalty towards his foster mother Radha.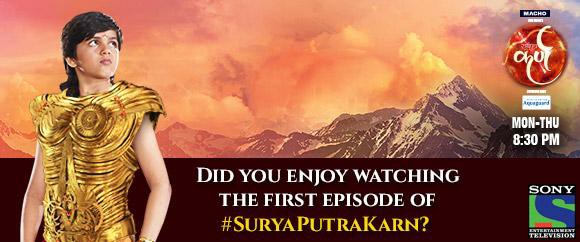 Image Courtesy: @SonyTV Via Twitter
No wonder, Karn shared a great bond with his mother and his adopted family. Here we share their relationship
Radha Loved Karna unconditionally
Radha and her husband Adirath, the charioteer of Hastinapur did not have any children. They had found Karna in a basket on the Ganga basin when they were praying together for a child. Both of them took the little Karn home unaware of his whereabouts.
Radha loved Suryaputra Karn dearly and took great care of him unlike displayed in Sony TV's Suryaputra Karn where Radha doesn't like him at all. In fact, the love of Radha towards Karn was unconditional. Sometimes, the relation between Radha-Karna is often compared with the relationship of Yashoda-Krishna.
People called Karna as Radheya (son of Radha) – that is how the bond was!
Adirath and Radha named their little bundle of joy  'Vasusena' since the little boy was in possession of natural armors – Kawach Kundal when they had found him. However, as and when he started growing Vasusena was not called by his name, but addressed as Radheya which means the son of Radha. Eventually, Radheya became his nickname.
This makes it very apparent that Radha cared for Karna so much that even the villagers were aware of her love. Therefore, the strange dislike of Radha towards Karna in the serial Suryaputra Karn is not only shocking but also very distasteful.
Radha Loved Karna more than her own Son Shon
Radha and Adiratha also had their biological son after they had adopted Karna. His name was Shon. Never did they distinguish between their adopted and biological sons. In fact, Radha's world revolved around her Radheya. Even Shon, Karn's younger brother respected him greatly. Karn too loved Shon immensely. The entire family shared a great bond.
Karna was discriminated by Kshtariyas and Brahmins, Not by His Mother
Suryaputra Karn shows how Radha, Karn's foster mother discriminates Karna with her real son. However, the truth is Radha never discriminated between Shon and Karn. Karn was teased only outside his house and cluster by the Brahmins and Kshtariyas that too because they knew he was superior to them in almost everything. So when they couldn't beat him with anything, they would insult him by calling him a sutputra.
However, this discrimination was outside his home and never in his house. In fact, Radha loved Karna so much that he even after knowing the truth about his biological mother Kunti, stayed loyal to Radha.
This strange rapport shown in the serial is rather very disturbing.
Do Not Miss Reading
Suryaputra Karna: Know Everything about All His Wives
Know the star cast of Sony TV's Suryaputr Karna
Suryaputra Karn : The Birth name was Vasusena Not Karna