Two and a half months since the Nun from the Missionaries of Jesus filed a police complaint against the Bishop of the congregation of raping her and subjecting her to unnatural sex on multiple occasions, the Kerala police have yet to take any action.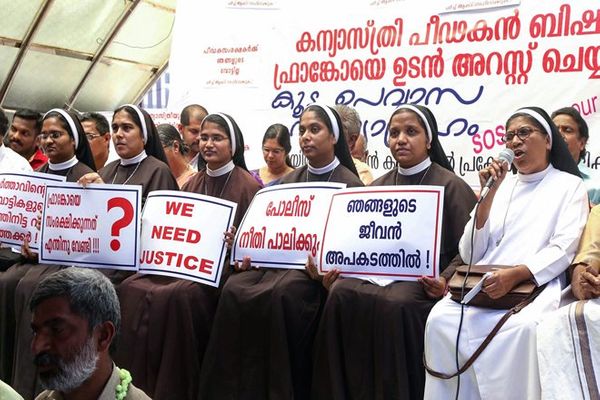 In the past two and a half months, the Nun has been summoned for questioning almost ten times to "cross check her statement".
The Bishop, Franco Mulakkal, who is the one who has been accused, however has been submitted only once for questioning.
There has been ZERO action taken against the accused as yet by the Kerala Police.
Is the Kerala Police and the Kerala Government sleeping?
Or is it waiting for a diktat from the Vatican to decide their further course of action?
The Kerala Police in their own initial statement had asserted that there was evidence available that the Bishop had allegedly committed the crimes he was being accused of.
So, why is the Bishop not arrested as yet and taken for inquiry and questioning? Why is he still allowed to roam freely?
Any normal person being accused of rape, would have right now been behind bars and subjected to the most rigorous forms of questioning by the Police of any state.
The Bishop is not special and there is no reason to give him a differential treatment.
The Kerala Police needs to act swiftly now, without wasting any more time. They need to remember that this country is a Secular country and the laws of the land need to apply to everyone equally, irrespective of his social, political or religious position.
And just because, it doesn't happen so in other states should not be the reason for Kerala to hold back to show its spine.
This post was first published by Darshan Mondkar on his Facebook Timeline.
Disclaimer: Justice Delayed is not Justice Denied….. It is actually INJUSTICE.