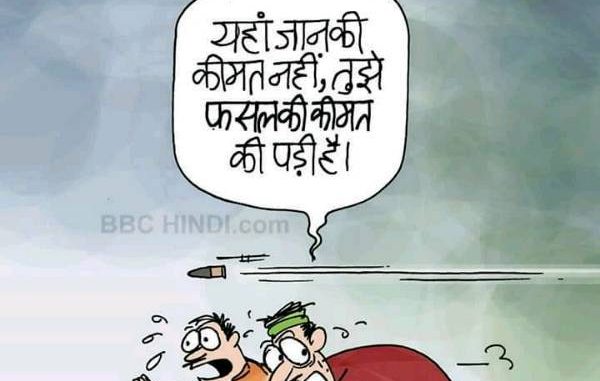 Five farmers were killed in a firing when they were protesting in the central city of Mandsaur, Madhya Pradesh which is 325 km from Bhopal. However, who killed them is still a question. While, the opposition blames the government for being anti-farmer, the government is blaming the opposition for sending anti-social elements to create ruckus in the farmer's protest.
There Were No Firing by the Police – MP Home Minister Bhupendra Singh
Denying police firing, the MP Home Minister Bhupendra Singh stated that the firing that killed the farmers were shot by anti-social elements who entered the mob.
Adding fuel to the fire, the Chief Minister of Madhya Pradesh Shivraj Chouhan stated that the Mandsaur violence is a Congress conspiracy. Making serious allegations on the Congress party, the CM said while his government is sensitive towards farmers, it is the Congress party who is responsible for turning the peaceful protest into violence.
However, statements by the Police narate a different story.
Om Jha, a senior official at Ujjain Division Commissioner told news agency IANS that in order to control the agitated farmers, the police did open fire in which 2 farmers died and many others were injured.
Gajendra Tokas, a member of the Rashtriya Kisan Mazdoor Sangh, a national farmers' union too confirmed the same by saying that the police started firing to disperse the crowd.
The deceased were identified as Bablu Patidar, Kanhaiyalal Patidar, Chain Singh Patidar, Satyanarayan and Abhishek Patidar. According to police sources, Satynarayan and Abhishek died en route to a hospital in Indore.
The Blame Game
The ruling party BJP in Madhya Pradesh is blaming Congress for instigating farmers and the Congress party is blaming BJP for opening fire on the farmers. The blame game is on even going on social media with hastags – #CongressKaKhooniKhel and #KhoonKiPyasiBJP
I won't be surprised if it was Congress(I) and not MP Police who fired upon farmers. #CongressKaKhooniKhel

— Jiggs (@Sootradhar) June 7, 2017
Why would farmers agitate only in BJP ruled states, with high Agri growth, unless instigated and compensated for loss? #CongressKaKhooniKhel

— Amit Malviya (@malviyamit) June 7, 2017
Lying in difficult governance scenarios is bjp
Being inhuman is bjp forte#KhoonKiPyasiBJP pic.twitter.com/Dkpc7tN7Cn

— Vinay Kumar Dokania (@vinaydokania) June 7, 2017
BJP govt in MP ordered the killing of innocent farmers because they were protesting in a peaceful way for their demands. #KhoonKiPyasiBJP

— Sharik Bakar (@SharikINC) June 7, 2017
Looks like the entire blame game is here to stay while the farmers continue to suffer. However, instead of blaming each other, they should workout in harmony towards the cause of the farmers.