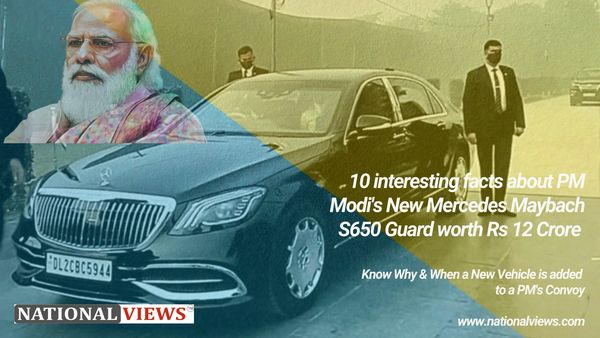 PM Modi was spotted travelling in a different car than his regular (Toyota Land Cruiser and/or a Range Rover Vogue) during Russian President Vladmir Putin's visit in India. This additional new set of wheels created quite a stir since the reported cost of this luxury is Rs 12 crore. The earlier version S600 that the manufacturer produced was Rs. 10 crore.
Here we share few interesting facts about Mercedes-Maybach S650 Guard, the Brand New Rs 12 Crore Car of PM Modi:
1. PM Modi's 12 Crore Car Comes with Highest Level of Armoured Protection
With the highest level of standard certification, the luxury car bestows 360-degree protection. It has the highest level of ballistic protection, VR10 – a new vehicle detection anti-collusion radar sensor. It can detect objects, people as well as other vehicles from a range of 1m to 6m.
2. Mercedes-Maybach S650 Guard Can Withstand Blasts & Explosives
With upgraded body shell and windows (polycarbonate), the brand new Rs 12 crore car of PM Modi can withstand bullets from AK-47 rifles. Besides, it has ERV (Explosive Resistant Vehicle) 2010 rating which means it can shield the occupants from a distance of just 2m if in case there is a blast of 15kg TNT.
3. This Luxury Wheel Comes with a Self-Sealing Fuel Tank
After a hit, Mercedes-Maybach S650 Guard can automatically seal hole of its fuel tank. The fuel tank is made up of the same that is used for AH-64 Apache tank attack helicopters.
4. The Brand New Rs 12 Crore Car of PM Modi Comes with Special Tyres
In case of damage or puncture, the luxury car can still run with its special run-flat tyres. Now, this ensures a quick easy escape.
Also Read: All About LCA Tejas MK 1A – The Indian Light Combat Aircraft Fighter Jet
Some Other Spectacular Features of PM Modi's 12 Crore Car are –
5. It has in-built fire extinguisher.
6. The car is driven by a V12 engine (6l) and produces 650 Hp.
7. The top speed limit of Mercedes-Mayback S650 Guard is 160 km/hr
8. In case of a gas attack, the cabin receives a separate air supply.
9. The vehicle has a 360-degree camera
10. The door of PM Modi's 12 crore is operated by electric motor
This is the third car added to the convoy besides Toyota Land Cruiser and/or a Range Rover Vogue. As a Gujarat CM, Narendra Modi used bullet proof Mahindra Scorpio and post becoming Prime Minister in 2014 he used BMW 7-Series High Security Addition.
Check Out the Full Review of PM Modi's 12 Crore Car – Mercedes Maybach S650 Guard
So, when is a New Car Added to a PM's Convoy?
SPG or Special Protection Group is responsible for PM's security. It came into existence in 1985 post the assassination of then PM Indira Gandhi. The vehicle upgrade is usually a call of the SPG depending upon the security requirements. SPG order two identical vehicles where one is used as a decoy.