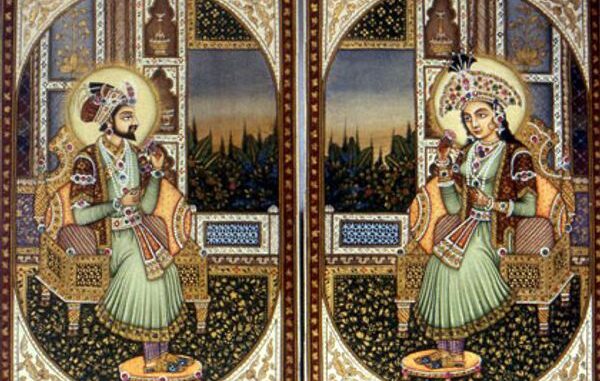 The Mughal emperor Shah Jahan is quite famous for Taj Mahal and his love for his wife Mumtaz Mahal, but there is more to his story then that. His story is quite fascinating that his son Aurangzeb.
Early Life and Background
Born as Shahab-ud-din Muhammad Khurram in January 1592, he was the third son of Mughal Emperor Jahangir from his Rajput wife Jagat Gosain aka Jodh Bai (later Bilqis Makani).
On the 6th day however he was given to Akbar's first wife Ruqaiya Begum who became his foster mother apart from being his grandmother. He stayed with her till the time he was 13. After which he stayed with his father and biological mother.
Shah Jahan had 2 elder brothers (Khusrau Mirza and Parviz Mirza) and 2 younger brothers (Shahryar Mirza and Jahandar Mirza) as well as five sisters – Sultan-un-nissa Begum, Daulat-un-nissa Begum, Bahar Banu Begum, Begum Sultan Begum and Iffat Banu Begum.
His Rivalry With His Elder Brother Khusrau
Mughal Emperor Akbar never wanted his son Salim to become his heir as he had several vices. He had revolted too twice against him. This is the reason why Akbar expressed his desire that Salim's first son Khusrau Mirza would become his heir. However, Salim was successful in succeeding the throne in 1605.
Due to this Khusrau protested against Mughal Emperor Jahangir in 1606, however, he was caught, punished, blinded and kept in jail. Because of Jahangir's bitter feelings towards his first born he considered Khurram as his de facto heir in 1607. Later when Khurram saw that the equation between Khusrau and his father is changing, he gave orders to kill his elder brother to avoid all sort of hurdle to the throne.
Prince Khurram Revolted Against His Own Father Jahangir
After Jahangir married Nur Jahan in 1611, a lot of the things were handled by her. Khurram hated to play a second fiddle to her. This is the reason the Mughals lost Kandahar to Persians because Khurram didn't go to Kandahar as he feared in his absence Nur Jahan would poison his father's mind against him.
Nur Jahan had her own motive to do so because her daughter from her first marriage was married to Jahangir's fourth son Shahryar Mirza and she was busy pushing the case of Shahryar to make him Jahangir's heir. Khurram however was defeated. He took refuge with Udaipur's raja but later submitted to his father. He was forgiven but the cold war between him and Nur Jahan continued.
But upon the death of his father Mughal Emperor Jahangir, Prince Khurram succeeded to the Mughal throne as Mughal Emperor Shah Jahan or Abu ud-Muzaffar Shihab ud-Din Mohammad Sahib ud-Quiran ud-Thani Shah Jahan Padshah Ghazi. Before that he was the governor of following regions – Deccan 1611–1612 Bihar 1613–1614 Gujarat 1614–1618 Delhi 1623–1627 Bengal 1624–1625 and Bihar 1625–1627
The Family Life of Mughal Emperor Shah Jahan – His Personal Life and Wives
He had 4 wives – Kandahari Begum, Mumtaz Mahal, Akbarabadi Begum and Izz un-Nisa Begum (mother of his son Sultan Jahan Afroz Mirza) Although he was engaged in 1607 to Mumtaz Mahal then Arjumand Banu Begum, he married her only 5 years later in 1612. Her father Asaf Khan was Nur Jahan's brother. This alliance was initiated by Nur Jahan to increase power in the court.
But before Shah Jahan married Mumtaz Mahal, he married Kandahari Begum (daughter of a great-grandson of Shah Ismail I of Persia) mother of his first child, his daughter Parhez Banu Begum. With Mumtaz Mahal, Mughal Emperor Shah Jahan had 7 children – Jahanara Begum, Dara Shikoh, Shah Shuja, Roshnara Begum, Aurangzeb, Murad Baksh and Gauharara Begum. Total Shah Jahan had 14 children.
The Empire of Mughal Emperor Shah Jahan
Shah Jahan expanded the Mughal Empire to the west beyond the Khyber Pass to Ghazna and Kandahar. He even exchanged ambassadors with the Ottoman empire and his army fought against the Portuguese. He also took control of the Deccan by imprisoning the ruler of the Nizam Shahi kingdom. Later his son Aurangzeb, the viceroy handled the Deccan area.
Shah Jahan also fought with the Sikhs. Unlike, his father and grandfather, he was very intolerant. When Shah Jahan ordered demolition of gurudwaras, two wars were fought between the Sikhs led by the sixth Guru, Guru Hargobind (son of Guru Arjan who was killed on the orders of Jahangir) and the Mughals led by Shah Jahan. He lost the battle of Amritsar against the Sikh Guru.
Being radical, Mughal Emperor Shah Jahan reversed all the laws and policies made by Akbar for non-muslims. From 1633 he started imposing Sharia law and demolished newly built temples and churches.
Death and Legacy
In 1658, when he became ill in 1658, his eldest son Dara Shikoh started looking after the royal affairs instead of him. This however created animosity between the brothers. Next, his younger brothers – Shuja and Murad Baksh declared their independence in their region Bengal and Gujarat respectively and marched upon the capital Agra to claim their riches.
Shah Jahan's third son, Aurangzeb, and the most capable of all brothers then gathered a well trained army and became its chief commander. He not only faced Dara's army but also defeated him in the Battle of Samugarh. Later, Shah Jahan fully recovered from his illness but Aurangzeb declared him incompetent to rule the empire. He became the Emperor and kept his father Shah Jahan under house arrest in Agra Fort.

He was in house arrest till he died. Jahanara Begum Sahib, his first daughter, voluntarily shared his 8-year confinement and even nursed him. In January 1666, Shah Jahan fell ill and on 22 January, after reciting the Kal'ma and verses from the Holy Quran, he died at the age of 74. He was buried next to his wife Mumtaz Mahal in Taj Mahal which was built by him in the memory of his late wife.
Besides Taj Mahal, Shah Jahan constructed Red Fort also called as Lal Qila, the Jama Masjid, large sections of Agra Fort, the Moti Masjid, the Wazir Khan Mosque, sections of the Lahore Fort, the Mahabat Khan Mosque in Peshawar, Shalimar Gardens, and the Jahangir mausoleum.
Source and Reference:
Asher, Catherine Ella Blanshard (2003). The New Cambridge History of India, Vol I:4 – Architecture of Mughal India
Lal, K.S. (1988). The Mughal Harem. New Delhi: Aditya Prakashan
Nur Jahan: Empress of Mughal India By Ellison Banks Findly