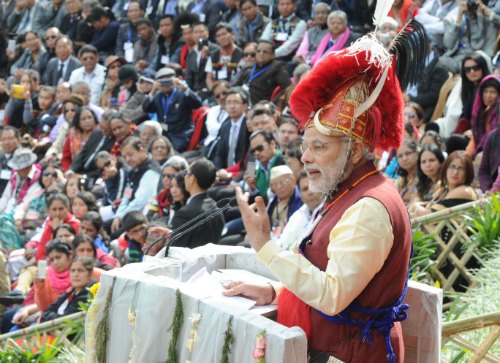 Notable American philosopher Judith Butler explains – "When some people rejoin with "All Lives Matter" they misunderstand the problem, but not because their message is untrue. It is true that all lives matter, but it is equally true that not all lives are understood to matter which is precisely why it is most important to name the lives that have not mattered and are struggling to matter in the way they deserve."
The tale of two states – Nagaland and Kashmir illustrates a similar story. Here, we share the dubious nature of BJP led Central Government that favors one state over the other.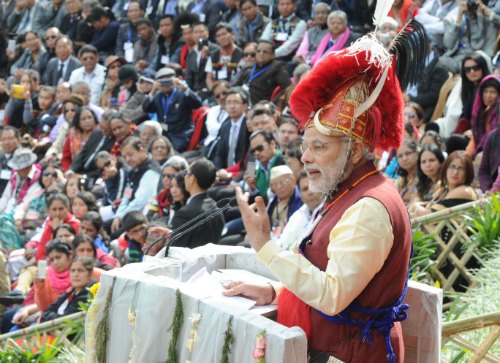 Image Courtesy: By Narendra Modi [CC BY-SA 2.0 (http://creativecommons.org/licenses/by-sa/2.0)], via Wikimedia Commons
Nagaland and Kashmir : Same Problem, Contrasting Solution
The first and foremost demand of NSCN (IM) is Extension of Article 371A to all Naga inhabitant areas in India. It is interesting to note that though the Modi-led Central Govt wants to abrogate Article 370 from Jammu & Kashmir, the subject of giving the north-eastern state its own flag is almost decided. A separate flag is one of the thirty-three demands made by the NSCN-IM, which has been engaged in talks with the Central Government since a truce was finalized in 1997. However, in Kashmir, the separate Constitution is a big issue.
If shouting "Bharat ki barbadi tak jung rahegi" is a seditious act, why isn't "observing Independence Day as a black day" and yelling "We do not believe in constitution of India"? Recently, a member of Hindu Mahasabha said, "We do not believe in the Constitution of India and we have been protesting against it for the past 69 years. Secularism doesn't exist in India and that is why we mourn the Constitution", albeit there is no action hitherto, when others were charged doing the same kind of Act.
Other demands include dual citizenship, separate constitution, and the creation of "Nagalim" by integrating all Naga-inhabited areas of Nagaland, Assam, Manipur and Arunachal Pradesh. However, in Kashmir, if they want to protest for their demands be it Hurriyat, Jihad or Allah, they are charged as terrorists.  
There are three major Naga insurgent groups – NSCN (Unification), NSCN (Khaplang) and NSCN-IM having 1,000, 2,500 and 4,500 armed guerrillas respectively with latest machinery guns and arms. On the contrary, in Kashmir, even the unarmed, women, youth, children and elders are called as Terrorist. Besides, the armed forces never stop to question them. The ceasefire came with a 'time for peace.' It is now 'time for dialogue' which should be instituted on the universal principles of democracy within an 'all-inclusive' approach towards the 'principles of negotiation.'
Why so Unfair Towards the Kashmiris?
PM Modi lashed out at Indian Media declaring not to make Burhan Wani a hero but PM Modi didn't bother to lash out on the same media during the JNU incident when they were repeatedly showing fake videos.
At one hand, the Modi-led Central Government want Kashmiris not to do anything – no demands, no expectations. However, on the other hand, they are giving legal sanction to NSCN (I-M) for their demands.
After more than 30 days of unrest, PM Narendra Modi  reached out to the people of turbulent Kashmir and indicated his willingness to hold dialogue under the framework of insaniyat, jamhuriyat and Kashmiriyat. Why PM Modi is not as prompt as he was before the election?
There are more than 24 insurgent groups in the whole North East and Modi-led Central Government is willingly going ahead with dialogues and peace talk without using Military. However, the same is not applicable for Kashmir, in fact, it is just the opposite. Though the Modi-led Central Govt is moving ahead with one insurgent group i.e. NSCN (I-M), he simply doesn't have time and energy to schedule even a single dialogue with Kashmiri people. Isn't it a dubious act?
The Government of India must credibly and impartially investigate police use of force during violent protests in Jammu and Kashmir that have killed more than 30 people and injured hundreds which is a gross violation of Human Rights. I want to ask PM Modi about the Political hegemony over Jammu & Kashmir, what roles, concepts, models and theories play in political analysis over J & K and the stand of Government of India.
Moreover, PM Modi and people of India must introspect that Armed forces are not only for war and shooting innocents de facto armed forces are the peace keeper of one country. War is not the weapon in 21st Century. It is now up to PM Modi whether he wants to create a new Kashmir in Northeast (Nagaland) or to Make Kashmir a new "Greater Nagaland".
Do Not Miss Reading: 
Rajiv Gandhi's Mizoram Peace Accord versus Narendra Modi's Nagaland Peace Accord