The Narendra Modi government turned one year this month. While, criticism from opposition and media were expected, what surprised us most was the criticism coming from senior leaders of BJP and other loyal BJP supporters. Surprisingly, these individuals are the same people who had supported the then Gujarat CM Narendra Modi for the PM seat.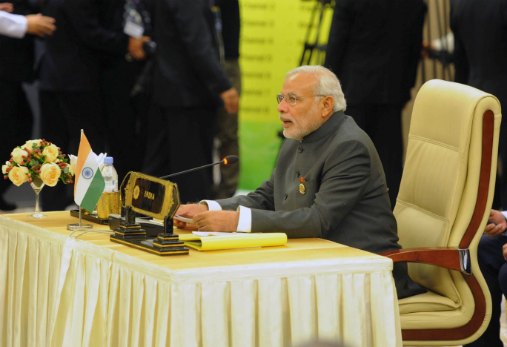 Image Courtesy: By Narendra Modi via Wikimedia Commons
Here we share Modi's biggest critics from his own circle of friends
Subramaniam Swamy
The Rafale deal which was scrapped during the UPA government under Defense Minister A.K. Antony was defreezed by Arun Jaitley. This did not go well with Subramaniam Swamy who has been opposing the Rafale deal in public from years now.
According to him purchasing 36 Rafale Fighter jets from the French company Dassault Aviation is a raw deal because these fighter jets are not that efficient and even lacks the necessary performance. This is the reason why no country has signed a deal with it. So, when Modi struck a deal to buy these Rafale Fighter jets, Subramaniam Swamy quickly said that he would approach court if Narendra Modi goes forward with the deal.
Image Courtesy: By Subramanian Swamy [Public domain], via Wikimedia Commons (via Amar Bharat)
Rafale deal is not the only thing that is making Swamy speak against the central government. The senior leader is not at all happy with the way the government is being lenient with the case of Jayalalitha, Sri Lanka, and Robert Vadra. Besides, he has already stated in public that if the central government does not release the secret documents on Subash Chandra Bose's death before August 15, 2015, then he shall approach the Supreme Court.
Swamy is also not content with the Black Money Bill. He in fact is in favor of scrapping the Income tax which unfortunately has been rejected by Arun Jaitley.
Arun Shourie
If you remember it was Arun Shourie who had supported Modi even in the 2009 Lok Sabha election as the PM Candidate. However, now that Modi government turns one, things have changed drastically. Mr. Shourie is no more a fan but has turned one of the biggest critics of the Modi Government.
According to Shourie although there are talks of development, there is no development happening. On a critical note Shourie even went on to say that the Modi government cannot talk about development and progress in Delhi, and Love Jihad in Muzaffarnagar – pointing out the hypocrisy of the BJP government.
Shourie is also not happy with the fact that many of the important institutes have been neglected by this government. To him, the current BJP is all about three people – Modi, Jaitley and Shah. He was also very critical with the problems of minority. Criticizing Modi he stated that if the PM can tweet to congratulate Sania Mirza for her victory or wish someone Happy Birthday then why can't he, talk about important issues like Ghar Wapsi, and Love Jihad.
Yashwant Sinha
Criticising Arun Jaitley without taking his name, former FM and senior BJP leader Yashwant Sinha quoted that important things like budget should have a direct connect with the people. Further stating that important policies like Budget should not be made while sitting in an air conditioned room. His point was that the leaders making budget should be deep rooted to the ground.
Another thing which Mr. Sinha has been critical about is Bjp's focus on publicity. According to him, the Modi government is focusing more on publicity than politics which of course is a fatal weapon and will have dangerous effects in the long run.
Ram Jethmalani
 With two open letters to Arun Jaitley on the subject of Black money, senior lawyer Ram Jethmalani expressed his displeasure over the Black money row and posed 12 questions to the Finance Minister, calling him the biggest obstacle in getting back the Black Money.
He till now has not received any answers. However, BJP President Amit Shah after the Delhi elections made a statement that the promise to repatriate black money was just an election strategy, Till date nobody has contradicted Shah's statement.
Not only these senior leaders even the BJP loyalist like Ram Dev Baba, HDFC Chairman Deepak Parekh and Madhu Kishwar have criticized the Narendra Modi government openly for failing to govern on various aspects. What is surprising for most of us is the fact that yoga guru Ram Dev Baba genuinely appreciated Rahul Gandhi for reshaping the Congress party and Delhi CM Arvind Kejriwal for carrying out the good work effectively.