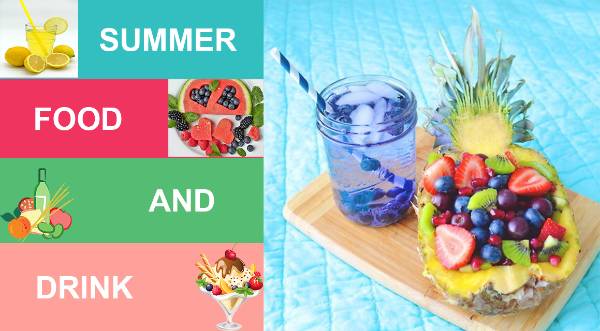 With the mercury levels reaching a new high every day, summer is pushing us to limits. It is not just the temperature that is unbearable, but also the humidity. We feel very dehydrated and low on energy in such a weather, and tend to lose our appetite. So here are 10 food items that you should stick to, to make sure that your summer goes healthy and cool.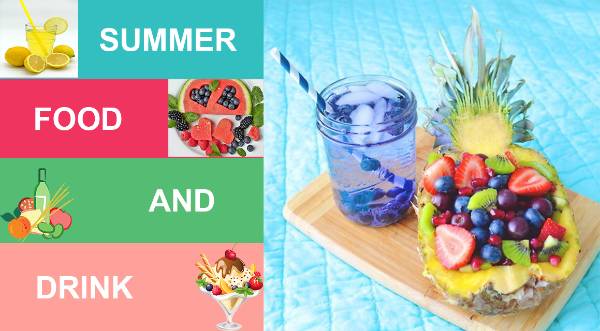 Water
The most important thing that you must intake this summer is water. And this is not just to keep you hydrated. You tend to lose a lot of essential nutrients in the scorching summer, and water replenishes these essential nutrients and minerals to your body.
So keep a bottle nearby and drink water at regular intervals, no matter how busy you are, whether you are at the office or at home.
Salads, A Must Healthy Summer Food
Vegetables like cucumber, carrots and onions are great for making salads which are low on fats, calories and have a high-water content. These do not even require you to go stand in front of the hot oven.
For the body, they are a great source of fiber and help in digestion and reduction of cholesterol levels. They not keep you healthy but also make you feel full and cool at the same time.
Fresh Juice
The best fruits you have enjoy this summer are grapes, water melons, pomegranate, and lemon. They keep our body cool and are a boon to the digestive system. They work wonders for our eyes.
In this scorching sun, they help keep our skin healthy. While making juices out of them, it is better to use honey, as a substitute for sugar. A great alternative to fruit juices is carrot juice.
Soups
Soups are bowls of nutrition without the high number of calories. Hot soups with mint and coriander, does make you sweat, but cools your inner body. A bowl of soup having beans, carrots, onions, and herbs like coriander and mint will keep you fresh this summer.
They are easy to digest and this is the best summer food you can include in your daily diet. They are a healthy food recipe to keep you going this summer.
Butter milk
One of the best ways to enjoy the summer, is to do so, with a glass of buttermilk. Swapping your daily cups of coffee or tea with a glass of buttermilk is what every health-conscious person should do this summer.
Not only is it rich in Vitamin C, but also cures ulcers, and other stomach irritations. And after all, made of basically milk, it is great for your summer-stressed-skin. 
Coconut Water
This is a very important food for summer. You should drink it early in the morning to keep your lungs eyes, kidneys and blood circulation well and working. Sodium, chlorine, potassium and magnesium in it, keeps our mineral levels high, even when the summer is taking a toll on us.
Fruits
Fruits are, after all, the most beneficial, summer food. They have the highest water content and help restore the lack of water in your body due to constant sweating.
Moreover, they also contain vitamins, minerals, carbohydrates and fatty acids. They require least energy to be digested and contain roughage which is essential for healthy digestion.
Also Read: 10 Mind Blowing Health Benefits of Salt You Didn't Know
Grilled Food
Although you might be surprised, grilled chicken, fish and vegetables are great for summer, as long as you go slow on the sauces and spices. Although they are not typical Indian Foods, they are low carb food and great for a family lunch, dinner, or even when calling your friends over to watch the cricket match together.
Dry Fruits
Dates and frozen grapes help balance the constant minerals and nutrients that are sucked out because of the heat, and keep us from contacting diseases. Dates are not only rich in protein but also fibre, iron, vitamins and calcium. It keeps our skin and eyes healthy in the scorching sun and helps give us strength to go through the entire day.
Frozen grapes are great for those who tend to have a lot of physical stress during the day. They keep us from feeling tired and give us much needed energy. They are easily orderable online foods and are sold at various discounts across many sites.
Nuts
Nuts like cashew, pista, almonds and walnuts will keep you healthy this summer and protect your body from sickness. They are great for all seasons, but in the summer, they are the best food, they specifically keep you from various bodily disorders and keep your energy levels up.
Also Read: Detox Water Recipes to Cleanse your Body this Festive Season
And if you are feeling lazy, use Yumist Coupons and Swiggy Coupons to get the healthiest of foods delivered to your home, free of any delivery costs!!!
This article on healthy summer food and drinks is written by Amit Rajawat
Author Bio – Amit Rajawat is a writer at mytokri a website dedicated to deals and discounts and loves writing about food and travel.