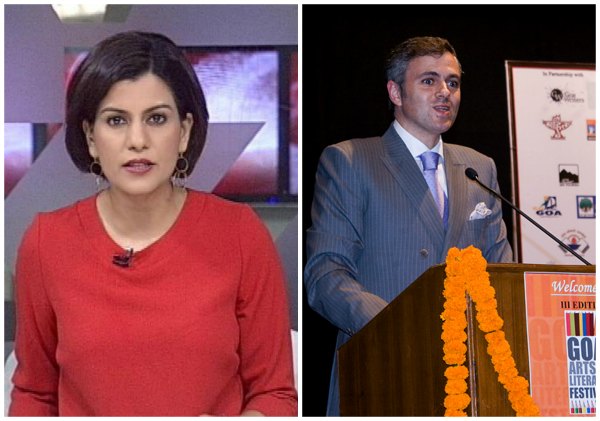 When Indian Politician Omar Abdullah and his wife of 17 years decided to go for a divorce on a mutual consent, a gossip spread like a wildfire.
Well, the buzz amongst the Delhi grapevine was that the Jammu and Kashmir Chief Minister was divorcing Payal his wife only to get married to a news anchor. This News Anchor was none other than the host of NDTV's Left Right and Centre – Ms. Nidhi Razdan.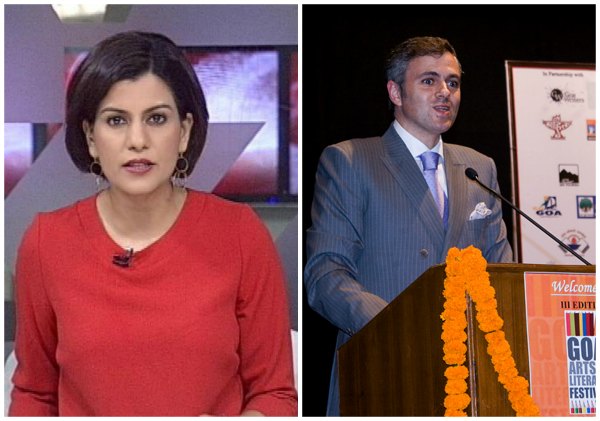 Image Courtesy: Image 1 – @LRC_NDTV via Twitter, Image 2 – Joel's Goa Pics via Flickr
Nidhi Razdan and Omar Abdullah – A Love Affair!
Nidhi Razdan is a Kashmiri Pandit and has roots in Kashmir though she has been staying in Delhi from years now. She joined NDTV in 1999 at the age of 21 and ever since then she has been a promising journalist. Often we have seen her reporting things straight from the scene and this is precisely the reason we she went to Kashmir every now and then for reporting.
During one such time, the journalist met Omar Abdullah. It is alleged that love blossomed between the two and the affair continued since Omar Abdullah spent a lot of time in Delhi. His wife Payal Nath (Daughter of Major General Ram Nath) and his two sons Zahir and Zamir stayed in Delhi as well. Interestingly, if you have noticed then you'll find that Nidhi has done more reporting from Kashmir than any other reporters or journalists from NDTV.
When Did This Alleged Love Affair Start?
Well though we do not have the exact date or year. It is said that Nidhi's growing proximity towards Omar Abdullah was the reason of her divorce in 2007. Nidhi Razdan was married to the famous journalist and Radio Jockey Neelesh Misra. Yes, our very own Neelesh Misra of Yaadon Ka Shahar. The couple met during their college days in Indian Institute of Mass Communication.
Neelesh saw the tall and beautiful Nidhi in the very first class and decided to marry this girl. Soon love blossomed between the two and they dated for a long time. Eventually, they tied knot in 2005. However, in just 2 years marital bliss turned into marital woes and the two divorced. It is said that the reason of divorce was Nidhi's closeness to Omar Abdullah.
Then Why Didn't Omar Abdullah Marry Nidhi after Separating from Payal Nath?
Well, according to the grapevine, Omar Abdullah wanted to marry Nidhi Razdan. However, both, Farooque Abdullah and his party the National Conference opposed the marriage because Nidhi was not Muslim. In 2011, when Omar and Payal separated, he was the CM of Jammu and Kashmir, so looks like the party didn't want a non-muslim girl to marry the CM.
On the other hand, both Farooque Abdullah and the party wanted Omar to marry the sister of his then Home Minister Nasir Alam Wani. However, Omar Abdullah didn't listen. Perhaps because of opposition from his father and the party Omar never married Nidhi.
Post his separation with his wife Payal Abdullah, Omar did confirm the news on Twitter. He however, tweeted that stories about his remarriage is false and appealed to the media not to intervene in his private space.