Often we skip some of the best things in life simply because we cannot afford it. Too luxurious, we think it would be rather insane to spend money in a spa, massage or eating out at a 5 star hotel when we are trying our best to accumulate the EMI every month, and somehow managing the dal-roti stuff. However, what if I tell you, there is a way out of it. What if I tell you, you can avail Biryani at the price of dal-chawal from your favorite restaurant?
Yes, you heard it right! Groupon.co.in is functional in India, giving you some of the best deals in town at a mouth-watering price. With flash sale from 50 to almost 90%, you can get access to all the services that you once thought, was too pricey to suit your lifestyle.
So, What Is Groupon?
Groupon is basically an e-commerce website that connects the consumers and merchants on their website – Consumers who are looking for some deals without sacrificing the quality, and merchants who are looking to attract more consumers to run their business in this competitive market.
How Groupon can help you in saving the monthly expense on Lifestyle?
So, if a xyz restaurant is asking Rs. 600 for a meal when you enter their restaurant, the same restaurant will charge you Rs. 200 for the same menu, if you avail their services through Groupon. A body massage of Rs. 2500 at your preferable salon can be as cheap as Rs 600, so on and so forth. All you need to do is keep a tab on the website. Alternatively, you can even signup their newsletter to get the offers and deals straight into our inbox.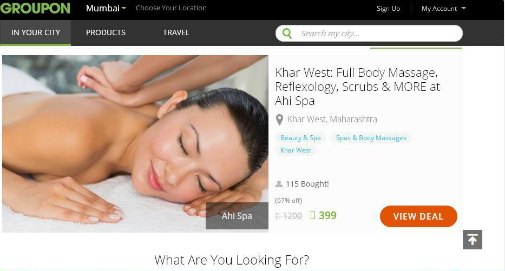 When and Why I Started Using Groupon?
Saving money is a great idea and of course, an important one too. Nobody likes spending a great deal of money in restaurants, travel or luxurious things like hair spa, and massage. It all happened once, when I was having a bad hair day and I wanted to do a Hair spa. However, short on money, I never wanted to spend much. But at the same time, I was not ready to compromise with some low quality option.
While searching on the Internet for some local parlor (where I could avail some discounts), I came across a salon in a 3 star Hotel which was offering me a deal that was way less than my regular salon. What's more, I was even getting a complimentary Advanced Hair Cut, and some extra things on the same amount. I quickly bought the coupon, took an appointment, and enjoyed the pleasure at a very cheap price.
It worked for me well, and ever since that I'm using the website on a regular basis for various things including booking an appointment at the nearest Health centre. Very pocket-friendly, I think, people can save a lot, if they use this website.
Websites Similar to Groupon
Groupon right now is one of the best websites that give you the best deals in your city. However, there are some other websites which you may like to have a look on – MyDaala, SaleDekho.com, DealsAndYou and SnapDeal.
Try these websites and prevent the monthly holes in your pocket. Guess what, you won't mind your wife's cribbing anymore…
Screenshots are taken from Groupon.co.in