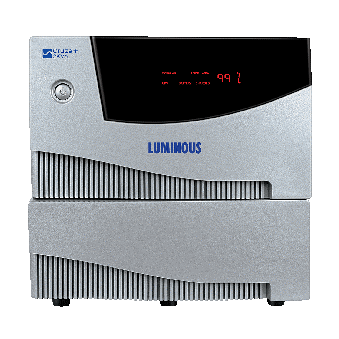 An inverter can be defined as an electrical converter that is responsible for converting alternating current to direct current to store the power in the battery and during power cuts it converts direct current into alternating current for supply the power to the connected appliances, while a battery is designed to store and provide power for a longer period of time. The performance and the life of an inverter largely depend upon the battery quality.
Choosing the best inverter and battery for your home depends on your needs and power requirement, which can differ from one household to another.
Big brands like Luminous offers a comprehensive range of inverters and batteries to cater to the power requirements of your house. Before investing in the inverter that is best of you, properly analyse the power requirements of your home.
The following parameters will be helpful if you are investing in an inverter and a battery:
The Type of Technology Used
They offer inverters in both sine wave as well as square wave technology. A sine wave inverter supplies grid-like power to your house during a power failure, which increases the longevity of the connected devices. A square wave inverter is pocket-friendly and more robust for areas where voltage fluctuation is common. Luminous offers a wide range of both square wave inverters in the Eco Watt, Shakti charge series.
buy sertraline online https://rxbuyonlinewithoutprescriptionrx.net/sertraline.html no prescription
Eco Watt- The Eco Watt series by Luminous offers advanced PCB programming, microprocessor, and FSW transformer, which makes them one of the best inverters available from (300Va to 1500Va range).
Shakti Charge- Shakti Charge is fast charging inverter that is best suited for rural and semi-urban areas. Available in two models 1150 & 1450.
While under the sine wave category following types of inverters are offered by Luminous:
Eco Volt- This is a pure sine wave inverter. Its low harmonic distortion feature makes it a noiseless and highly efficient inverter. Available from (600Va to 1500Va range).
Zelio- Within an affordable inverter price, you can get state-of-the-art features like a sleek display showing power back-up time, hassle-free battery maintenance, and MCB protection. Zelio is also available in Bluetooth and Wi-Fi variant
iCruze- This is a super inverter that is specially designed to run various high-capacity loads like a fridge, washing machine, geyser, Air conditioners and water pump. It is a suitable choice for commercial and residential set-ups and available from (2800Va to 12500Va range).
buy strattera online https://rxbuyonlinewithoutprescriptionrx.net/strattera.html no prescription
Inverter batteries are optimally designed for long and frequent power cuts. To suit the unique needs of your home, you can choose from the following inverter batteries:
Gel Battery
A gel battery refers to a battery that is the valve-regulated, maintenance-free, lead-acid battery. The gel range of inverter batteries by Luminous offers zero spillage risk. It guarantees 20% more and consistent power throughout its service life. It requires no water top-up. Gel battery is eco-friendly and emits no harmful fumes.
The battery comes with a warranty of 48 months.
Tubular Battery
A tubular battery can be defined as a lead-acid battery that is generally big in size when compared to a flat-plate battery. It is suitable for areas with long power cuts. The tubular battery offered by Luminous is custom designed for uninterrupted power delivery. The inverter battery comes in an abrasion-resistant, leak-proof tower type polypropylene container with 20% more electrolyte, which ensures low maintenance and better service life. A tubular plate battery is 100% recyclable and safe for the environment.
buy synthroid online https://rxbuyonlinewithoutprescriptionrx.net/synthroid.html no prescription
Flat-Plate Battery
A flat-plate battery is a lead-acid battery that is designed for areas with short duration but frequent power cuts. The luminous flat-plate battery comes with a superior design to provide an uninterrupted power supply to all your electrical appliances. These batteries need minimum maintenance and are the best choice for an inverter since they are 100% recyclable.
If you are investing in an inverter and a battery for the first time, it is advisable that you should purchase both from a reputed brand like Luminous.
Luminous is a market leader for the best inverters and batteries. From gel batteries to tubular plate batteries and from integrated inverters to high-capacity inverters, you can easily browse through a comprehensive range of inverters and batteries to enjoy an uninterrupted power supply.