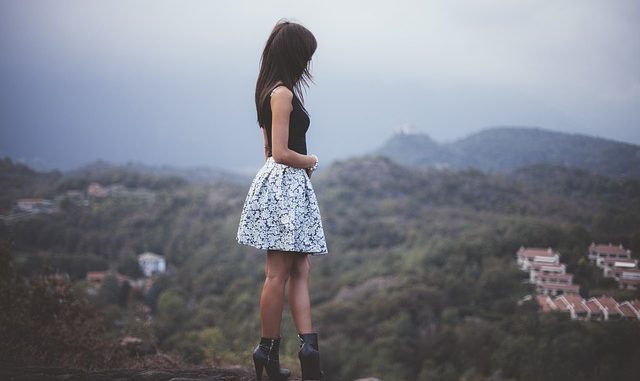 The number of petite women in the world is growing. While once considered a minority in the clothing market, fashion for women under 5'4" is selling at an all-time high. It only makes sense for clothing brands and shops to carry petite clothing that is designed with the consumer in mind.
If you're under a certain height, you understand the struggle of finding clothing that fits you. Petite women often need to alter trousers, shorten sleeves or fix necklines. When shopping in the petite section however, it's a lot simpler to find outfits that don't need special attention and can be worn right off the rack.
Length is important
The biggest difference between standard sizing and petite sizing is length. The petite consumer is often several inches shorter than a standard size. This proves to be a challenge when it comes to buying trousers or long skirts. Before buying clothes, make sure the length is flattering to your height.
A good rule of thumb when buying bottoms is to make sure the hem doesn't touch the ground. If you plan on wearing trousers with flat shoes, the hem should brush against the top of your foot. If you want to wear high heels, bring the shoes with you to ensure the trousers are neither too long nor too short when you're wearing shoes.
If you can't find trousers or skirts that are the right length, consider either shopping another brand or finding a local tailor. Altering your clothing is the best way to make sure all of your bottoms are the perfect length for your petite frame.
Properly fitting tops
Tops are also difficult for some petite women to buy. While some petite women may find tops in the regular section, others rely on the sizing changes in the petite department. Always try on tops before purchasing to ensure they're flattering on your body.
Many petite brands cut their tops more narrowly. While this is ideal for women who have a small frame, there are plenty of petite women who are also very curvy. Tops should fit comfortably around the chest, without pulling on buttons or seams. If a petite top is too tight, consider looking for a similar style in the standard section.
Tops should also be the right length. Petite women should avoid tops that are too long as they may make them look even shorter. Crop tops and those which hit right below the waistline are great options. Jackets should also be an appropriate length. While a long pea coat may seem ideal for the winter, you'll actually look more proportionate if you find one that's cut a bit shorter.
Quality over price
While it may be tempting to purchase a large quantity of clothing for a low price, it's not always the best decision. The cheaper an item of clothing, the more likely that it's constructed out of inferior materials. Investing in higher quality petite clothing is actually more affordable in the long run. Instead of buying 10 tops that will barely last a season, doesn't it make more sense to buy something that will give you several years of wear?
When purchasing clothes, look at the pattern. If you're petite, the last thing you want is a falling hem. Make sure the stitches line up properly. Buttons should be sewn on and reinforced. If you need to alter a piece, be sure to take it to a tailor who has a solid reputation for outstanding work.
As a petite woman, you need to dress your body in a way that is perfect for your height and weight. Petite fashion is becoming more readily available, and it's possible to purchase clothing that doesn't need to be altered. Take the time to try on clothing in advance to ensure it's the right fit for you.